"And I swear that life's against me because it's getting in the way.  And gothic is the summer." — Prayers, Gothic Summer
I had a lot of existential trouble the first few months of 2014.  I don't really want to get into it, though I may at some point.  What I will say is my choice to drop out as much as possible didn't work.  It took my friend Lisa and a rebranding to snap me out of it.
Hence, Gothic Summer…
The idea of Gothic Summer was inspired by our new friend Rafael Reyes, lead singer of Prayers, a sick San Diego Cholo KILLWAVE band. Rafael has been through a violent early life that I can barely conceive of.  Yet he channels that energy into art and productivity instead of wallowing or falling deeper into the system.  Watch his video From Dog to God below: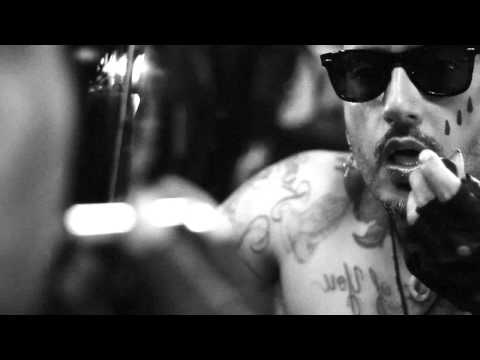 Prayers are going to be playing at Loaded Hollywood with L/Viro and Vampire Slayer on June 24.  Here is their Facebook page.  You can download Prayers first album here.  Their second album, Gothic Summer, is coming out in July from Little Death Records.
I'm taking cues from Rafael's mission and the resiliency of so many of my friends to get re-energized by the things that are really important to me.
Gothic Summer is about NITE RITUAL (from another Prayers song, Ready to Bleed, kind of an inside joke) — okay Gothic Summer is about confronting the demons and dismissing them — walking out into the streets and taking back my power in the name of Vanitas.
So much of Gothic culture has been assimilated into main stream culture in a way that robs it of its historical and aesthetic significance.  Regular people are covered in skulls and bones with no concept of memento mori or the dark romantic movement.  There's more to the lifestyle than fashion, makeup and Gore Porn.  People may think my angst is an affect I put on.  Unfortunately, there's a very pressing knowledge that life is fleeting, uncontrollable and often painful that constantly weighs on me.   I'm trying to make meaning from the little time I have here.
With that in mind, I've been going out as much as I possibly can and saying yes to opportunities.
Posts on some of this stuff is coming, but Lisa and I kicked off Gothic Summer at Bats Day in the Fun Park.  We went to Funeral to see Night Nail and Untoward Children, we attended the VIP opening reception of Scratch at ESMoA.  Saturday night I did the LA Horror Show and Music Fest with John Charles.  We're gearing up for a lot more to come including concerts, art shows and road trips.  Lisa's pushing me (in a good way) to start making things again and I feel like I'm slowly coming out of the cloud I was in.
ArtExpo San Diego, July 24-26
Thanks to Cartwheel Art, I have a thrilling opportunity to showcase some of my favorite artists at a booth at ArtExpo San Diego during Comic Con. I have chosen a selection of fine art works that challenge the stereotypical portrayals of femininity in popular culture with the hopes of presenting a counter-viewpoint to an assertion of woman as hero or villain, Madonna or whore, mother or girl, victim or avenger, because real womankind is more complicated and unknowable than all of these things put together.
Taking inspiration from the forms of nature, mythology and dreams, artists such as sculptor Matthew Levin and painters Christopher Ulrich, Jaclyn Alderete, Cate Rangel and Lara Dann offer insight into the surreality of female identity.  I may be adding one or two more artists to the booth in the next couple of weeks.
ArtExpo SD takes place at the NewSchool of Architecture and Design, aka the Wonderbread Factory Campus, 171 14th Street, San Diego, July 25 10am to 9pm, July 26th 10am to 7pm, with an opening reception on July 25 from 6pm to 9pm.  There's a VIP preview Thursday July 24.  You can find out more by contacting me or going to ArtExpo SD VIP Party Facebook page.  It's a free, all ages event.
In addition to the artists I'm showing, some of the other confirmed artists at the event include Katherine Brannock, Roberto Gutierrez, Rafael Reyes, Cathie Bleck, Joel Nakamura, Richard Downs, Mark Todd, Esther Pearl and Keith Dugas.
Here is Cartwheel Art's post on the event.  Whether you're looking for an addition to your Comic Con festivities or an alternative event, I hope you'll check out this new venue for some incredible artistic talent.
Purgatorium by David Van Gough
My whole Gothic Summer is building towards David Van Gough's solo show in San Francisco on September 6.  Entitled Purgatorium, it's David's first major show since MAN/SON and the Haunting of the American Madonna in 2012.
David describes his upcoming show as "an epic pictorial representation of the birth, assimilation, the renunciation and legacy of the artist in a modern lifetime."  He's exploring imagery from Shakespeare's The Tempest as well as the ever-looming presence of artists such as his namesake Vincent Van Gogh.
David let me look at some of the sketches he drew before starting the paintings last year and they took my breath away.  One of them was such a hopeless, bleak vision of the toil of being an artist that it brought tears to my eyes.  It's been haunting me ever since.  I'm going to see a preview of the oil paintings when I stay with David during San Diego Art Expo and I'm just as excited about that as I am about the Expo itself.
I predict Purgatorium will be the most significant solo show of the year.  A bunch of Angelenos are making the trip north for the weekend to celebrate David's work and the closing of the Gothic Summer.
I hope you'll join me on my Gothic Summer quest.  We as a sub-culture need a bit of a shake-up.  Personally I've needed a real adrenaline shot to the arm.  What are you going to do to make this Gothic Summer meaningful to you?