A recent news article shared a photo of a protester holding up a sign that said, "Love Black lives like you love Black culture!"
It's undeniable that American culture has been shaped in countless ways by the influences of Black artists, musicians, designers, street style and storytellers.
But too often those influences that make their way into the mainstream come at a shameful price.
Black artists have seen their ideas and creations pillaged and remade into so-called White-friendly art.  They have been robbed of credit, been compensated less than their White counterparts and denied entry into executive and curatorial positions in creative industries.
Black artists and Black representation have long been lacking from museums.  A 2018 investigation by Artnet News and In Other Words found that between 2008-2018, only 2.37 percent of all acquisitions and gifts and 7.6 percent of all exhibitions at 30 prominent American museums were of works by Black artists.  The National Gallery of Art, publicly funded and the second most visited American museum, has just 986 works by Black artists out of a total of 153,621 (according to USA Today in 2019).
A 2015 study found that the publishing industry is 79% white.  CEOs and boards of directors of the major music groups, largest concert promoters, two largest music agencies and two largest streaming services are all white. Of the more than 1300 directors of the top 1200 films released between 2007 and 2018, only 80 were Black.
I could rattle off a much longer list of disheartening statistics that show that Black artists have a long way to go to achieve equality, but I should not have to.
What is clear is that when we erase Black people from our museums and galleries, from our screens, from our streaming platforms and from our bestsellers' lists, we give credence to those who wish to erase Black people from our society. And we miss out on invaluable cultural enrichment.
We must do better.
It's not enough for me to make a list of Black artists and for you to read it.
Cultural institutions and industries have ingrained racism.  But do you know what wakes up industry leaders more than anything else?  MONEY.
The most significant difference we can make as individuals in the fight against racism in the art world is to patronize Black artists.
Buy their paintings and prints.  Get tattooed by them.  Buy band merch and albums.  Buy and stream movies by Black filmmakers.  Buy books by Black authors.  If a museum has a show featuring a Black artist, buy the catalogue.  Subscribe to their Patreons.  Follow them on Instagram to raise their profile.  Donate to organizations that give underserved communitites more access to the arts (see the end of this post for some ideas).  We vote with our dollars.
The more Black artists' work sells, the more that Black artists will have the resources and opportunities to make more art.
The last thing creative industries want to do is leave money on the table.  Support Black artists on the ground and the industries will eventually follow.
And we can't just do that this week and then feel good about ourselves and move on.  Around the time of the Rodney King beatings, Hollywood embraced a generation of young Black filmmakers, most of whom were only given the opportunity to direct a film or two before being cast aside.  A similar surge in Black artist exhibitions happened at museums around that time.  So it is vital that we commit to make a sustained effort to support the work of artists of color.
This is a blog dedicated to exploring dark art and the macabre.  It's a love letter to works that explore mortality, horror, existentialism, the occult, and the horrors we face in real life from disease to organized religion to climate change.
Lest anyone say it's all well and good to support Black artists, but there aren't any making the kind of art I prefer to consume (and if you're here, that's probably dark art) — the following is a list of 21 Black artists in the fields of visual arts, music, film and published fiction making exceptional and important contributions to the dark art movement.
I have committed a portion of my discretionary budget to patronizing Black artists and other artists of color.  I hope you'll join me.
Visual Artists
Bianca Xunise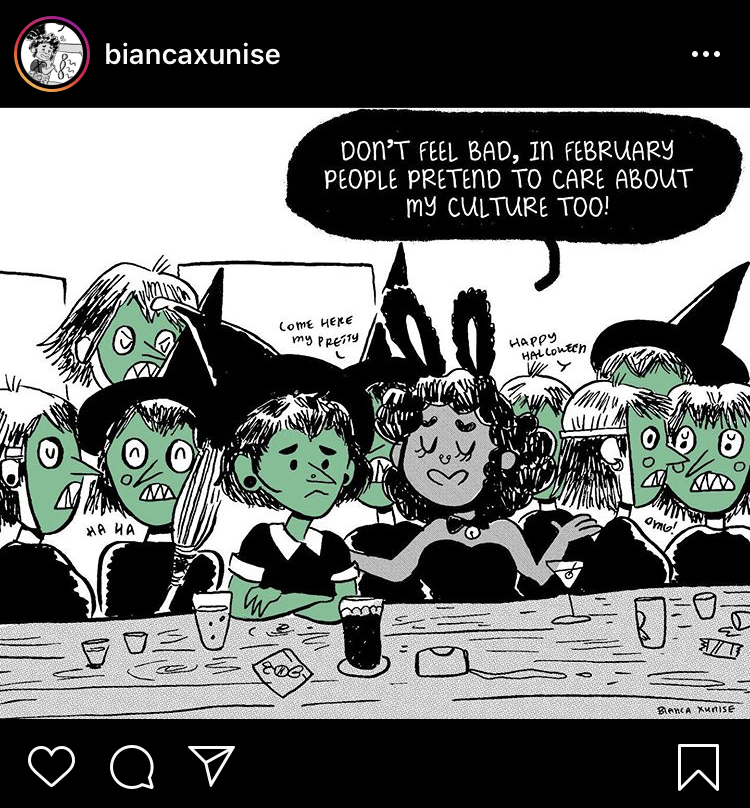 Bianca Xunise is a brilliantly incisive cartoonist whose work deals with important themes such as mental health, self-worth, womanhood, microaggressions and race relations.
Often taking the form of a visual diary entry, her work is edgy and subversive. Reading her comics feels like stepping into her shoes and gives the reader a good entryway into someone else's experiences. She strives to show dimensions of Black womanhood that we don't typically see in the media.
Her musings on mental health and the importance of having a support system are relatable to anyone.
Being goth is a major facet of Xunise's identity and she also depicts counterculture references in her work.
Xunise work has been published in The Washington Post, Riot Fest, Vogue, Hello Giggles, The Nib and Shondaland. She is also a member of a rotating team of women who produce the long-running comic strip "Six Chix". She also teaches comics at DePaul University in Chicago.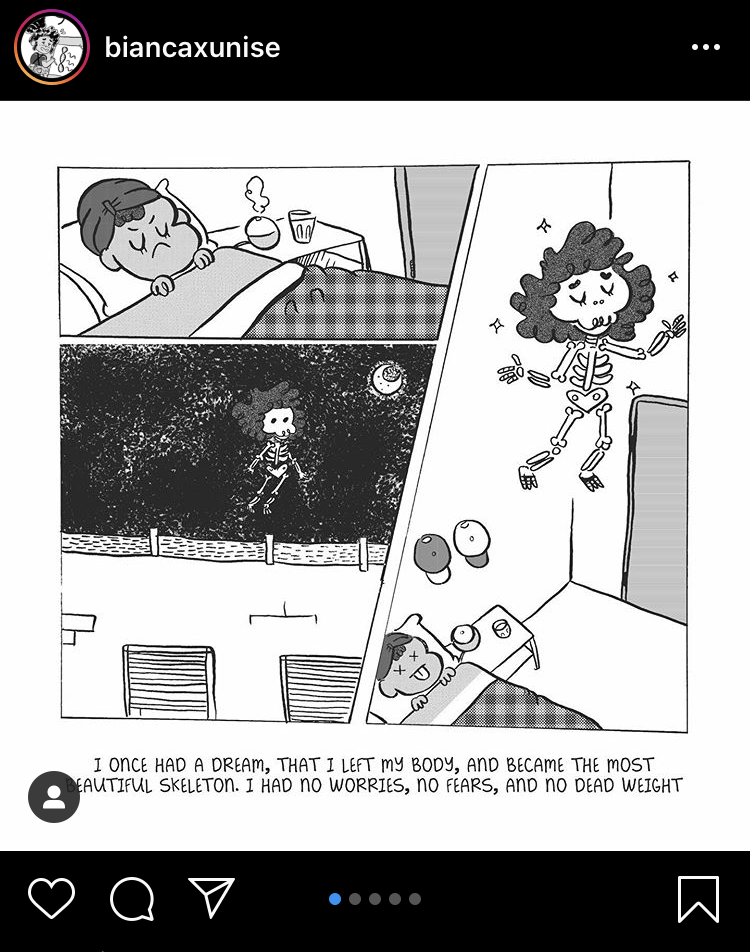 To learn more about Bianca Xunise and to support her work, visit her website, follow her on Instagram and subscribe to her Patreon.
Henry Lewis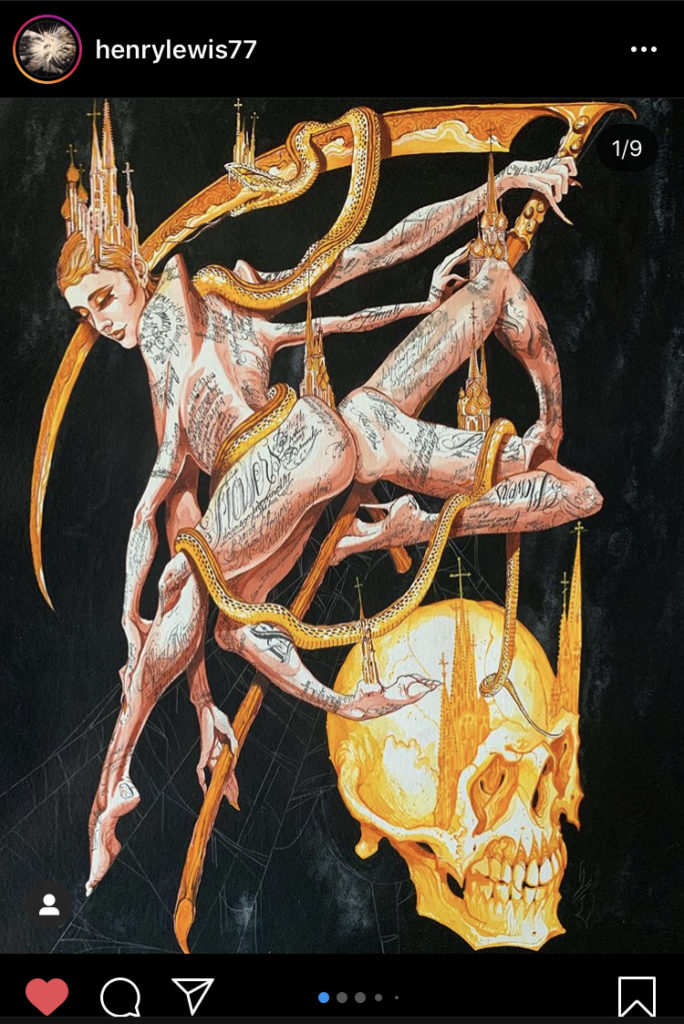 Henry Lewis is an accomplished tattoo artist and an oil painter.
As a painter, Lewis paints surreal portraits of warriors and mythological creatures that combine Baroque style with eclectic cultural references. Many of his tattoos and paintings feature deeply saturated red and gold hues which take them into the realm of dark fantasy.
Unable to afford art school, Lewis admits he stole art books and art supplies as a kid and spent years working on ways to emulate the work of the European masters. Lewis admired hidden esoteric symbolism sprinkled in the old masters' work and strives to put those little touches in his own paintings.
His work combines tough as nails postures and features with small touches of whimsical twisted humor.
He is currently a featured artist at Memoir Tattoo in Los Angeles and he has worked in several renowned California tattoo studios.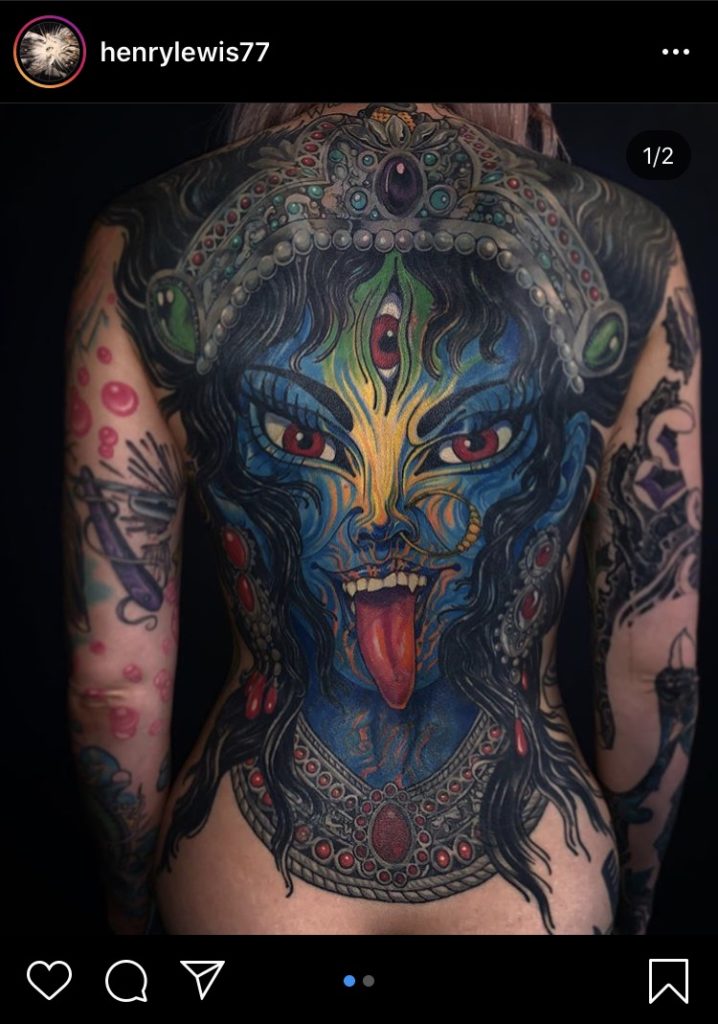 To learn more about Henry Lewis and to support his work, visit his website and follow him on Instagram.  He has been taking commissions during the quarantine period so it's worth reaching out to him on Instagram if you are interested.
Kara Walker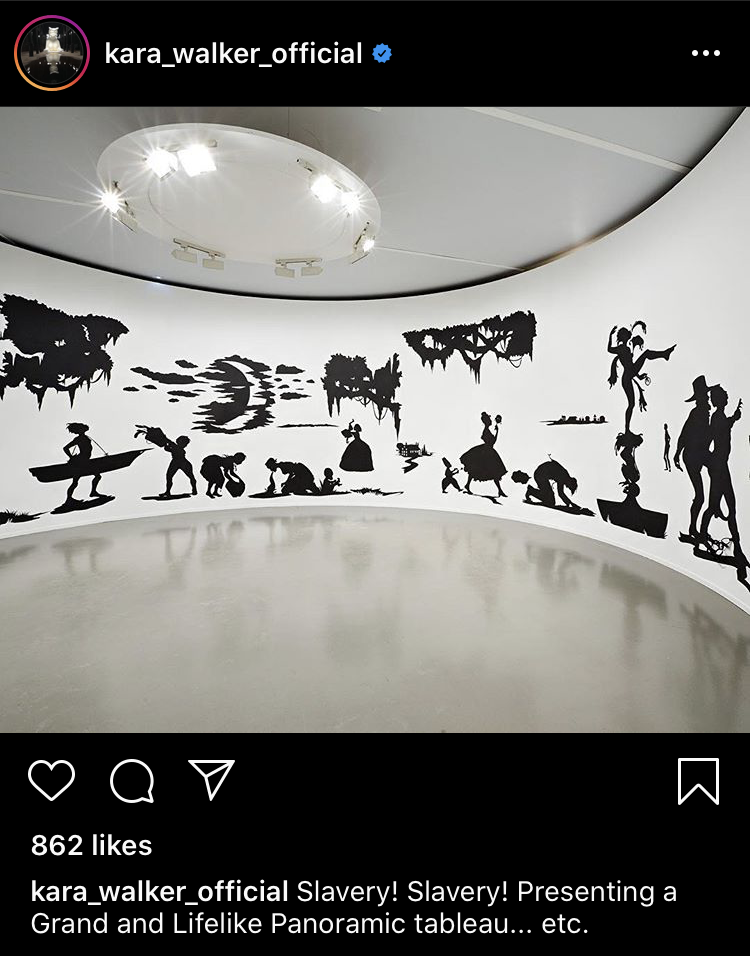 Kara Walker is one of the most important artists of the twenty-first century. One of the youngest recipients ever of a MacArthur genius grant, I consider her a dark artist because her work exposes the most shadowy and shameful aspects of American history.
Walker is best known for her large-scale paper silhouette panorama installations which depict scenes of slave life. Silhouette art traditionally depicted genteel snapshots of pastoral life. Contrastingly, Walker uses the form of the silhouette to express the horrors inflicted on slaves including violent rape and torture. The lack of detail created by the nature of the silhouette form draws the viewer in to try to determine what they are actually looking at.
"I wanted to make work where the viewer wouldn't walk away; he would giggle nervously, get pulled into history, into fiction, into something totally demeaning and possibly very beautiful."
-Kara Walker
Her work has an epic cinematic quality.
In 2014 Walker created an installation entitled A Subtlety, or the Marvelous Sugar Baby, an Homage to the unpaid and overworked Artisans who have refined our Sweet tastes from the cane fields to the Kitchens of the New World on the Occasion of the demolition of the Domino Sugar Refining Plant, which was installed in Brooklyn's Domino Sugar Factory.
A pale 75 foot long by 35 foot high sphinx, with a face sculpted with the features of a stereotypical Mammy, was attended by fifteen sculptures of young boys. The young boys, modelled after blackamoors, were cast from boiled sugar and covered in a dark amber color. The sphinx was made of sugar covered blocks of polystyrene. Rain leaking in through the roof of the factory degraded the sculptures slowly throughout the exhibition.
Like her subversion of the silhouettes, A Subtlety was a subversion of the sugar sculptures which were edible decorations in aristocratic Europe during the middle ages, known as subtleties.
Through provocative recontextualizing of traditional upper class artforms to show the exploitation of Black people, Walker has created a powerful body of work.
Her work can be found in the permanent collections of many important cultural institutions including The Museum of Modern Art in New York, The Broad in Los Angeles, the Tate Gallery in London and the National Gallery in Washington D.C.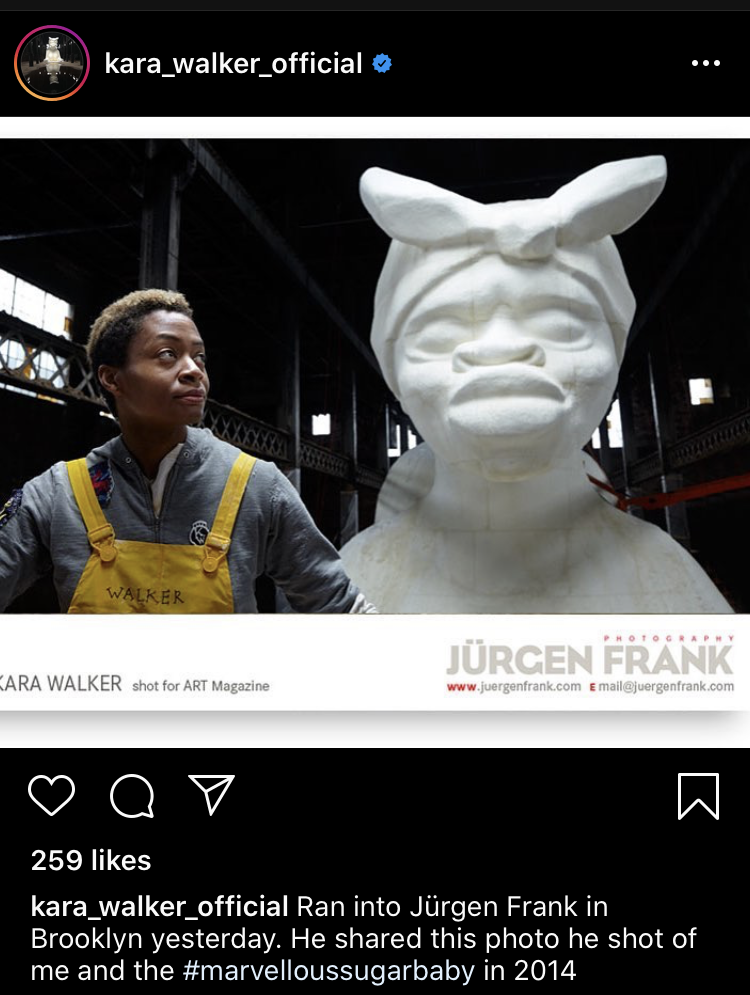 To learn more about Kara Walker, visit her website and follow her on Instagram.  You might also consider purchasing the book Consuming Stories: Kara Walker and the Imagining of American Race by Rebecca Peabody.
Sade Preston
"I believe good art comes from a dark place. I will create something beautiful of my dark place until

IT

dissipates and becomes a place of solace and a piece to be admired."

-Sade Preston
Sade Preston is a full-time witch and visual artist who combines her love of art and passion for the occult to make drawings, paintings, ritual objects and jewelry.  The theme of her work is the talisman.
A mix of Black and Nicaraguan heritage, integral to Sade's magic craft are her relationships with the animal kingdom and also with Santa Muerte.
Preston's pen and ink drawings draw from magical traditions such as runes, herbs and alchemy.
Preston describes her jewelry as metaphysical 'armor' that she constructs ceremonially from ethically sourced bones and hair.  She infuses her love and energy into each piece.
Preston is also a horror film fanatic.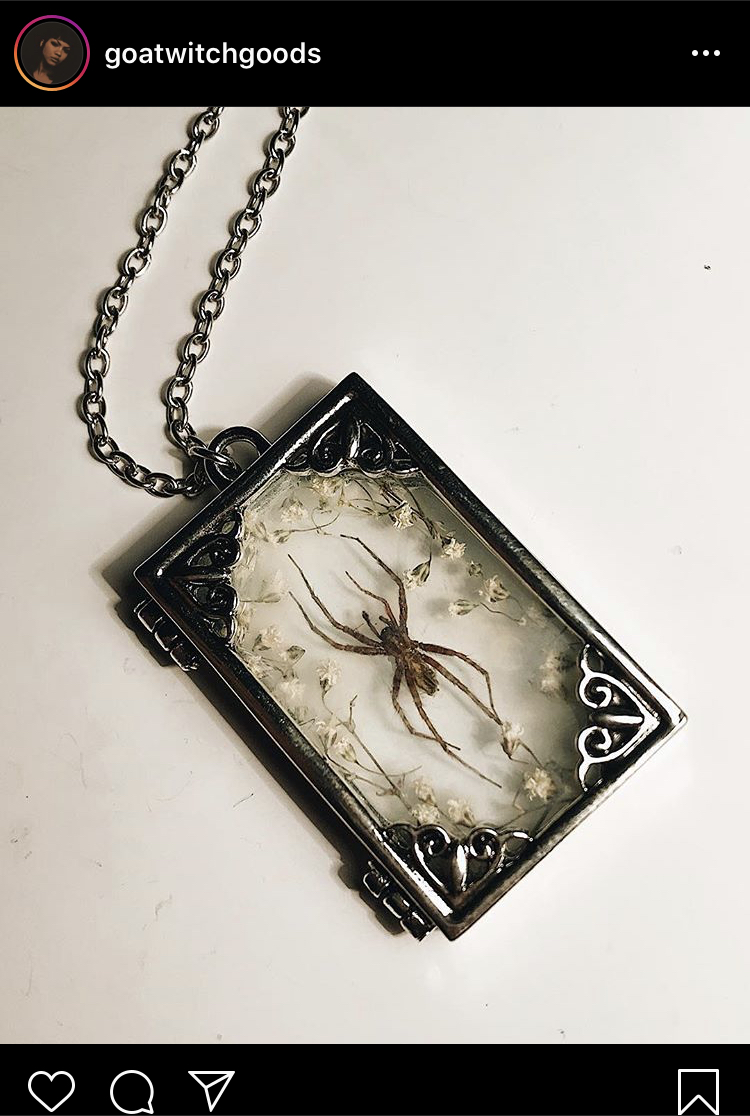 Preston can be found working at Ritual Cravt in Denver.  To learn more about Sade Preston, visit her website and follow her on Instagram at her main account which is full of witchy images and the account where she posts drawings.
Tyler Thrasher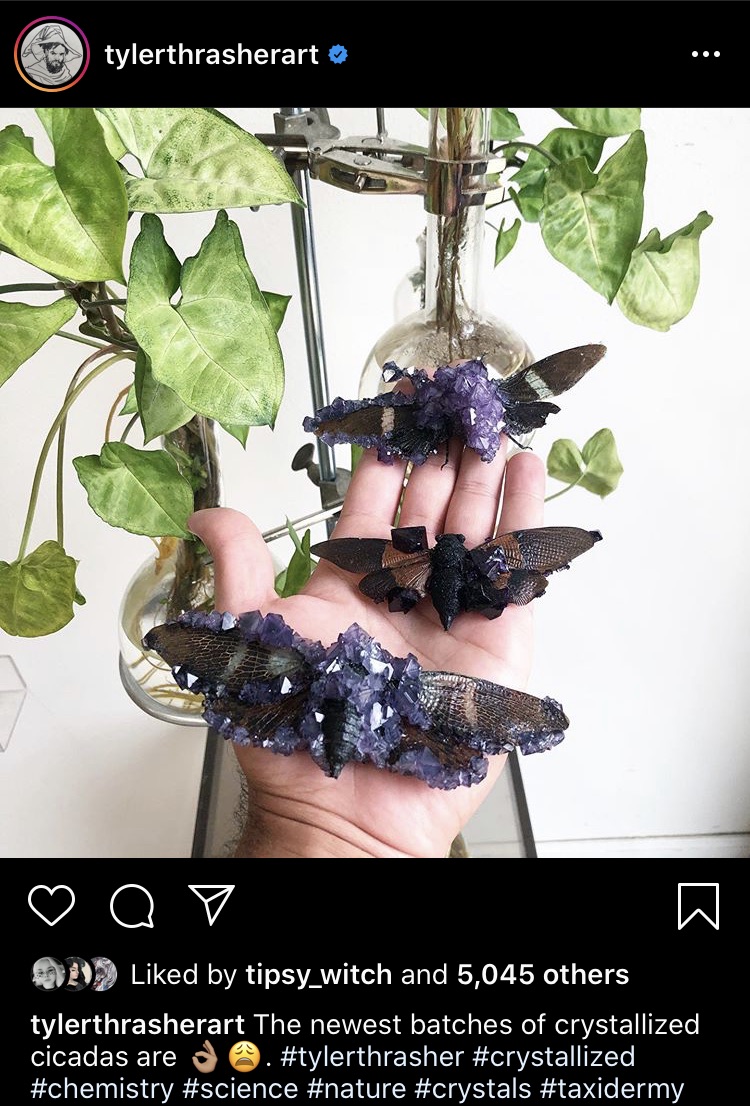 Part innovative artist, part mad scientest, Tyler Thrasher has achieved renown for his dazzling crystal cicada sculptures.
After realizing a life in computer animation was the wrong path for him, Thrasher drew on crystal growing techniques he'd learned in AP Chemistry in high school. Marrying his passions for science and art, he experimented with ways to crystalize dead animal forms beginning with cicadas and expanding into snake skeletons, scorpion remains and other insects.
Thrasher's work centers on the life cycle and the human drive to create.
Inspired by a profound love of nature, Thrasher is also a gifted cultivator of succulents. He's found another way to combine art and science through precise botanical drawings and a journal he crowdfunded called the Grow a Damn plant journal.
A young artist with an undoubtedly bright career ahead of him, Thrasher incorporates old techniques like chemistry and naturalist art with new media saavy. He is also a podcast host and he has found success largely through promoting his work on social media and leveraging crowd funding campaigns.
If you're interested in Tyler Thrasher's work, check out the interview I did with him here.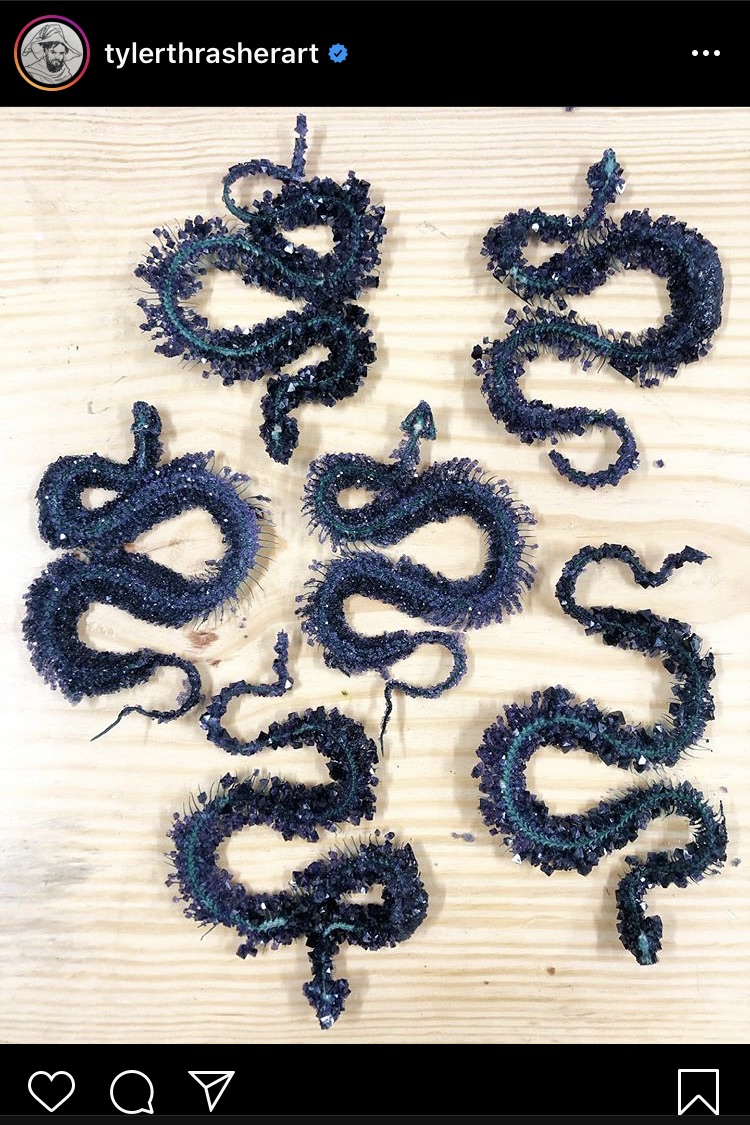 To learn more about Tyler Thrasher, visit his website and follow him on Instagram.  His podcast, Greenhouse Rants, can be found here.  You can also support his work further by visiting his webstore and on Patreon.
Musicians
Franklin James Fisher of the band Algiers
"There are histories of violence
Reduce our memories to silence
Repressing all the stories of the unsung and unseen
Listen to the martyrs cry for me."

-Lyrics from Cry of the Martyrs by Algiers
Algiers has a distinctive fire-forged sound that blends soulful spirituals and gospel with post-punk rock. Composed of Ryan Mahan, Lee Tesche and Matt Tong in addition to Fisher, the band was named for the country Algiers, which was the bloody site of a twentieth century war for independence against colonialist France.
In a Pitchfork review of their first album, the reviewer dubbed their music the "anti-gospel". Instead of lifting the audience up in exaltation, the music confronts the listener with tales of injustice and a bone deep weariness.
Often classified as "protest music," Algiers sound bleeds righteous indignation and well-earned bitterness. It's music that recalls how long the fight has raged on and how much further there still is to go.
The band has released three albums: Algiers (2015), The Underside of Power (2017) and There is No Year (2020).
Start here: The Underside of Power available through Amazon and Apple Music.
To learn more about Algiers, visit their website.
Manuel Gagneux, lead singer of Zeal & Ardor
"These stairs don't have anywhere to lead you
Who cares if you're lost like the others?
Don't let anybody step into the circle now
Don't let anybody tell you that you're safe"

-Lyrics from You Ain't Coming Back by Zeal & Ardor
Interestingly, Zeal & Ardor draws from similar African American spiritual traditions as Algiers does, but creates a completely different style and feeling.
Led by Swiss-American artist Manuel Gagneux, Zeal & Ardor's sound is a unique fusion of African American spirituals, blues and metal music. While White musicians have pillaged the artistic efforts of Black musicians for generations, Zeal & Ardor's subversive reversal of a Black musician putting traditional Black sounds over White Scandinavian metal is genius. The juxtaposition creates a new sound that's wrenching and powerful.
While the music is heavily influenced by gospel and references prayer, heaven and the devil, writer and singer Gagneux is in fact an atheist who wants to draw attention to the damage religions have inflicted on subjugated peoples throughout history.
Sometimes deeply sad, sometimes enraged, the music taps into a deep well of pain and offers catharsis to those who surrender.
Zeal and Ardor has released two albums, Devil is Fine (2016) and Stranger Fruit (2018).
Start here: Stranger Fruit available through Amazon and Apple Music
To learn more about Zeal & Ardor, visit their website and visit their YouTube channel to see music videos and recordings of live performances.
Okandi
"Whenever I go,
and my last breathe is done,
don't make a fuss or I'm hunting you all.
Don't dig up or bury.
Don't make a scene,
or I'll come in your dream.
I'll be up in your head.
You'll forget I was dead."

-Lyrics from Don't Dig by O. Children
Tobi Okandi, previously the lead singer of O. Children and now a solo artist, has a deep and sumptuous baritone voice. Listening to him sing feels like slipping into a soothingly cool bath on a blisteringly hot day.
O. Children had two albums, O. Children (2010) and Apnea (2012). Okandi just released a solo EP, The Devil I Know EP, in May.
Between the release of Apnea and the solo follow-up The Devil I Know, Okandi faced terrible personal hardship including a difficult recovery after being hit by a car and the loss of his brother. Suffering from post traumatic stress disorder and depression, he's only been able to claw his way back into making music recently after the birth of his daughter.
O. Children was named for a Nick Cave and the Bad Seeds song, and you can definitely hear influences of Nick Cave's music as well as Bauhaus.
Most of Okandi's music, both as the frontman of O. Children and on his own, is very dancable. It cries out for a dark fog filled room full of sweaty bodies in motion. But he sometimes surprises with slower, more contemplative tracks such as Don't Dig and the gorgeous Blessed.
Start here: Devil I Know EP available through Amazon, Apple music and Bandcamp.
To hear more of Okandi's work, visit O.Children's Bandcamp page, Okampi's solo Bandcamp page, his solo Youtube channel.
Shannon Funchess
"In blood we play
In dusk city depraved
The gods are angry
Like sheep we were let stray."

-Lyrics from End of Days by LIght Asylum
Shannon Funchess is the founder, producer, vocalist and multi-instrumentalist of LIGHT ASYLUM. Formerly a duo with Bruno Coviello, LIGHT ASYLUM is known for thrashing underground goth techno punk. The music was made for long nights of stomping, sneering and posing at a goth club.
Funchess's vocals are the perfect powerhouse pairing with the darkwave dystopian beats. Deep and resonant, her incredible voice slays anyone in its path.
While LIGHT ASYLUM only released one album in 2012, Funchess has announced that a highly ancipated follow-up is due out later this year.
Following the release of LIGHT ASYLUM'S self-titled album (2012), Funchess lent vocals to and toured with The Knife on their album Shaking the Habitual (2013). More recently, she's collaborated with ADULT. on tracks We Chase the Sound and Stop (and Start Again) off their album Detroit House Guests (2017) and with Elysia Crampton on the track Crucifixion off the album ORCORARA 2010 (2020).
Start Here: LIGHT ASYLUM available through Amazon and Apple Music.
To learn more about Shannon Funchess, follow LIGHT ASYLUM on Instagram.
Yugen Blakrok
"See, misery loves company, it overwhelms and feeds me
Fills me as I embrace the dark and light completely
Guided by the ring of the seven sisters when the pitch darkens
Artemis gravitates my aim to where the fixed mark is
Hit the target, commander of the dart board
When wounded, I'm the essence of our Lilith, in her darkest form"

-Lyrics from Gorgon Madonna by Yugen Blakrok
Yugen Blakrok is a South African rapper whose work is heavily influenced by the seemingly disparate worlds of the occult and the more militant hip hop of the 1990s.
Growing up against the backdrop of poverty and tensions from the final days and aftermath of apartheid, Blakrok soaked up folk tales, fairy tales and mythology during her childhood which she spins into her rhymes like Rumpelstiltskin spinning straw into gold.
Her take-no-prisoners style is empowering and life-affirming. And she nimbly philosophizes while she conjures up esoteric imagery. Hers is the voice of a woman unwilling to compromise and hungry to prove her worth to herself.
Yugen Blakrok has released two albums, Return of the Astro-Goth (2013) and Anima Mysterium (2019).
Start here: Anima Mysterium available thorugh Amazon and Apple Music.
To learn more about Yugen Blakrok, visit her Bandcamp page, follow her on Instagram and visit her Youtube channel.
Filmmakers
Ernest Dickerson
Ernest Dickerson is a director, a writer and a cinematographer whose work in the entertainment industry stretches over more than three decades.
As a frequent collaborator with Spike Lee and the director of nine feature films, he's known for work that blends action and horror.  He's also worked with prominent rappers taking on dramatic roles including Tupac, Ice-T, Snoop Dogg and DMX.
Tales from the Crypt: Demon Knight (1995) is a feature-length spin-off of HBO's classic horror anthology Tales from the Crypt.  Scoring higher with audiences than critics, the film stars Billy Zane as the Collector, a character on a mission to recover dangerous amulets from one of the residents of a sleazy rooming house.
Bones (2001) is a cult-classic horror film which can be read as an homage to 1970s blaxploitation films.  Featuring performances by Snoop Dogg and Pam Grier, the film follows Snoop Dogg's character, Jimmy Bones, after he is murdered by a corrupt cop and later ressurrects to avenge his own untimely death.  Given the heightened awareness of police brutality, this might be an appropriate time to revisit this film.
Never Die Alone (2004) is a crime thriller starring DMX as a drug dealer whose search for redemption takes a bad turn.
In addition to his work in film, Dickerson has also directed episodes of The Walking Dead, Dexter, Treme, The Wire, and many other popular television shows.
Start here: Bones available to rent and purchase through Amazon and Itunes
To learn more about Ernest Dickerson and follow him on Instagram.  Also check out this interesting interview with Dickerson published by the Chicago Reader in 2018.
J.D. Dillard
"For a lot of my life, I've struggled with being believed. The truth doesn't always come with a receipt. Sometimes all we have is our word."

-character Jenn speaking in Sweetheart, co-written by J.D. Dillard
Filmmaker J.D. Dillard got his start in the industry as a receptionist at Bad Robot and worked his way up to become a writer and director of full-length feature films.  His first two feature films are Blumhouse productions.
Sleight (2016) is a thriller about a slick young street magician who gets in over his head in the criminal underworld.  He's forced to come into his own power to protect his little sister.  Nerd Repository called the film "a genre-bending masterpiece."
His second film, Sweetheart, premiered at the Sundance Film Festival in 2019.  The film is a survival horror story with a female black protagonist, uprooting the tired horror convention of the black characters succumbing early to monsters and murderers.  The main character is forced to fight for her life after she's the sole survivor of a plane crash on a remote island where a monster lurks in the water.
Earlier this year, Hollywood Reporter connected him to a developing Star Wars project for Disney.
Start here: Sweetheart available to rent or purchase through Amazon and Itunes.
To learn more about J.D. Dillard, visit his IMDB page.
Jordan Peele
"The scariest monster in the world is human beings and what we are capable of, especially when we get together."

– Jordan Peele
Jordan Peele got his break in entertainment when he was cast on the sketch comedy series Mad TV in 2003.  He mainly worked in comedy until 2017 when he realized his dream of becoming a horror filmmaker and released his directorial debut Get Out.
Perhaps the most successful Black filmmaker in horror of all time, Peele's work is breaking ground for a new generation of Black storytellers to enter the industry.
Nominated for four Academy Awards, Get Out follows main character Chris Washington played by Daniel Kaluuya as he navigates the terrifying world of his white girlfriend's family.  The film subverts many horror conventions by making the monsters upper middle-class white liberals.  Through vile twists and turns it explores the insidiousness of deep-rooted racism.
Peele's follow-up film Us stars Lupita Nyong'o as a woman whose aspirational family life masks a treacherous secret.  The film plays with the conventions of home-invasion horror films and explores the themes of privilege and class division.  Nyong'o's compelling performance is so raw that she later swore she was done acting in horror films.  The film also features lots of creepy shots of rabbits.
His upcoming projects include a sequel to Candyman, due in the fall, which he produced and tapped emerging Black filmmaker Nia DaCosta to direct.  He's also a producer on HBO's upcoming series Lovecraft Country, which is set to explore the terrors of racism and the monsters of H.P. Lovecraft's cannon.
Start here: Get Out available to rent or purchase through Amazon and Itunes.
To learn more about Jordan Peele, visit the website of his company Monkeypaw Productions and follow him on Instagram.
Kasi Lemmons
"Sometimes I feel like I've lost so much, I have to find new things to lose."

-character mozelle Batiste Delacroix speaking in Eve's Bayou, written by Kasi Lemmons
Kasi Lemmons began her career as an actress and appeared in horror classics The Silence of the Lambs (1991) and Candyman (1992).
In 1997 she wrote and directed her first feature film, Eve's Bayou, a lush and sultry film about a Creole-American family unravelling in Louisiana. The second line of the movie, "The summer I killed my father, I was ten years old." hooks the viewer in for a tale of heartbreak, magic, murder and sisterly love.  The film stars Samuel L. Jackson, Jurnee Smollett and Lynn Whitfield and was awarded an Independent Spirit Award for Best First Feature and a National Board of Review for Outstanding Directorial Debut.
Lemmons went on to direct The Caveman's Valentine (2001) about a paranoid schizophrenic living in a park cave who gets swept up into a murder mystery; Talk to Me (2007) a biopic based on the life of ex-con radio personality Ralph "Petey" Greene; Black Nativity (2013) a musical about a teen re-uniting with his estranged relatives over Christmas; and Harriet (2019) a biopic about Harriet Tubman with an Academy Award nominated performance by Cynthia Erivo playing the title character.
It's been announced that Lemmons is working on a new feeature which she will write and direct called "The Shadow King". Set during Benito Mussolini's 1935 invasion of Ethiopia, the film is based on a novel by Maaza Mengiste which focuses on the Ethiopian women soldiers who have been erased from the historical record.
Start Here: Eve's Bayou available to rent or purchase through Amazon and Itunes,  and currently streaming on HBO Go/Now with a subscription
To learn more about Kasi Lemmons you can follow her on Instagram.
Nikyatu Jusu
"It's interesting because I think what's also happening quietly — and only someone who's paying attention will notice — is specifically first-gen black kids making content, and a lot of the stuff that we're making is kind of out-there. I think that's partly because we grew up as black kids in America, but we're never quite completely black American and we're never quite fully African, or something else. So a lot of us are exploring what it means to be that something else in really weird ways…"

-Nikyatu Jusu quotation from Vulture interview
Nikyatu Jusu is a Sierra Leonean-American filmmaker whose work explores black women with complex backstories on the brink of becoming dangerously unhinged.  After creating short films for about a decade, she garnered accolades and attention for Suicide by Sunlight, a short which debuted at Sundance Film Festival in 2019.  She's currently developing her first feature film.
The work that's helping her break into the industry, Suicide by Sunlight, is a haunting short film which explores the idea of Black vampires being able to daywalk because the melatonin in their skin protects them from the sun.  But it's really a character study of a vampire  who is torn between her identity as a mother and a monster.
Equally compelling and more unsettling, Say Grace Before Drowning is a devestating short film about a deeply scarred African refugee mother and her young daughter.
Black Swan Theory is a mini-thriller which focuses on a traumatized veteran who accepts a murder for hire assignment from a mysterious group.
To learn more about Nikyatu and support her work, visit her website, her Vimeo page, and follow her on Instagram.  You should also check out this fascinating interview she did with Vulture last year.
Fiction Authors
Brandon Massey
"I write what I love to read. I write the stories that I feel I was born to tell. That's all I can do–that's all ANY sincere writer can do. We tell the stories that grab us at the time, the stories that keep us awake at night, the stories that we MUST write."

-Brandon Massey
Addicted to horror and suspense since childhood, Brandon Massey is a horror thriller writer whose twisted tales epitomize stranger danger.  He writes page-turners that beg you to a leave a light on.
Brandon has published 17 books including three horror story compilations with other Black authors
In the Dark (2013) follows the misadventures of the Bowden family, who, upon moving to a new house in Atlanta are threatened by a stranger who believes the property is rightfully his.  Though the Bowdens plan to stand their ground, the house starts exhibiting signs that it might be haunted.
In Nana (2018), Monica Stephen's birth mother, Grace, mysteriously materializes following the death of the woman who raised her.  Vulnerable and raw, Monica invites this stranger into her family home and takes solace in their new relationship.  But Grace is harboring some sinister secrets that threaten to destroy everything Monica holds dear.  This is a fast-paced and riveting story with lots of squirm worthy details throughout.
The Quiet Ones (2020) is about a woman whose family was ripped apart by the murder of her mother 25 years earlier.  Her efforts to be reunited with her long lost sister bring her to a backwoods mansion that's home to a mysterious and sinister clan.
Start here: Nana
To learn more about Brandon Massey, visit his website.
Helen Oyeyemi
"Why do people go to these places, these places that are not for them?

It must be that they believe in their night vision.  They believe themselves able to draw images up out of the dark.

But black wells only yield black water."

-Helen Oyeyemi in White is for Witching
Helen Oyeyemi's books are contemporary gothic tales brimming with the uncanny.
Her plots ramble pleasantly down a shady brambled lane.  Heavily influenced by folklore and fairy tales, these are books for readers who appreciate magical realism, absurd explorations and gentle pacing.  While not strictly horror, Oyemi's works definitely explore the shadow side.
Oyeyemi just released her seventh book this year.
Mr. Fox (2012) is set in the 1930s and concerns a novelist named Mr. Fox who has a penchant for slaying his female characters.  When one of those characters comes to life and challenges him, a love triangle develops between the author, his wife and this muse risen from his own pages.  The book explores female subjugation and violence against women in dark and surprising ways.
In White is for Witching (2014), the Silver family comes to grips with a great loss.  Made to feel vile because of her pica, an illness that drives her to eat inanimate objects, Miranda struggles to self-actualize and move beyond her grief.  Loss of loved ones has become an established family tradition in the gothic ancestral home they've reclaimed.  Filled with haunting prose, this is a classic gothic tale where the home is a living character.
Gingerbread (2020) is about a family who makes gingerbread, the taste of which is described this way: "it's like noshing on the actual and anatomical heart of someone who scarred your beloved and thought they'd got away with it." Parallels have been drawn between this book and Alice in Wonderland.
To learn more about Helen Oyeyemi, visit her website.
N.K. Jemisin
"Well, some worlds are built on a fault line of pain, held up by nightmares. Don't lament when those worlds fall. Rage that they were built doomed in the first place."

-N.K. Jemisin
N.K. Jemisin is a highly awarded fantasy and science fiction author whose dark tales explore themes of oppression, diversity and identity. Her breathtaking speculative prose transports the reader into complicated worlds that amplify the flaws of the world we live in. Her books will stay with you and make you rethink what speculative fiction can be.
Jemisin has published nine novels and a book of short stories.  She also has a large number of short stories published in anthologies and publications.  She was the first Black author to win the prestigious Hugo award for Best Novel and went on to become the first author to win the award three years in a row for every book in the spectacular Broken Earth Trilogy.
If you want to fall deeply into a new series while in self-quarantine, dive into the Broken Earth Trilogy with book one, The Fifth Season (2015).  In the Fifth Season a woman named Essun comes home to find that her husband has killed their son and kidnapped their daughter.  She must fight through apocalyptic conditions and confront her own demons to save her daughter.  This riveting series is one of the most honest and heartrenching meditations on motherhood ever comitted to page.  If you are a mother or you have a mother, these books will break you.
Her most recent novel, The City We Became, is the first book in a new trilogy and was released in March of this year. The City We Became is about an ominous presence lurking beneath New York City and threatening to wipe it out.
To learn more about N.K. Jemisin and support her work, visit her website and become a Patreon.
Tananarive Due
"Black History is Black Horror."

-Tananarive Due
Tananarive Due is a horror writer whose chilling tales about Black characters incorporate supernatural elements against a hyper real backdrop.  Often in her stories the most monstrous and upsetting acts are perpetrated by the humans and not the paranormal.
Due has written sixteen books.  She also teaches Black Horror and Afrofurism at UCLA with a course entitled "The Sunken Place: Racism, Survival and the Black Horror Aesthetic".  And she served as executive producer and appeared in the Shudder original documentary Horror Noire: A History of Black Horror.
Her African Immortals series, which consists of four novels starting with My Soul to Keep (1997), explores a vampire-like immortal race. The series follows a family plagued by dark secrets and wrestles with the question, what if there was a substance that could give immortality? Who would have access and who would control that access?  A sweeping epic that spans centuries, the African Immortal series is about the choices that turns someone into a monster.
The Good House (2003) is a spin on a classic haunted house story.  Following her son's untimely demise at his own hands, Angela Toussaint returns to the family house where the suicide took place.  Instead of solace, she finds a sinister presence that seems to be manipulating townspeople into violent acts.
Ghost Summer: Stories (2015) is a short story collection full of tales that are both gorgeously written and loathsome to behold.  Taking place in the supernaturally plagued Gracetown, a small Florida town with a lot of baggage, each story is a disturbing gem.  The book's only novella, Ghost Summer, is especially poignant.  This is a collection that belongs in the pantheon of horror classics.
Start Here: short stories collection Ghost Summer if you crave horror or book one of the African Immortals series My Soul to Keep if you're in the mood for an epic series
To learn more about Tananarive Due and support her work, visit her website and follow her on Instagram.
Victor LaValle
"The best monsters are our anxieties given form.  They make sense on the level of a dream – or a nightmare."

-Victor LaValle
Author Victor LaValle's work blends the horrors of being a Black person in America with supernatural horrors to create powerful tales that are both engaging and provocative.
LaValle is the author of four novels, two novellas, a short story collection and a comic book.  He is also an Associate Professor at the Columbia University School of the Arts.
LaValle's six issue comic series, Destroyer (2018), illustrated by Dietrich Smith, is especially poignant right now because it's about a mother crushed by grief when she loses her son to a police shooting.  As the last descendant of the Frankenstein family, she's moved to bring her son back to life.  Parallels are drawn between the first monster made by a Frankenstein, brought into a world where it's feared and loathed, and Black people who may face a similar fate.
The Ballad of Black Tom (2016), a new take on H.P. Lovecrafts tale The Horror at Red Hook, is told from the viewpoint of a hapless Black street musician.  It's a dark tale of magical realism that examines the problematic legacy of Lovecraft who was both a visionary storyteller and a racist.
The Changeling (2017), inspired by a Maurice Sendak picture book (no not that one), brings together horrific folklore and the frightening realities of fatherhood.  The story is centered around a Black man who was abandoned by his own father when he was a young boy.  Committed to being present for his own child who is tragically stolen away from him, Apollo's quest for revenge and redemption takes him down a monstrous rabbithole darker than he ever could have imagined. The Changeling won a 2018 World Fantasy Award for Best Novel and was selected as one of 2017's ten best books by the New York Public Library.
To learn more about Victor LaValle and support his work, visit his website.
Bonus Auteur
M. Lamar
"Black men are dealing with the sexual ramifications of lynching every day. We're living with legacies of lynching on porn sites. If you go to those sites and type in, 'Big, black cock,' or 'My wife fucked a big black man' — there are millions of titles. When I talk about Ferguson and Mike Brown and Trayvon Martin and the ways in which they were shot dead, the flip side of that is this over-sexualization of the black male body on these porn sites. The 'big black cock' mythology is an invention of the white imagination. It's a fantasy. I like the idea, in a surrealist way, of making the whip also this black penis that white people have invented. It's like, 'Here. This is your invention. It's your thing. Have it back.' I try to understand the black body in the white imagination."

-M. Lamar
It was impossible to place M. Lamar in any of the above categories because his work incorporates all of them.  Part theater, music, film, fiction and installation, Lamar's work pushes boundaries and defies convention.
Lamar has coined the term Negrogothic to describe his sensibilities as an artist because his pieces blend the beautiful romantic and the horrific in a way that's similar to the gothic novel.
Lamar is an auteur.  He sculpts his pieces using his tools as a composer, a pianist, and a classically trained soprano and incorporates jarring visual elements to tell a story of oppression, wounds and hope.
Armed in spiky leather and ringed with eye makeup, Lamar's persona has the trademark mixture of the macabre and camp of goth culture.  His musical style blends grandiose operatic sounds with African spiritual tradition.
Lamar's work explores the themes of black male sexuality, exploitation, and historical traumas resulting from the legacies of slavery and white supremacy.  He draws parallels between the religious cross iconography and the image of the lynching tree and between slave ships and modern day prisons.  He has incorporated a black whip in his work as a stand in for the Black penis.
Lamar strives to reframe the conversation we have about ownership and perception of Black bodies and how that feeds into the perpetuation of Black oppression today.
To learn more about M. Lamar's work, visit his website, subscribe to his Youtube channel, and follow him on Instagram.  An anthology of M. Lamar's work entitled Negrogothic is available here.  You can purchase his music recordings here.  I also recommend reading this 2014 Vice article about his work.
This has by no means been an exhaustive list.  But I hope it gives you a sense of the contributions being made by Black artists in dark art and the horror genre.  By all means leave a comment to recognize Black artists I missed.
CHARITY
Here is a brief list of non-profit organizations that promote the arts in underserved communities.  Always do your due-dilligence before donating to any charity to ensure that your funds are going to your chosen cause.
Further Reading
*This post contains Amazon Affiliate Links. As an Amazon Associate I earn from qualifying purchases.
---
Dahlia Jane is a wicked writer living in Los Angeles.  She writes about the dark arts scene, goth life and fascinations with the macabre.  Dahlia spends her free time obsessing about skulls, devouring true crime and occult books, sewing and making messes.
All author posts