I have been very hard at work building platforms for Spooky Town and its loathsome residents.
I know most people see Spooky Town as a seasonal decoration, but I'm going to leave it up all year.
Video Tour: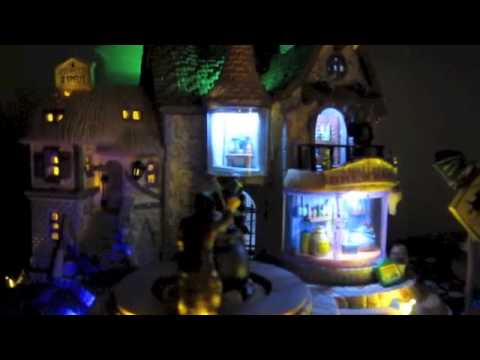 I've really upped my game since crafting a platform for my cemetery stuff in 2011.  After researching some model village techniques I learned how to carve cobblestones and stairs into craft styrofoam.  This kind of involved detail work takes longer than you might think.  I sat hunched over styrofoam with a stick (I tried an electric styrofoam knife, but I liked the results from the stick better and less risk of burning myself), inhaling dusty green styrofoam particles as I carved out every single rock for more hours than I care to admit.  Worth it!
While I want the layout to look believable, I've definitely been going for a grim fantasy rather than natural realism which most model village crafters strive for.  There aren't a ton of tutorials on making a dark miniature village where blood runs through the streets.  So I've been experimenting with all shades of gray paint and black paint and mossy grasses.
I love the way Spooky Town is starting to come together.  But it's far from done.  I plan on getting some extension cords and hiding all the wires in back of the bookshelves.  I'm going to set everything up on one power strip so that it can be activated with the flip of a switch (otherwise you have to go around turning on each building individually).  I also have space for some more big buildings and lots more monstrous characters.  With a Butcher Shop, Witches' Pub and Train Station, it's not much of a town yet.  I think a lot of the population is buried six feet under, but I'd like to lure them out with more businesses.
But the main thing I still need to do is build platforms for my Cemetery Tours building and the graveyard which includes the Cathedral ruins. While the 2011 platform I built taught me a lot, I'm over it now.  And it doesn't fit into the bookshelves where Spooky Town is being installed.  I actually have a pretty big plastic container filled with unopened Lemax graveyard accessories.  But I'm not going to have time to start on the cemetery until after Halloween because I've got a million other projects going at the moment.
Top 5 most wanted buildings to grow my Lemax Spooky Town collection:
What do you think of my Spooky Town progress so far.  Does it look like a place where you'd like to live?