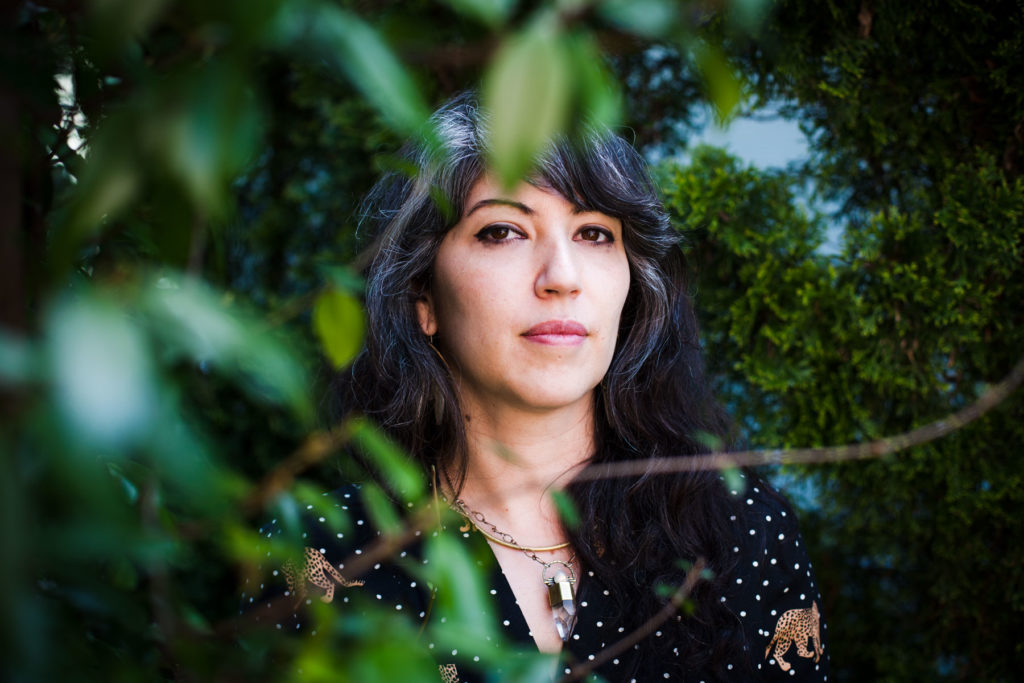 When I asked artist Jennifer Parks about a devestating loss she experienced last year, she remarked, "I realized that I am strong, but at the same time very fragile." Her insightful statement applies equally well to the art that she produces.
In her work as an illustrator, a ceramicist and a tattoo artist, Jennifer creates powerful pieces imbued with feminine magic. Her work walks the line between strong vision and voice and delicate sensibilities.
Looking at Jennifer's enchanting art I feel transported to a fairy tale garden at twilight when the stars are starting to wink, the winged cats are creeping out of their shelters, and the night blooming flowers are unfolding. Her style is distinctive and steeped in folkloric traditions.
Increasingly feeling the brutality and relentlessness of disconcerting current events, I'm so grateful to artists such as Jennifer whose work becomes a portal into a place of beauty and calm. I contacted Jennifer to learn more about what's driving her to create during this time.
You're an illustrative painter, a ceramicist, a tattoo artist and a mother living in Portland, Oregon. How has your daily life changed since the spread of Covid 19?
I have not been able to tattoo since statewide closures in early March so I've had to focus on illustration work as a means of survival.
It was scary at first because the money is usually inconsistent. I always had some sort of stable income from bartending or most recently tattooing.
But I've been surprised and flattered by the support I've been receiving. I've had plenty of work and plenty of time in between to work on personal projects. Something I was rarely able to do before.
You went through personal loss and trauma in 2019. Given that so many are experiencing loss at this time, can you share anything about how you moved through the pain? Do you feel stronger than you did last year or are you struggling in part because of the global turmoil?
When I lost my brother last year it was in the middle of so much change and new responsibility. And his loss brought about more change and responsibility on top of it. It was overwhelming. As much as I wanted to crumble to the ground and give up I would have let a lot of people down.
I think it's really the people around you that keep moving for, that you stay strong for. I was watching my mother who lost her child be so strong, taking care of all these difficult things that you really shouldn't have to take care of when you're grieving. I had to be strong for her and for my son who had lost his uncle.
Everyone grieves differently but, I think moving forward, putting one foot in front of the other and keeping your head up is an important part of healing.
I realized that I am strong, but at the same time very fragile.
Looking at your art feels like stepping into a world steeped in magic. Are you finding escape in your work and has your creative process been affected during this time? Are you making art? If you are making art, what have you been working on?
For the first few weeks of the pandemic I totally lost all motivation and ideas. I didn't make a thing. Instead I focused on cleaning, organizing and trying not to feel totally devastated by the state of things.
At some point, fortunately, I had to focus on making money which meant making art. Once I got out of the rut, I became motivated again and was able to find escape in my work.
I've been working on finishing a stained glass piece, some little animations, some fun paintings, commissions, and other illustration projects.
What role (if any) does art and the artist have at a time of crisis?
I think an artist's role in the time of crisis is to connect to people and make them feel something.
Human connection, even long distance is really important to our well being. And helping people feel something, even if it's sadness, anger, or even just a silly distraction is a part of that connection. I think it can really help people come out of the darkness and heal.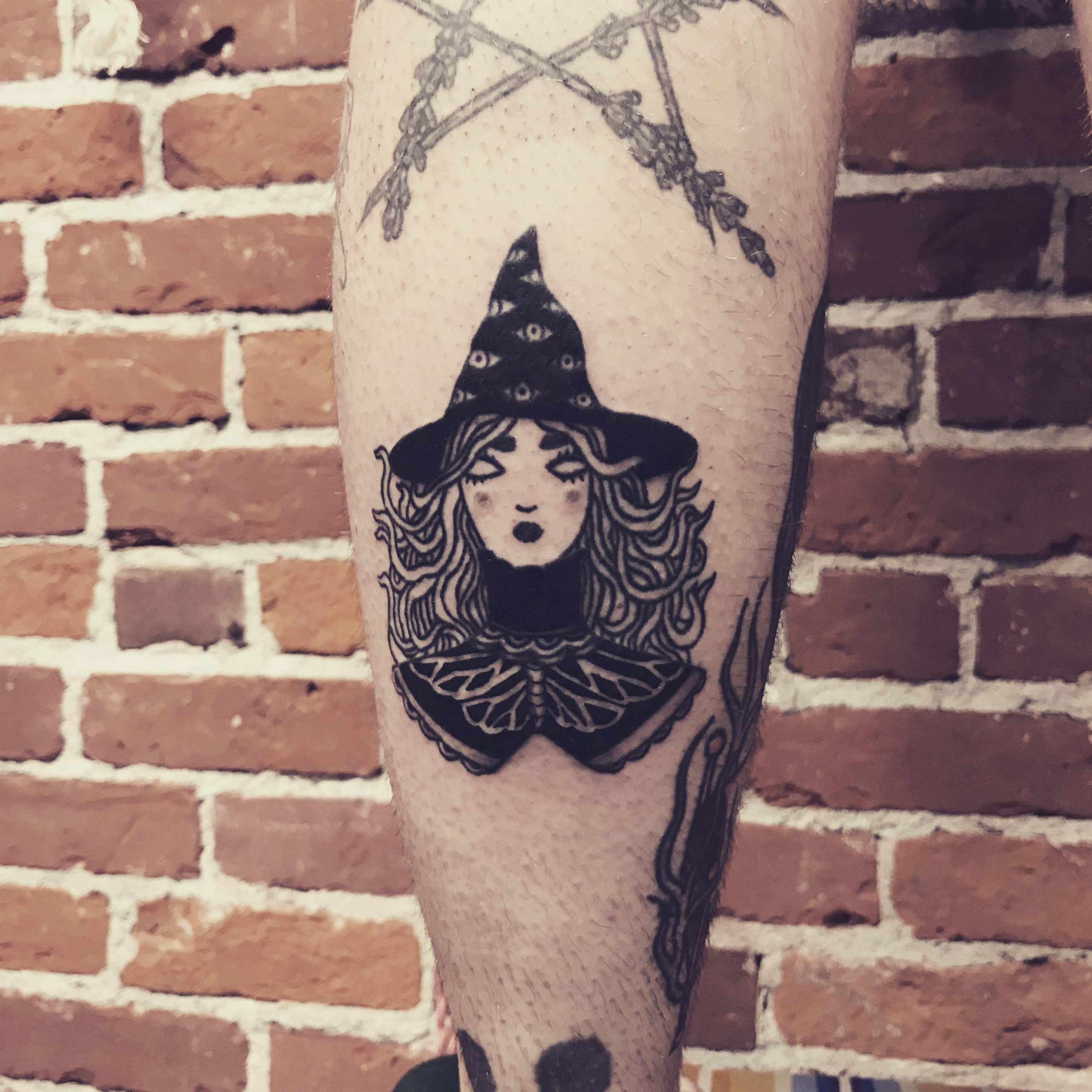 You have branched out into tattoo work in the last few years. What do you like about that medium in particular and why do you think your work translates well into tattoo designs? Additionally, how do you feel about strangers wearing your art permanently and absorbing it into their identity? And is it difficult being unable to tattoo during this time?
One thing I love about tattoos is the permanence of them and how they are attached to a living breathing human. It brings a whole different level of stress and intimacy. It's very special. I feel a connection to every one of my clients.
I thought that my work would translate well because I did mostly black linework. But It was a lot harder than I thought it would be. I had to learn to simplify a lot.
It is very difficult that I cannot tattoo right now, but I am enjoying being able to focus on painting and other work.
It occurs to me that two of the mediums you work with, ceramics and tattoos, are especially fragile. You've said yourself that you break many of the ceramic pieces you work on. Skin is part of bodies which break down and tattoos fade. Why are you attracted to these unstable forms of expression?
Creating a piece of work that you spend many hours on and are so proud of that falls and crumbles on the way to the kiln feels like an important life lesson. It's taught me to be less attached to things and to appreciate the beauty of decay. Everything is impermanent.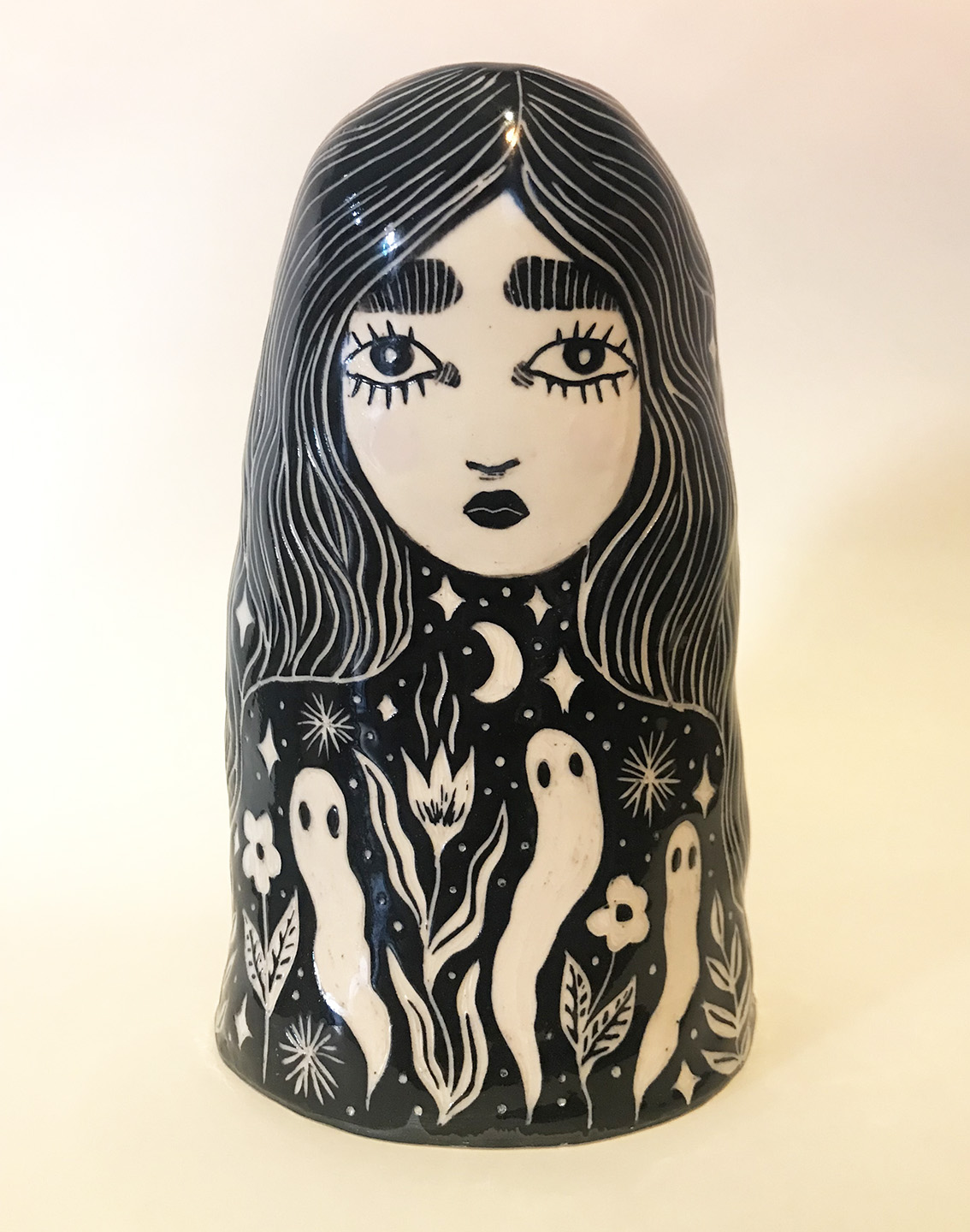 One of your favorite illustrative motifs are ghosts. As a believer, what do you think ghosts are? Over 200,000 souls have suddenly passed in tragic circumstances and suffering. Have you given any thought to the kind of ghost energy that the shared trauma from this pandemic might create?
Ghosts can be a lot of things. For me they are either an imprint of an event, usually traumatic, or the fractured soul of a human who experienced a traumatic death and is lost or stuck. I think they can also be souls of loved ones reaching out to those who are left behind.
I have thought about all the lives lost to this pandemic and all the traumatic residual energy that will probably linger on for a really long time. I worry about the effect it will have on those who are left behind, mostly those in the trenches and the family members who were unable to say goodbye to their loved ones.
We will really need some major healing when this is all over.
Magic is woven into all of your work. What are your thoughts on magic in the world right now? Is it hibernating or have you been able to maintain your sense of wonder?
I think there is a lot of magic happening in hibernation. A lot of people's focuses have changed from the outside world to their inner world. Self care, self love, family, self reliance… all those are powerful healing things. And I imagine and hope that mother nature is doing some much needed healing as well.
Conservation is very important to you. Animals feature throughout your work and you're also a devoted cat mom. With suspicions that the spread of Covid 19 can be traced to wildlife trading and possibly consumption, as well as the confirmation that cats both domestic and large have tested positive for Covid 19, what are your thoughts on humankind's responsibilities to the animal kingdom at this time?
We have to start treating the planet and all its creatures with respect. This is a wake up call. I'm really hoping that the wildlife trade is brought into focus and looked at differently. If we don't stop it because it's cruel and inhumane, maybe we'll stop it because it's dangerous to humans.
What media have you been consuming during shelter in place?
I listen to NPR and Reuters mostly. I check the News app on my phone daily as well.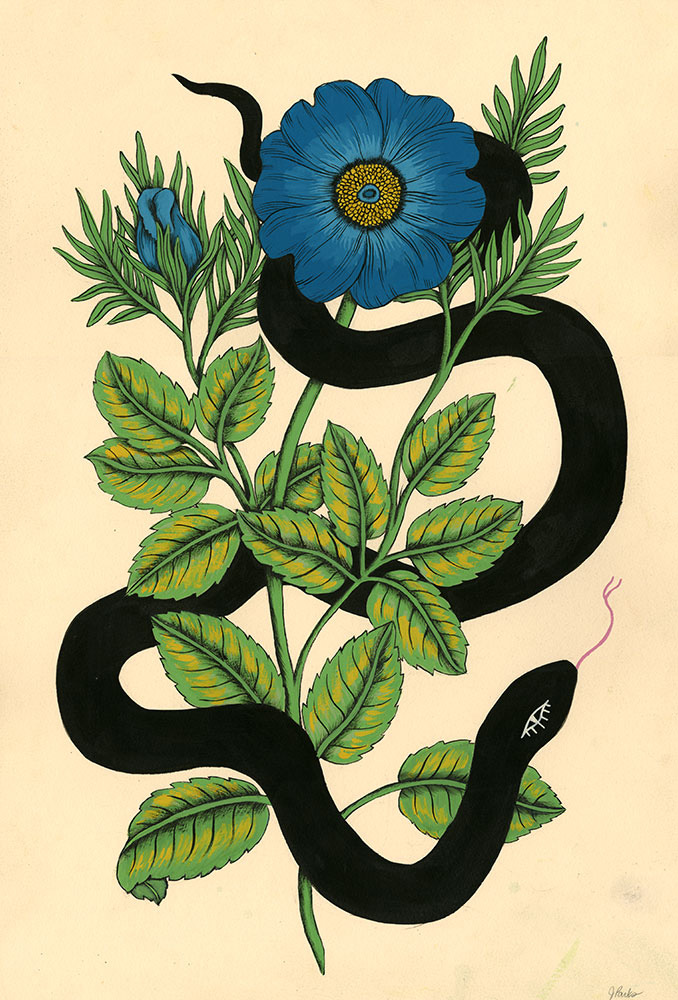 Are there any supplies or tools that you rely on or would like to have but are currently struggling to get?
Thankfully, most of the things I need I have been able to order online. I just have to wait a lot longer for them to arrive.
Did you have any planned showcases that have been postponed or cancelled? Or were there any shows that you were looking forward to attending?
I was very much looking forward to the Crafty Wonderland Spring Market that I exhibit at every year and a Mexico City art event that I was planning on tattooing at. I've never tattooed at an event and was excited about it.
Has your financial situation been affected by the spread of Covid-19?
Yes, tattooing was my main source of income. I've had to rely on art sales and illustration work which is usually supplemental.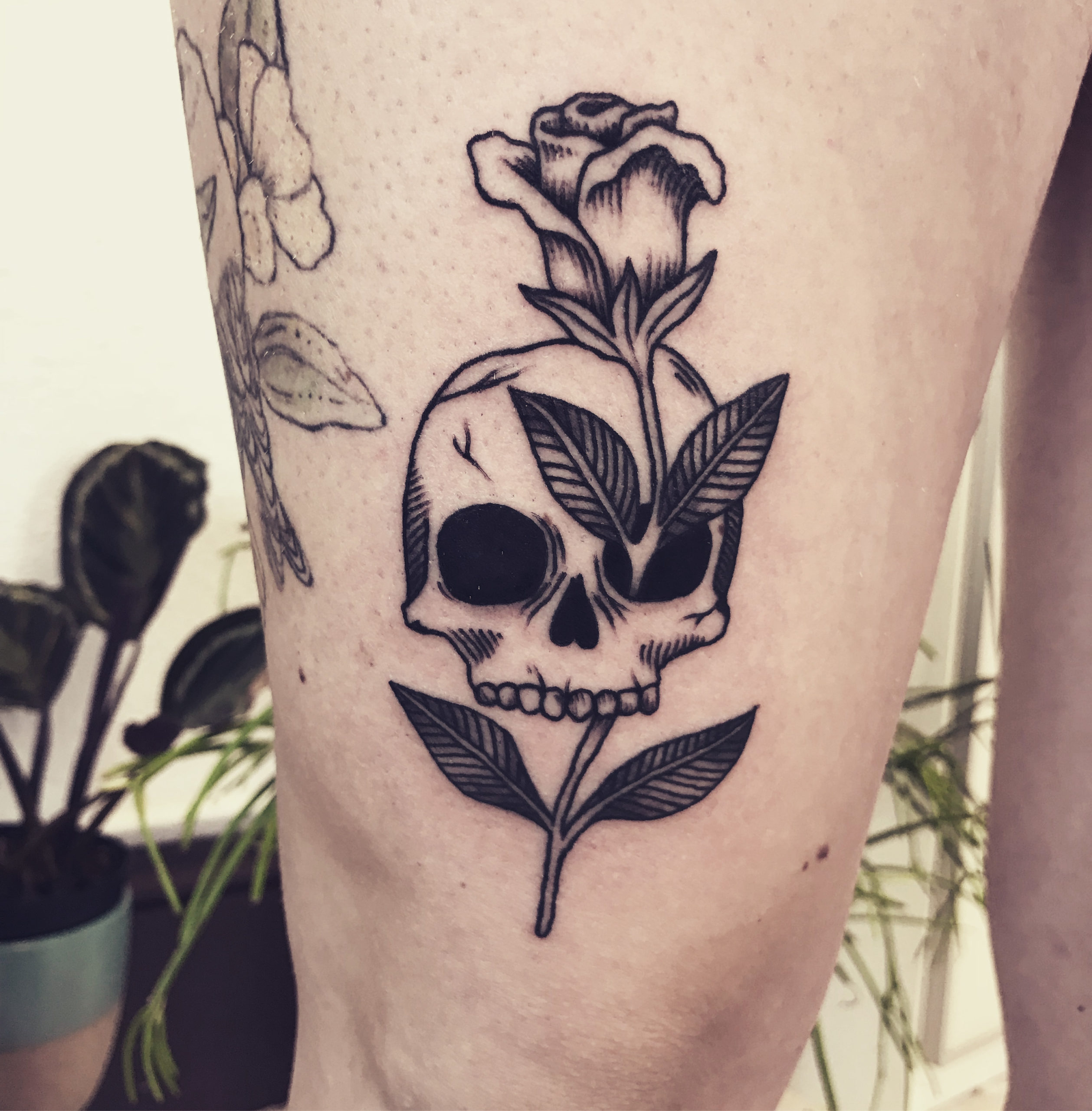 What can we do to support your work at this time?
You can hire me for a custom painting or any sort of illustration/design work, order some prints from my website or, if you're local, You can purchase a tattoo gift certificate. I'm currently offering them at a discounted price.
Thank you Jennifer for doing this interview!
To see more of Jennifer's work, visit her website and follow her on Instagram.
Shop for prints, pins and tapestries featuring her artwork here.
---
Dahlia Jane is a wicked writer living in Los Angeles.  She writes about the dark arts scene, goth life and fascinations with the macabre.  Dahlia spends her free time obsessing about skulls, devouring true crime and occult books, sewing and making messes.
All author posts