This is my first costume post of the 2013 Halloween season and it's a breath of fresh mausoleum air.
I've been covering all things Halloween for several years now and it's unfortunately rare for me to find anything innovative or unexpected in the world of commercial costumes.  An email from a Morphsuits representative delivered me from my costume post boredom.
As soon as I clicked on the link to the Beating Heart Pirate Female costume (above and available for purchase here UK and here US) and saw that pulsing heart effect, I was hooked.
Brought to dismal life by a group of Scottish entrepreneurs and a NASA scientist who developed the wearable app technology, the new line of Morphsuits costumes and tshirts incorporates unique digital applications displayed on your smart phone.
Here is a video showcasing the Digital Dudz Frantic Zombie Eyeballs Shirt: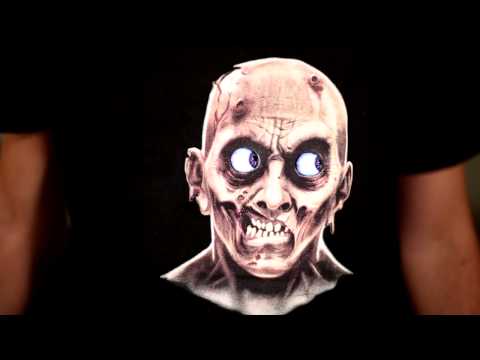 "Technology has never moved faster or been more accessible to consumers," explained AFG co-founder (Morphsuits is part of AFG) Gregor Lawson.  "There are 31 million smartphones in the UK and Google searches for wearable technology have increased six fold in the last 6 months. We've applied this insight by using mobile devices to bring our costumes to life with animations from bleeding wounds to moving eyes – now who wouldn't want that for their Halloween party!"
It's ingenious.
Each of these Morphsuits costumes includes a pocket which is specifically engineered to cradle your smart phone.  The Digital Dudz smartphone app is available as a free download for iOS and Android devices.  The app is interactive.  Double tapping the beating heart on the screen toggles through additional animations including snakes, maggots, gears and a tarantula.
This season, Morphsuits Costumes Co. is offering male and female versions of the bleeding heart pirates and zombies as well as a bleeding heart doctor.  The Digital Dudz tshirts include several shifty-eyed characters such as a Freaky Clown.
Morphsuits is also developing an Augmented Reality Vampire costume that creates the illusion that bats are flying out of the wearer's hand when the viewer looks at them through the smart phone.
Obviously the potential for horror effects is huge.  And as technology expands and improves, these costume effects could become even more realistic and terrifying.
Besides looking cool, these costumes also solve the dilemma of where to stash the cellphone during Halloween parties. Most costumes don't have any kind of pockets and a regular purse not only ruins the look of a zombie pirate costume, but it's also in the way. I've done the boot tuck and had my phone slide down my calve. I've sewed pocket sacks into skirt linings. I've even tried to stick my phone in my bra. With these Morphsuits digital costumes, that's no longer a problem.
Morphsuits is based in the UK, but you can easily shop in US currency through morphsuits.com instead of morphsuits.co.uk.  Shipping is free.  American customers can go straight to the scary Halloween costumes here.
If you like these costumes, I'd jump on this and try to be the first guest at the gruesome party with a smartphone enhanced costume.  Because one of the thrills of these costumes is certainly their novelty and people who haven't discovered it yet will think you're especially clever.  I expect in coming years the abilities and animations will expand and the variation of the effects will sustain the use of smartphone apps built into costumes.  But until that day, you're going to want to beat the crowd and blow the minds of your friends.
What do you think of these technologically enhanced costumes?  Where do you see this going?