Feminine Dolls
Inspirations:
Costumes to Buy:
Your doll can be dressed up however you want, but I like the Victorian or Antique inspired look the best for a horror doll.  Check out thrift stores and flea markets.  There are plenty of Gothic Lolita dresses to choose from, but it's too late to order from any of the made-to-order import sites for this year's Halloween.
I saw some big bow headbands in Claire's at the mall last week.  Forever 21 also has some very inexpensive accessories that would be perfect for a doll costume.
Paper Magic Women's Gothic Rag Doll Wig Costume, Black/Red, One Size
through Amazon for $9.99
Masculine Dolls
Inspirations:
Costumes to Buy:
Here is a good tutorial by Goldie Starling on doing makeup.  For boys, you can skip the eyelashes.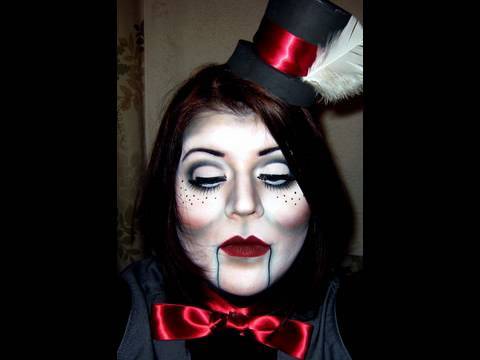 I thought it would be easier to find a vaudeville type suit for a ventriloquist dummy costume, but I haven't had a lot of luck.  You can wear an old tuxedo or hobo type clothes.  I did find this next costume which would make a good Victorian doll.
For a voodoo doll costume I would start with a white, flesh or cream colored jumpsuit
You can add a heart applique to the jumpsuit chest (should be easy to find at any craft store).  Then you need some props to stick into the voodoo doll.  One way to make giant pins is to get one of these foam nail props and glue a brightly colored foam ball to the top.  You can also wrap pencils in duck tape and add foam balls or round eraser caps to the ends.
Nail Thru Head Prop
from Amazon for $10.99
Details like bloody gloves, weapon props or an extra-sinister smile will sell any scary doll costume.