Mixing equal parts fascination in chemistry and passion for art, Tyler Thrasher is an artist who grows crystals on dead things.
Thrasher's work appears deceptively simple. But in fact it's richly layered thematically.
Firstly, there's the manipulation of a corpse from an object that's either ignored, feared or considered revolting, into an object of great beauty that's coveted.
Secondly, there's the disruption of the life cycle. While a carcass would typically decompose into the soil and feed new life, Thrasher's art births a new stage of life for the corpse.
And thirdly and perhaps most importantly, his work examines the relentless human drive to create and put its mark on nature.
Initially experimenting with toxic chemical compounds on dead cicadas, over time Thrasher developed the knowledge and techniques to safely create art objects from a variety of insects and skeletons in his laboratory.
Affirming his strong connection to the natural world, Thrasher is also known for his work with succulents in his greenhouse. He generously shares his experience with nurturing plants on his weekly podcast Greenhouse Rants. For the Rant part of Greenhouse Rants, Thrasher ruminates on a wide variety of topics that get under his skin from the sillist to the incredibly serious issues of racism and misogyny.
Just as he found a way to combine art and science, he's also found a way to add activism into the mix with his Do Good initiative. He recently leveraged his growing platform to sell an incredible 10,000 Raise Some Heck tshirts that he designed in just a few days. The proceeds were donated to local and national causes which help Black, Indiginous and People of Color populations. A small portion of the proceeds also went to compiling 400 crystal growing kits for underserved children in the Tulsa, Oklahoma area.
I was eager to hear both about how Thrasher has been able to spin a dark time into positive actions and to learn more about his views on the role of science during the pandemic.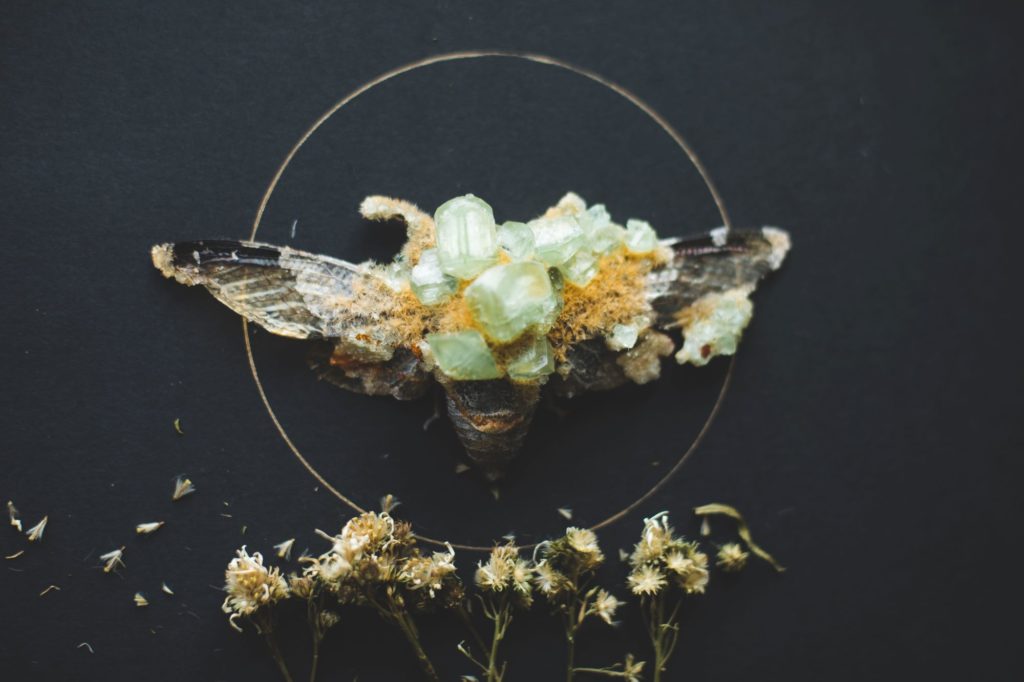 You are a mixed media artist, a nurturer of succulents and other plants, a podcaster, and a musician as well as a husband and a father living in Tulsa, Oklahoma. How has your daily life changed since the spread of Covid-19?
My work, research, experiments, etc are my full time job!
My days are usually spent bopping between home, the greenhouse and the lab at any random set of hours during the day! Honestly, the pandemic hasn't impacted my daily routine a lot.
I've personally had more time to stop and focus on some personal projects and growth. There was a lot of daily bustle pre pandemic that really impacted my work and work ethic that I don't really care to revive!
What is life like in Tulsa right now? Have businesses started to reopen yet? Are people quarantining and social distancing? Are there shortages? Do you feel safe?
Tulsa has been very proactive with safety measures and precautions, even before the rest of Oklahoma. Downtown is quiet and empty, parks have caution tape wrapped around playgrounds, etc. Businesses are slowly and partially reopening.
A few of my favorite businesses are struggling to reopen and are considering closing, which is very tragic.
There haven't been any shortages that I'm aware of outside of the food desert that is North Tulsa.
Overall, we've felt safe and the community here has taken great efforts to look out for one another.
So far Oklahoma has been spared the worst of the virus with just over 300 deaths reported statewide (at the time I'm writing this question). However, Oklahoma has been one of the hardest hit states with unemployment claims. What is your perception of how the local/state government has handled the crisis?
Politcally, Oklahoma government is notoriously anti-science. While Tulsa has handled this very well, the rest of Oklahoma is seemingly fighting tooth and nail to ignore and outright oppose science, healthcare and the looming threat of COVID.
It's taken some of my friends weeks to get ahold of anyone at unemployment and they've been told there's a 5 month waiting list.
We weren't prepared despite plenty of warning and this all comes back to the denial of science and facts unfortunately.
Now that the Governor is requiring businesses to reopen, employees can't file for unemployment and foot traffic is so low that a lot of businesses and restaurants can't afford to hire back their full staff.
There is speculation of mishandled and poorly managed money in terms of unemployment funds. The whole thing is a mess.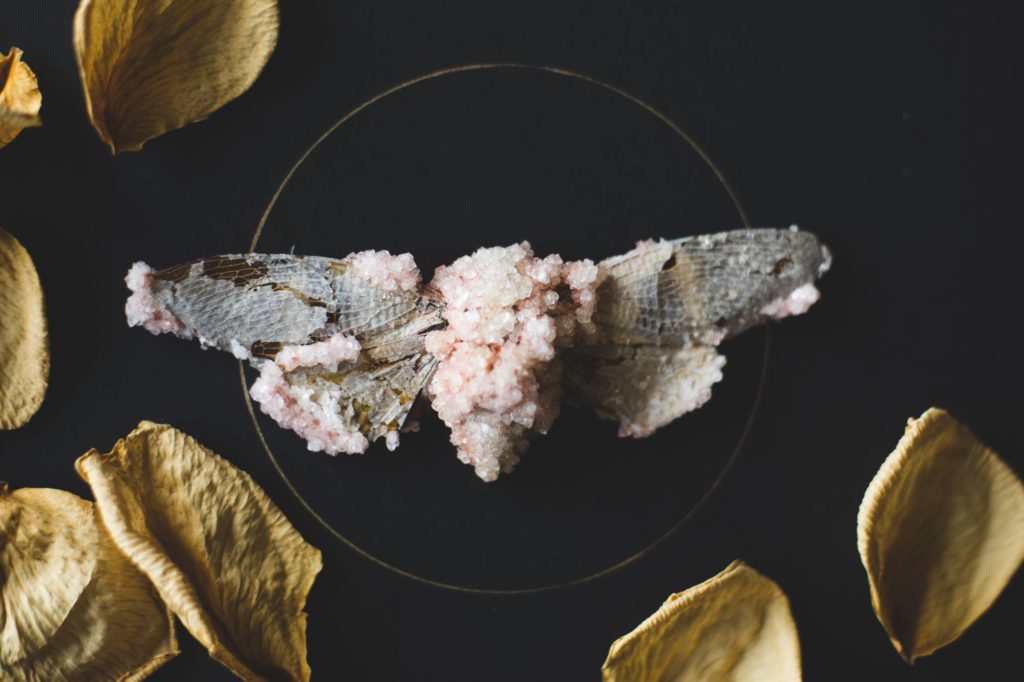 Your podcast, Greenhouse Rants, combines practicable advice from you about caring for plants with fuming, curse-filled tirades about everything from serious social issues such as gender equality and voting, to your disgust of food items like Kraft Cheese. It's clear from your podcast that your leanings are liberal. When I think Oklahoma I think conservatives. What is it like being an outspoken, liberal artist in a conservative state? Do you feel accepted? Does any tension from feeling different feed into your work?
There is definitely tension. There are Oklahomans that shudder at the word "science" or anything that isn't 100% faith based.
However, Tulsa is progressive, forward thinking, and very inclusive. This city feels like a weird twilight zone safe bubble in a state that rejects anything outside of church, pro-life, and truck stops.
There's a message being shared by the media that we are all in this together and that any of us can fall prey to this insidious disease, which is true. On the other hand, Black Americans (and other communities of color) have been disproportionately affected. According to CNBC almost 23% of the reported deaths from Covid-19 have been Black people even though they only make up 13% of the total population. There are many factors driving this including income inequality, access to health care and the fact that Black people have higher rates of certain underlying conditions that make the virus more dangerous. What do you feel are the biggest challenges facing people of color during the pandemic? What more needs to be done?
I think this is a hard concept for some Americans to accept. There's a lot of self preservation and self inflicted blindness when it comes to continued segregation.
Black communities have historically been separated from other communities and demographics. This makes access to resources very hard. It applies a lot of financial pressure on Black families as they struggle to even meet baseline needs.
As a consequence, some Black families can't afford to neglect work or take time off. This can increase exposure in these areas and environments.
We need to start by accepting the hard reality that the world intentionally separates Black Americans and families. We can't fix a problem that we ignore.
There needs to be efforts of inclusion and efforts to unite different communities, so when resources are available we remember to include the Black communities we've been trained to ignore.
[The following question was written on May 28:]  Increasingly in the last several years, I have been aware of videos capturing the final moments of a Black person's life. One would hope that the pandemic would bring people together and ease racism, but I do not think that has been the case. In early May a video of Ahmaud Arbery's senseless slaying circulated online. And just this week a video made the rounds of a police officer kneeling on George Floyd's neck just before he died in police custody in Minnesota. I can think of so few examples of times in my life when I've been served a video of a human being of any other race dying (mainly the execution of a white journalist by terrorists comes to mind). I accept that there is shameful systemic racism that needs to be brought to light and rectified. But viewing a death is extremely upsetting and I can't help but think it could be psychologically damaging for some Black people especially knowing all of these videos are out there and almost unavoidable. Do you think propogating this type of graphic imagery is more beneficial or harmful in the fight against racism?
As hard as it is, I think we need more White Americans to see this imagery (when talking about Black hate crimes.) As a Black American, I see a new police murder video every other day with other fellow Black Americans emphasizing what we've always known and what we've had to live with.
White Americans have the safety of not having to think about it.
Black children are told from a young age of the threats and the history that built this country. I come from a very frustrated place with all of this, so when I see yet ANOTHER video of a Black body being brutalized by the police the one thing that comes to my mind is "If Black children have to accept and fight this reality, you as a 30 year old White adult can watch the fucking video, join us, and DO SOMETHING."
In your experience, does the art world have a diversity problem and/or a racism problem? What more can be done to elevate artists of color?
It all depends on where you come from. As an artist in Springfield, Missouri, I struggled to be taken seriously.
Black artists have to fight twice as hard for the spotlight and then we get the spotlight we're held on this pedestal that can be very objectifying, sort of as "congrats, you made it out of a trial we set hundreds of years ago. You weren't supposed to do that!"
We need White people to get more comfortable with people of color. Sometimes there's such an emphasis on the difference, that people have to almost dive into Black media to find the artists they'll come to like.
If the color of our skin didn't define talent then we would have an even playing field instead of having to work twice as hard.
Love of nature and science are unifying themes of all of your work. With so many people sheltering in place, travel reduced and some corporations limiting production we've seen immediate improvements to air quality worldwide. On the other hand, the White House administration has found time during this crisis to roll back fuel efficiency standards for automakers. We've also seen the damage disregarding the advice of scientific experts can do with the preventable spread of Covid-19. Are you hopeful that this time will serve as a wakeup call that we as a society need to listen to scientists and make real changes? Or do you think this crisis shows that we're incapable of putting the health of the planet above politics and greed?
I want to remain optimistic and think this time around we'll listen to scientists. We're capable of change. Truly. It'll just take a lot of tragedy and death unfortunately.
We're seeing a shift and I would be ignorant to not acknowledge it. It's just a question of whether or not that shift has enough oomph to persist.
Also we can't forget- nature has her methods and if the improvement of the planet doesn't include humans then that's what it'll take. I hate that thought.
Humans bring so much to the fabric of the universe and the planet, but we need to fight louder and harder than we have before. I do remain hopeful however.
What has been the hardest thing for you personally about the pandemic?
The severe disconnect. I find myself to be somewhat introverted, but we have our tribes and groups. We learn to lean on our people in different ways whether or not we're aware of it.
You become very aware of it when its taken away too. Telling my two year old son he can't hug his papa repeatedly did kill a part of me.
There's also a lot of pressure to make the right decisions at every turn. We're being shown how one slip up could kill hundreds of people and these simple exaggerations are breeding new levels of anxiety. I'm not saying we shouldn't be careful and lean into science, but when I find myself terrified to grab the groceries from my front porch, thats a sign that some new behaviors and reflexes are here to stay.
You tragically lost your house, a pet, possessions and a great deal of artwork in a house fire several years ago. If there is a bright side to that it is that a community of your supporters rallied around you to help you rebuild. Did you learn anything about resilience, community and/or loss through that personal setback that could apply to the global hardship we are experiencing right now?
What's important is people.
We consume enough media to paint humans as this awful plague on nature, but we forget that we're just as intertwined. People want to do good. They want to help and take care of others.
That house fire taught me several things but the most important was not only to accept help, but ask for it. People are happy to help and a lot of us wander around for an opportunity to do so. We believe in resilience and we want to see it because it breathes hope into us.
The goodness of humanity is permanent.
When all other systems and structures crumble, when jobs are evaporated and politics crack at the seems, humanity persists. We are in the middle of a pandemic, yet millions and millions of humans gather to fight for a cause that may not directly impact them, but it may impact their neighbors. Humans are good.
Have you had any positive takeaways during this period?
Slowing down is essential. Checking in with nature and non-human things is vital. The world keeps going and growing and if we can check out of our own human BS, we may grow a little bit with nature.
Take a hike, breathe deep, and say wow to tiny flowers growing on a rocky barren cliff.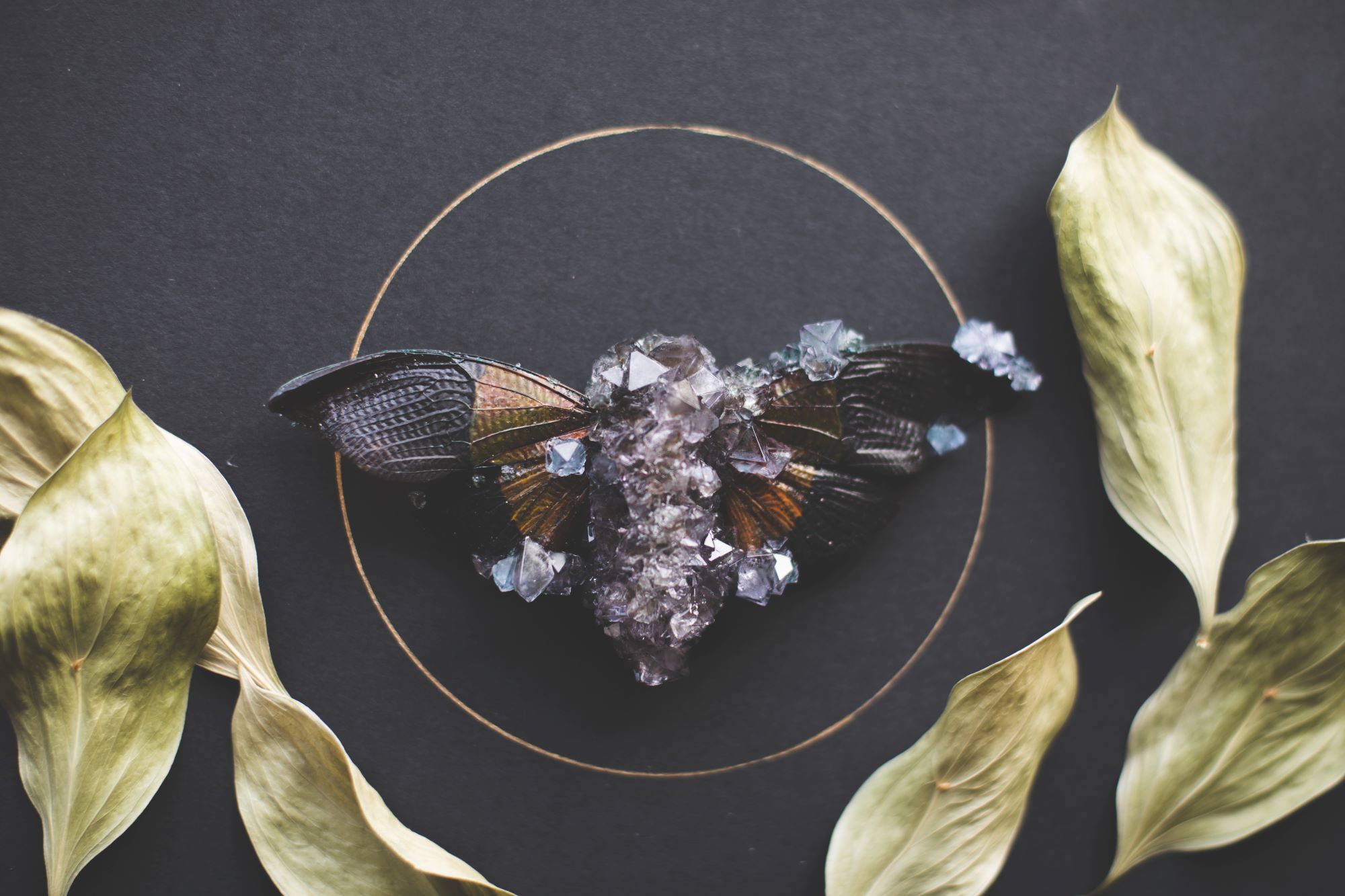 On June 2 you started taking preorder for a tshirt design that says "Raise Some Heck." You've promised a percentage of the proceeds will be donated to the Bail Project, which is securing bail for people arrested while protesting, and another portion of the proceeds will go to creating small science kits for Black children stuck at home in Tulsa. Pre-orders for the shirt are closing tonight with more than $60,000 already generated from these t-shirts. In less than four days. This is phenomenal. How did you get the idea for the shirt design? Why do you think this is resonating so much with the community right now? And do you have any thoughts on how to keep this momentum going and leverage your platform for causes that are close to your heart?
I don't know what happened. I think people are outraged, they click with the shirt, and they want to put their money where their mouth is! Anger can be a wonderful catalyst at times and I think everyone is utilizing that.
As for the idea, it's something my dad says when approaching a task or mundane action. "Dad let's go into the gorcery store" "Alright son, Let's Raise Some Heck". Also my dad should get some sort of commission or kick back haha.
What role (if any) does art and the artist have at a time of crisis?
There are several ways to communicate and in times of a crisis we need more than words. Art is a catalyst for ideas, passions, frustrations, and fears. Artists open up the stage for a level of communication that can be understood by so many more.
You are known for your work where you marry a chemical crystallization process with deceased animal remains such as a cicada carcass or a snake skeleton. Has working so closely on the theme of the life cycle given you perspective on mortality that you can share with us?
That death is terrifying and you don't get to pick what someone does to your body after you die. haha.
Honestly, I struggle daily with the idea of mortality. The idea that I can live a beautiful life full of experiences, information, failures, and growth, [but] it's all housed in a temporary self destructing shell.
Life is beautiful, but so is death.
This particular experience is like tiny sprouting seedling. You get a fleeting moment to break from the universal foundation and soil, blossom, share your beauty, and wilt back into the universe.
The thing that helps me is death is natural. All things do it and have done it and I'll have the company of the universe with me as I wither.
What does being a creator mean to you?
As a creator, we're meant to facilitate change and observation. We build upon other ideas and foundations and provide the groundwork for another idea or network. My job is to silence myself, observe the world around me and add something. Creating is just another method of note taking so you should never stop listening.
Has your creative process been affected during this time? Have you been making art? Have you maintained access to the lab where you make your crystallized object sculptures?
My creative process hasn't really been hindered. I have so many personal projects and fascinations that I usually have something to work on or with. It has given me more space and time to reflect on what I want going forward, including projects and old creative promises.
You've previously travelled to set up pop up shops and participate in art and plant shows. What will it take for you to feel safe attending those types of crowded events in the future?
A few years and numbers. I kept myself busy with travelling and ideally I would love a space people can travel to to see a collection of everything I do and create or possibly a public conservatory. I don't know that I will be too keen on air travel or a lot of travel for that matter.
Have you been financially impacted by the pandemic? Have you adjusted your output or how you reach your audience in any way to adapt?
Before the pandemic hit, I was working from the lab and crystallizing everything. By the time I was ready to sell, everything was shut down and no one had jobs. Interestingly enough, the time people spent at home really made them aware of art missing and blank spaces that need a face life.
I ended up selling a good amount of work to people who realized their home needs a little something. I'm fortunate to have a large audience so I wasn't too worried, but it made me aware and vigilant about sharing other work and artists and giving back!
What can we do to support your work at this time?
Stay tuned on some exciting projects I'm working on and tune in to my podcast! <3
Thank you very much to Tyler Thrasher for doing this interview!
To see more of Tyler's work, visit his website and follow him on Instagram.  Thrasher's crystallized corpses, prints and other merchandise are available here.
Tyler has two podcasts, Greenhouse Rants, which is a mixture of advice on caring for plants and rants, and The Lost Magic, which is short stories set in the Dungeons and Dragons universe.
Thrasher is the scientist in residence with a laboratory inside the STEMcell Science Shop in Tulsa, Oklahoma.  While the storefront is currently closed due to Covid-19, the store is taking online orders.  They currently have two shirts designed by Thrasher here. 
---
Dahlia Jane is a wicked writer living in Los Angeles.  She writes about the dark arts scene, goth life and fascinations with the macabre.  Dahlia spends her free time obsessing about skulls, devouring true crime and occult books, sewing and making messes.
All author posts