Hanna Jaeun's artwork reminds viewers that childhood isn't all sugar and spice and everything nice. In the world she depicts in acrylic paintings on wood panel, childhood is complicated and sometimes terrifying.
Wide-eyed with alarm, the children Hanna captures are often trapped in perpetual nightmares.  Scenes of tea parties and curious beasts are also chillingly filled with demons, spectres and cuts dripping with blood. 
Achingly beautiful, Hanna's bittersweet confections invoke memories of the shadow side of childhood and its attendant loss of innocence.
Living in Brooklyn, New York with her infant, Hanna finds herself facing a very scary situation in the epicenter of the pandemic. I was interested to know what kind of memories an artist whose work is so heavily influenced by them was making during these dark times.

You are a painter living in Brooklyn, New York. New York City has seen the worst of the pandemic in the United States so far. First of all, how are you coping?
It was a little difficult at first, not really being able to leave the house freely. I am adjusting to this new normal, hanging out with friends digitally or talking to friends through windows. As this has become the way of life, I am a little less paranoid than I was in the beginning.
You work from your home studio. How has your daily life changed since the spread of Covid 19?
Besides not being able to meet up with friends and go to restaurants and bars in my down time, this was what my life is like when I was busy with deadlines.
You've expressed in previous interviews that your life as an artist can be lonely. I imagine that this time of social distancing is even lonelier. How are you managing your feelings of isolation?
It isn't that much lonelier. Maybe because I know that everyone is in the same situation, and I am not missing out on anything because I have to hole myself up with work. Before the coronavirus. I felt isolated from the world during deadlines, but now I don't because not much is going on. : )
Reports of unrefrigerated trucks stuffed with cadavers outside of a funeral home in Brooklyn made national news recently. What is your perception of how things are being handled in Brooklyn? Do you feel safe?
I don't feel safe at all.
Most people are wearing masks and social distancing, but during the very peak of the outbreak there were crowds of people in parks, playing sports, sunbathing, like it was any normal overcrowded weekend.
The minute I open the door to leave my apartment building, there are always groups of people passing by. There are so many more people out than there was before the pandemic it seems. This was during the peak.
Reports of harassment of Asian Americans have gone up throughout the country since the spread of Covid 19. In Brooklyn on April 5, a 39 year old Asian American was taking out her trash when she was doused with a caustic liquid, possibly acid, and suffered second degree burns. Have you experienced or witnessed any anti-Asian discrimination during this time? Along with the fear of getting sick, are you afraid of being targeted?
I haven't witnessed or experienced any discrimination so far. I heard about the attack and of course it was alarming that it happened in Brooklyn. I stick around my neighborhood where I know a lot of the people and I am not usually alone so I haven't been too worried about being targeted.
Has your creative process been affected during this time? Are you making art? If you are making art, what have you been working on?
My creative process has only been affected because I have a 7 month old and it gives me very little time to work. I have a few projects I am working on. At the moment, I am trying to finish up a piece for a show inspired by jewelry designer ONCH at Corey Helford Gallery.
Your work explores memory. Bittersweet portrayals of childhood highlight how frightening and compelling that stage of life can be. We are currently undergoing a shared trauma. What role does the artist have in creating a visual narrative to help shape how this period is remembered? And do artists have a responsibility to create work that deals with the pandemic?
I am not painting anything directly influenced by pandemic. There is probably a lot of work out there that is influenced. Years from now, aside from the news articles and media, it would provide a glimpse into more intimate and personal struggles during the lockdown.
What role (if any) does art and the artist have at a time of crisis?
Art is a great distraction from what is going on in the world and it can also be a creative outlet, a way to express our frustration and fears.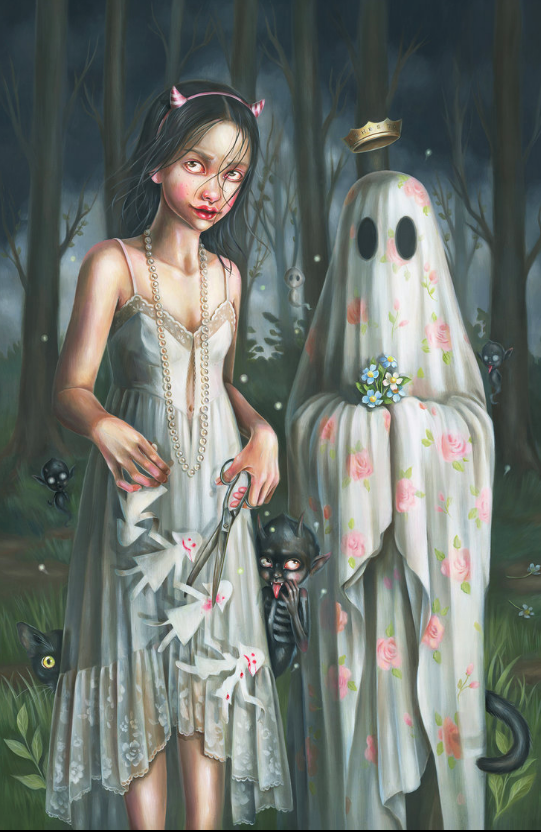 Ghosts feature prominently in your work. What do you think ghosts are and why do you introduce them to your scenes? Have you given any thought to what kind of ghosts will result from the pandemic?
I believe ghosts are reflections or energy of a past life that has been left behind. I have experienced the presence of ghosts and do believe in them.
I love sheet ghosts. I was one for Halloween! I like painting them because they are fun and give a playful look at spirits and ghosts.
The kind of ghosts resulting from the pandemic would be those who were forced to die alone and are seeking their loved ones to say their last goodbyes.
Your work is undeniably dark. What purpose do dark images serve in a dark time? Do you feel that your role as the artist has shifted or taken on a different level of importance?
When we are going through dark times we are encouraged to look towards things that are optimistic and uplifting. However, sometimes facing the dark can be comforting. Everyone copes differently and there are many ways to cope.
I don't think my process as an artist has shifted too much although I am having a tough time with everything being digital.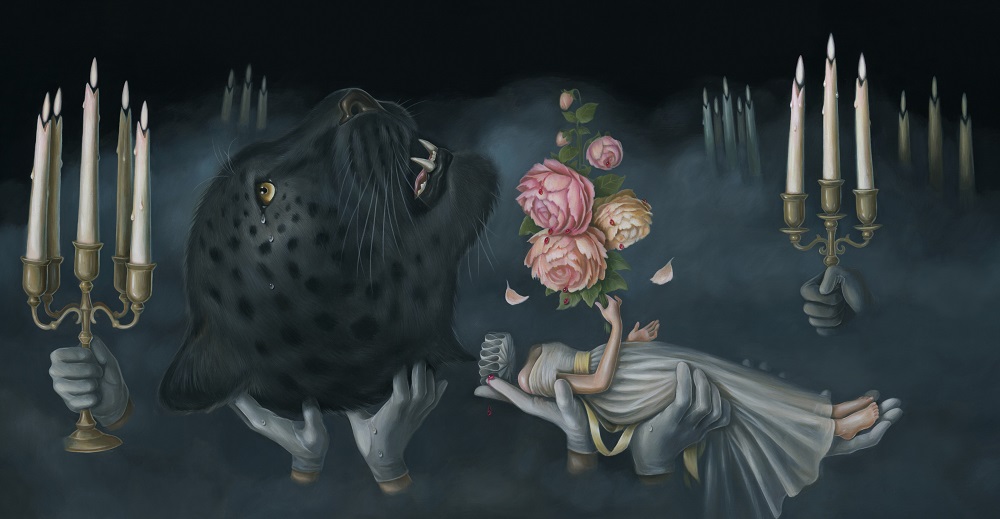 Originally all of your paintings were of animals. Now your work incorporates animals and humans interacting. You're also a cat owner. What do animals signify in your work? Additionally, with suspicions that the spread of Covid 19 can be traced to wildlife trading and possibly consumption, as well as the confirmation that cats both domestic and large have tested positive for Covid 19, what are your thoughts on humankind's responsibilities to the animal kingdom at this time?
When I first heard about the spread of Covid-19, my first thought was that this was a punishment from Mother Nature with our selfish throwaway culture, mistreatment of animals, overtourism at the expense of the animals and the planet.
The earth needs a break and needs to breathe.
We need to do what we can to help the animal kingdom. We can start by playing a small role in recycling, not littering, adopting animals in need. I feel like a lot people shop for animals based on looks to complement their own image. Much like the way they shop for cars or handbags. So many adoptable shelter or rescue animals are being overlooked. This is what I was addressing when I was painting animals at the time.
Where are you currently finding inspiration for art?
My inspiration is loosely moving towards childhood birthday parties, magic shows, and circus acts. But very loosely.
Are there any supplies or tools that you rely on or would like to have but are currently struggling to get?
I have to order my supplies online now. I cannot just walk to the art store to grab last minute supplies anymore. For the most part, I can order everything online. There is a longer waiting period for supplies and delivery fees. There was a time when I found that my varnish had leaked from the bottle. The art stores were closed so I had to use a varnish I wasn't used to using and that was a real headache.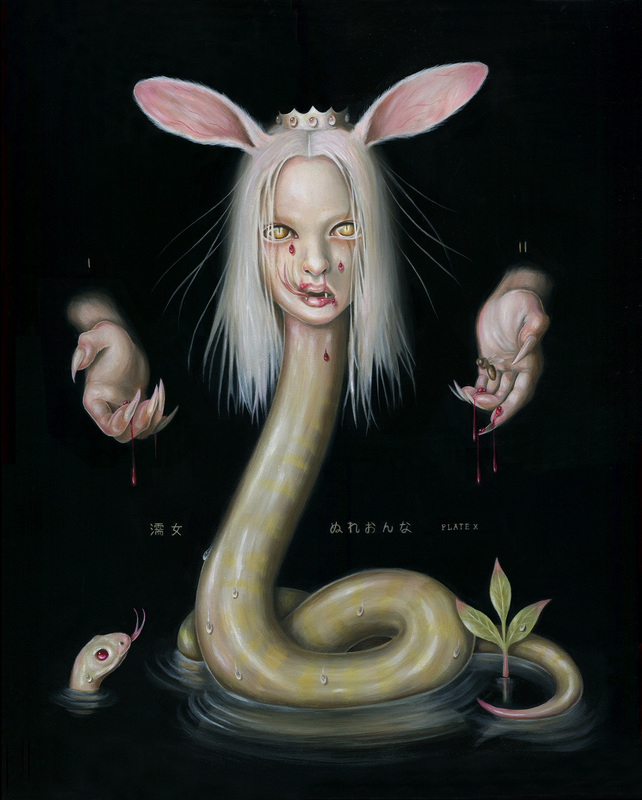 Did you have any planned showcases that have been postponed or cancelled? Or were there any shows that you were looking forward to attending? How do you feel about shows going exclusively digital?
I don't have any shows that have been postponed or cancelled. I am not too crazy over the fact that the openings are now digital, I feel like you lose the experience, but of course we have to adjust to the current situation.
Has your financial situation been affected by the spread of Covid-19?
Yes, In the beginning it was impossible to even file for unemployment. We were already in a difficult situation, and then this hit us where it was already hurting. But things have settled down a bit now.
What can we do to support your work at this time?
Everyone's supportive comments really do keep me going!
And of course, if a painting found a good home that would be great too.
Thank you Hanna for doing this interview.
To see more of Hanna's work, visit her website or follow her on Instagram.
You can buy original paintings by Hanna through WOWxWOW Gallery, Hieronymus, Spoke Art, Corey Helford Gallery and Copro Gallery.
---
Dahlia Jane is a wicked writer living in Los Angeles.  She writes about the dark arts scene, goth life and fascinations with the macabre.  Dahlia spends her free time obsessing about skulls, devouring true crime and occult books, sewing and making messes.
All author posts