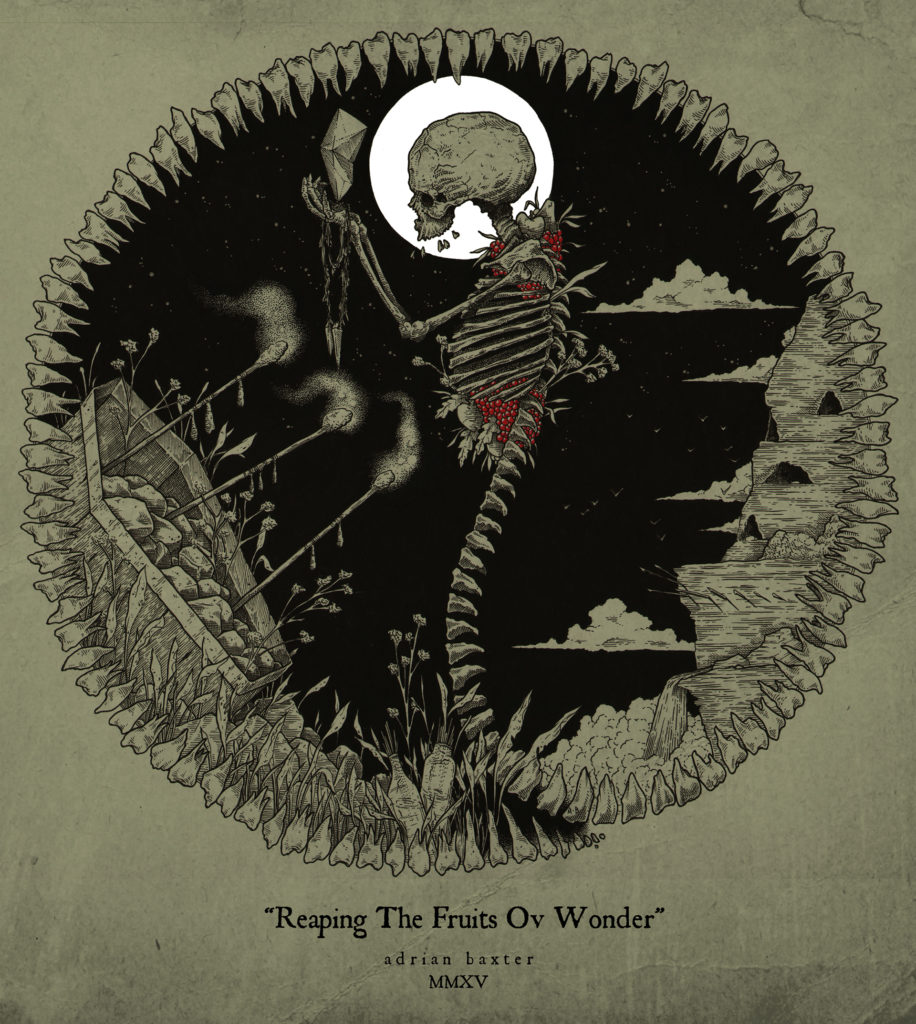 Looking at Adrian Baxter's masterful hand-drawn illustrations creates a feeling of stumbling upon a centuries old alchemical manuscript or grimoire. With remarkable attention to detail, Adrian seeds his labyrinthine drawings with occult symbols and old world sensibilities.
Each of Adrian's illustrations is a beautiful meditation on mortality, memento mori and the unseen.
His compositions are replete with ghastly skeletons engaged in grim rituals, undulating serpents and ceremonial tools. And his signature palette is mostly black and a lighter tone, with the occasional pops of color such as splashes of blood red which are digitally added after the drawing is complete.
A frequent collaborator with bands, Adrian is working in the countryside of the United Kingdom. I reached out to Adrian to find out if the struggles of the music industry were affecting his collaborations. And I was curious to know how an artist whose work is heavily influenced by history was reflecting on this current historic period.
You're a full time illustrator living in a rural area of Yorkshire, UK. Has your daily life changed since the spread of Covid-19 or does living in a less-populated area protect you from the strains placed on urban life?
It's pretty quiet where I live, so it hasn't changed very much at all thankfully. I'm lucky to live amongst plenty of hills and trail routes so I stick to those when I'm walking my dog or out running.
The majority of people here have the self awareness to give everyone enough space to pass, but there are a small number of folk who seemingly have no idea how to act responsibly.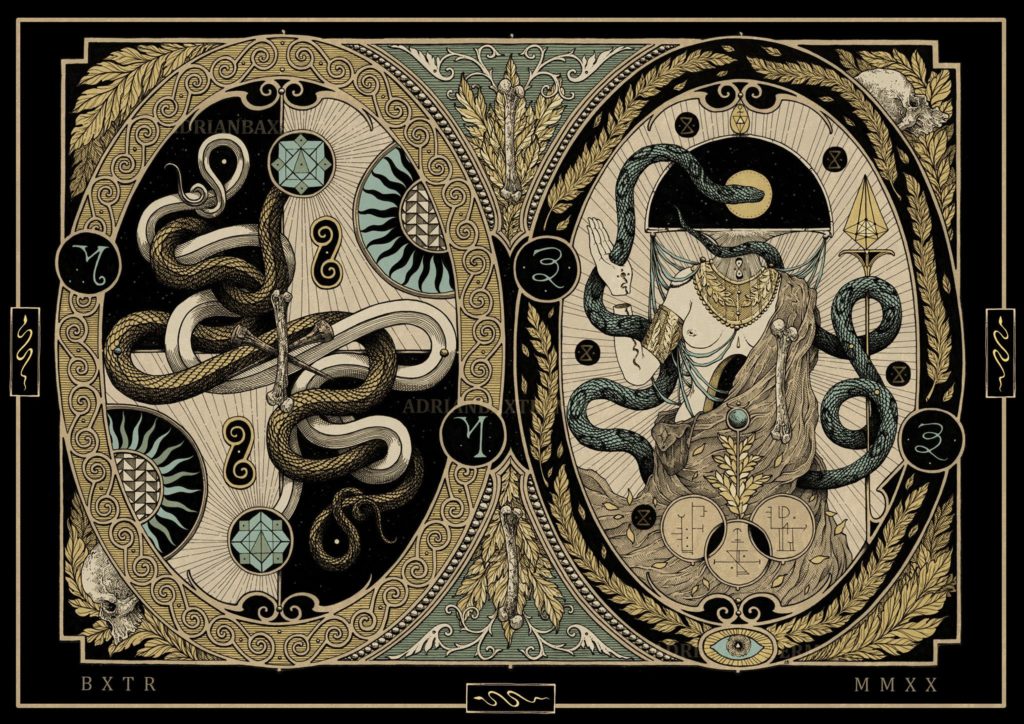 Do you feel that you are better equipped than many people for social distancing? Is it your preferred state of being?
When I'm out, I naturally fall into my own internal dialogue and it's a welcome place for me. I'm happy to interact briefly with the general public, but I've never really been one to stop for small talk.
What is life like in Yorkshire right now? Are most people staying home? Are public places closed? Are there shortages? Do you feel safe?
At the beginning of lock down it was eerily quiet. I feel like many of the people I did see in that time were reserved and unsure how to act.
Though over the last few weeks it feels like the initial shock has settled down and people are a little more comfortable with being out and saying hello in passing.
Some public areas are closed, but as I mentioned, we're close to plenty of naturally open areas so it hasn't been an issue for me personally.
I do feel safe, but that's only because my job doesn't require me to wear protective equipment or be around groups of people. I admire the courage of the people who do.
The UK currently has the highest death toll from Covid-19 in Europe and the second highest in the world after the United States. What is your perception of how the government of the UK is handling the pandemic?
It currently feels like they're picking and choosing which facts and stats to acknowledge in order to get people back into work to save the damaged economy.
The advice they've given out recently created more questions than answers for the general public. I can't help feeling if it carries on in a similar fashion, people will start taking things into their own hands in terms of staying safe and keeping the risk of infection high. It's a fascinating lesson in human character right now, that seems to be pulling away the governmental mask more and more each month.
Has your creative process been affected during this time?
Not really. My routine over the last few years has been similar to what it is now. Making time for rest, exercise and fresh air is as part of my work day as usual.
The one thing I've felt change is my need to acknowledge the extra attention and space my brain needs, given what's going on. I recognise it's only natural, so I can deal with it accordingly. By that I mean things like not pushing past 3 or 4 hours of work in one go, and accepting certain days I may not get as much done as planned.
What role (if any) does art and the artist have at a time of crisis?
Our 'role' at a time like this should be recognising what we personally need to stay afloat. I believe art should be a selfish endeavour.
If upping your creative output feels naturally helpful – head down that path and cultivate it.
If it feels more comfortable to step back slightly and give your brain extra space for other paths of thought, allow that to be your focus. The worst thing we can do is push back against our instinct. Those who appreciate our work may feel where the output is coming from and react accordingly, on a subconscious level.
Symbols of mortality are present in almost everything you draw. Do you feel more or less compelled to explore those types of symbols in your creative work at a time when so many are aware of a heightened fear of death? What purpose do dark images serve in a dark time?
I don't feel my work has been affected by what's going on, nor do I feel it will in the future. I've never really been one to sway with the cultural current, creatively.
Dark art in all its forms serves the exact same purpose as always, in my opinion. The perspective of the viewer may have an altered interpretation, but that's the power of art and creativity.
I see art to be akin to the centerpiece of a life-drawing class, and depending on where you're situated within the surrounding space, you get a particular interpretation. Some people may be more sensitive or tuned in to dark art at the moment, and others will see it as they always do.
You posted on social media that you've been working on illustrations for the Wunderkammer Wagon project. Can you tell me what that is? Have you been working on additional pieces during this time?
I can't give too much away at the moment, but I was commissioned to illustrate multiple designs for the project, inspired by baroque styled depictions of death and dying.
As soon as further details are able to go live I'll be posting online.
Your work is rife with occult imagery. Do you consider your illustrations to be magical objects or spells?
Not personally, no. Though I understand if anyone were to see them as such. I draw them in a way that may be enjoyed visually on the service, or read into further should someone want to interpret the symbolism.
You've studied occult teachings and symbols to incorporate into your illustrations. Though many view anything occult-related as ominous, you explained to Innermissive that the lessons learned from occult teachings are "deeply positive when applied to your own journey." How are you taking those lessons to heart during the pandemic and staying positive?
Many teachings encourage us to recognise the benefit of struggle, not to avoid it.
Many people seem to view self-care as a selfish act. When in reality, if we all all work on what serves us best, avoiding greed and ego, we become better able to live with deeper understanding and compassion for others. We all add to the ripple effect, in good and bad ways.
Personally, the pandemic has only solidified my approach to looking inward at how my daily life choices (diet, exercise, how I spend my time) affect my daily output.
Meeting up with friends, visiting family, living with purpose, will all have added weight when we get to the other side of this.
You're very judicious about your use of color. A great deal of your work is black and white with occasional pops of color such as red or gold. How do you decide when to add color and what does color bring to a piece?
Colour is often the last detail I add to a piece. I may have some ideas in mind whilst I'm drawing, but they're loose and often change when it comes to adding them.
I feel colour and shades can alter the mood of almost any image, so it's always fun to experiment with various palettes. The colours of ancient Egyptian and Babylonian artwork are a constant influence.
In the past you've collaborated with bands such as Bell Witch, Sunwolf, Underling, and Schammasch. With the music world in limbo, are bands still reaching out to you or has that work dried up? Additionally, what does your ideal collaboration look like?
It's a little quieter than usual, but bands are still interested in merchandise and album artwork because online sales are still an option.
The shutdown of live shows has hit bands drastically, especially smaller independent bands.
My ideal project is quite simple really – when a band trusts me to elaborate on a brief idea they have in mind, and are open to discussion. Creative respect between myself and the client is crucial, in my opinion. I'm very grateful that many of the bands I work with have this mindset.
Beyond collaborating with bands, music is a huge influence on your work. On Heavy Music Artwork you wrote that you "often look back at completed [art] work and remember what I was listening to whilst drawing certain parts." What's on your pandemic playlist? And have you been listening to anything unusual during this time or craving different moods?
My playlist hasn't changed at all. It's still a mix of black metal, doom, ambient/dark folk, drone. It all depends on my mood at the time really.
One thing you liked to do in the past was go see concerts for bands you'd worked with. Were there any shows you were planning to attend that were cancelled? What will it take to make you feel safe going to concerts in the future?
I believe Schammasch were due to visit the U.K towards the end of this year. Mayhem too, I think. In regards to feeling safe at live events again, I honestly don't know at the moment. When we start to see supermarkets etc look more stable, then we can prepare to start letting those kinds of social events back into our lives.
I do feel that once people have been to 1 or 2 live shows, we'll soon feel the familiarity and begin to enjoy them again. Much like the tension on an elastic band, the comeback is sure to be powerful.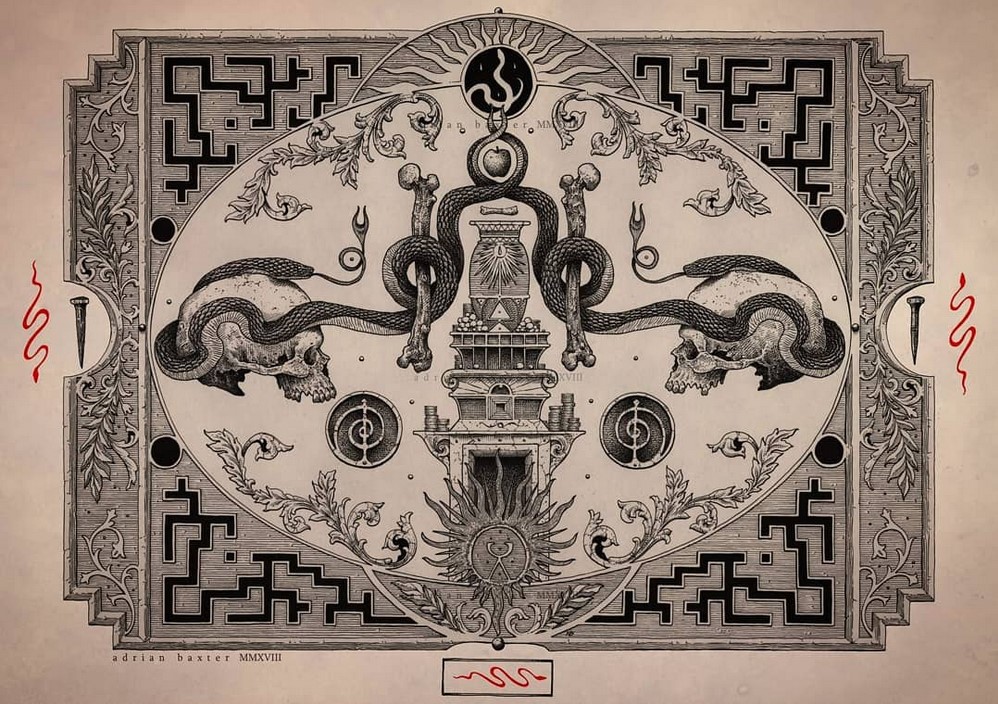 You've also temporarily closed your online Big Cartel store. Has your financial situation been impacted by the spread of Covid-19?
I've been working on projects that were booked in for the past few months so I haven't felt it just yet. I closed my shop as I didn't feel art prints were essential items to post in the beginning.
Seeing how things have been over the last few weeks in terms of the postal service remaining stable, I recently reopened it.
What can we do to support your work at this time?
In terms of my social media pages, any Likes, Comments, Shares etc all help with momentum of my work getting seen by not only those already following my work, but new eyes too. Picking up a print is always helpful, and greatly appreciated too.
Let us know in the comments what you see in Adrian's occult-themed drawings.
Thank you Adrian for doing this interview.
To see more of Adrian Baxter's work, you can check out his Behance page and follow him on Instagram.  Adrian's Big Cartel webstore recently reopened with prints and tshirts available.
---
Dahlia Jane is a wicked writer living in Los Angeles.  She writes about the dark arts scene, goth life and fascinations with the macabre.  Dahlia spends her free time obsessing about skulls, devouring true crime and occult books, sewing and making messes.
All author posts