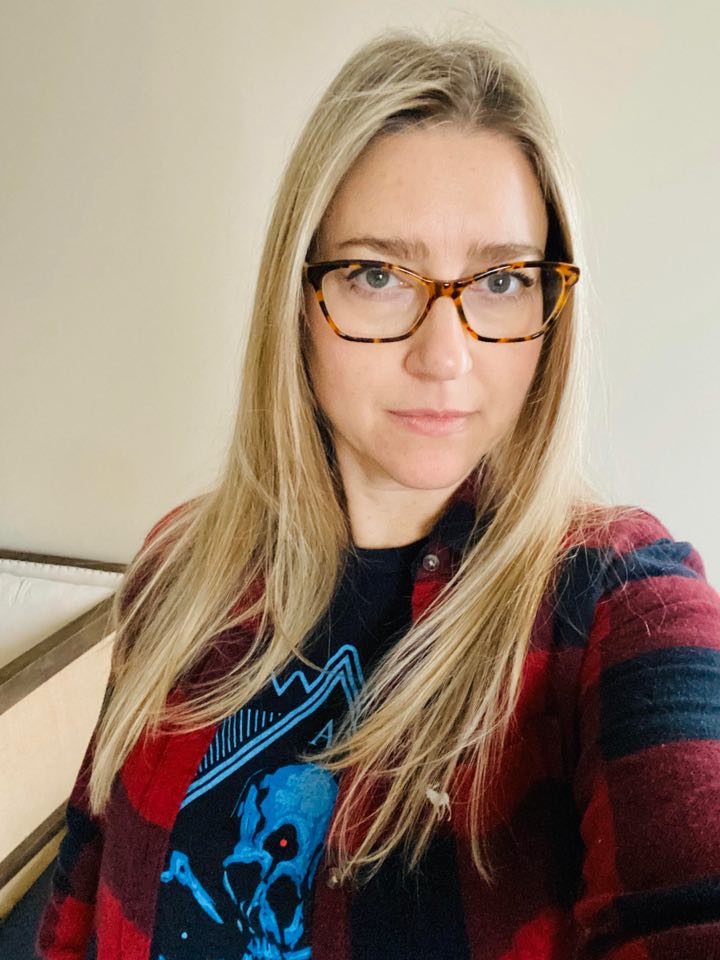 I believe the most important role art plays in this world is the story we tell, or the secrets we reveal in the piece.

Lara Dann
Painter Lara Dann is known for radiant portraits of female characters who exude strength and delicate grace simultaneously.
Her solo show, Sirens of the Zodiac, which opens May 9, explores the archetype of the mythical mermaid by framing her in the characteristics of each of the zodiac signs.
The play between the universal symbols, both sea creatures and astrological, and how they relate to femininity, freedom, seduction, and peril is engaging. She also brings an individualism to her mermaids which has rarely been explored.
Though the style is quite different and the characters she portrays are certainly not saintly, her paintings almost feel like icons that belong on an altar. The texture and light that emanates from Lara's deft use of acrylic and oil paint makes them pulsate with power, especially if you are fortunate enough to see one in person.
Given the work that goes into a solo show such as Sirens of the Zodiac, I was curious to find out what it was like to be debuting the series in this time when event spaces such as galleries are unfortunately closed.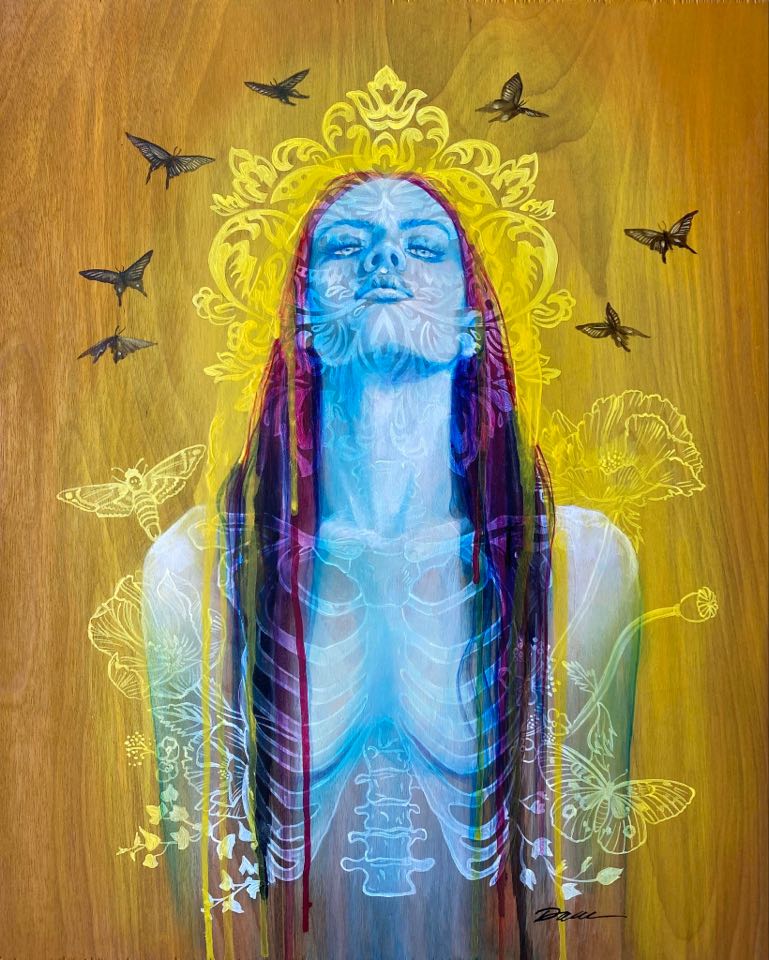 How has your daily life changed since the spread of Covid-19? Are you self quarantining?
I work from home, both as an artist and a screen printer. The biggest change has not been for us, but our two teenage kids that are home from school, so the whole family is home together now.
We are self quarantining, even before the mandate. I go out to get essentials once or twice a week. Our kids both work at the grocery store we shop at and they will grab stuff if I need it on their work days. We also change clothing immediately upon return, wash clothing, and hands etc.
You've been working on an upcoming solo show titled Sirens of the Zodiac which was set to open May 9, 2020 at Modern Eden Gallery in San Francisco. With San Francisco currently mandating Shelter in Place, what is the status of that show and are there any plans to host the show in a digital format instead of in person?
Modern Eden is planning on moving forward with my solo as well as the yearly group show Mermay in tandem with mine. I am not sure if they will host an all video, or live video event, or if the mandate will be lifted by then to allow foot traffic. If it is, they have discussed allowing small groups at at time to view the show intimately.
Of course, handling online sales has always been a strength of theirs so fortunately the success of these shows is really not reliant on walk-in traffic. Most collectors are already familiar with the gallery artists and their work. I Do know that the gallery is following safety protocol and measures to ensure the safety and well being of their community.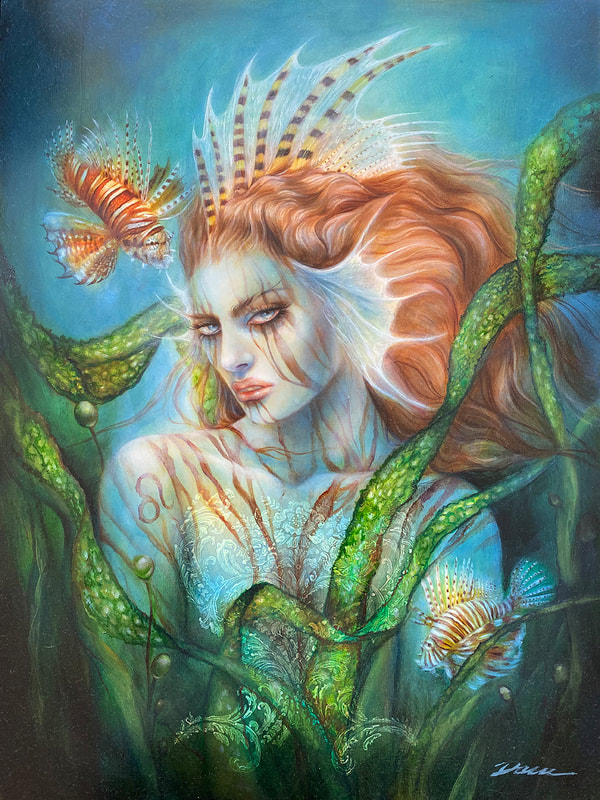 How long have you been working on Sirens of the Zodiac and what was the inspiration for the theme?
The entire series of the main 12 pieces along with 4 additional 'elements' pieces has taken 11-12 months to complete. I figured one painting a month would put me on track. The inspiration began with the first piece. I painted a mermaid with a Lionfish and I started to think: Lionfish: Leo. What if I did a series of mermaids based on the zodiac?
Many of your paintings are inspired by vintage wallpaper patterns which swirl around the women you portray. How did you translate your aesthetic into underwater scenes?
It hasn't changed based on the theme. I use it the same way, just maybe less than usual, or not as prominently as usual.
Has the spread of Covid 19 had any effect on the tone of the show? Do you feel any pressure to incorporate current events into your art at this time?
Most of my pieces were complete and shipped ahead of the impact of the virus here. I tend to be ahead of my deadlines or I don't take anything on that I know I can't fully commit to being ahead of.
I did have a few pieces to finish and ship when things got hectic but it wasn't anything that I couldn't handle as any usual 'under-pressure' thing does. My background is in commercial design, so I have past experience with working fast and steady when some pressure is applied.
Has your creative process been affected during this time?
Yes actually. I had to switch from creative mode (rest and digest) to action to care and protect mode (fight or flight). My entire focus shifted from creative to gathering essentials and sanitizing the entire home, cleaning laundry on a hyper schedule and preparing. I sort of mini 'shut down' on a creative sense and had no desire at the end of the day to even look at painting.
But once I had my home in the right place and I got a better handle on taking care of my family, I was able to worry less and start to create more.
You've been offering previews of your Sirens on Facebook and Instagram. What are your thoughts about digitally revealing artwork before a gallery show and does your audience's response affect the final presentation in any way?
I don't know. I have heard that some artists prefer not to reveal anything until show time. So far, I have gotten a lot of excitement or positive feedback in sharing my process as the Zodiac series unfolds. Onlookers have been engaged in the work in progress. It's fun for me, and it's fun for them, so why not?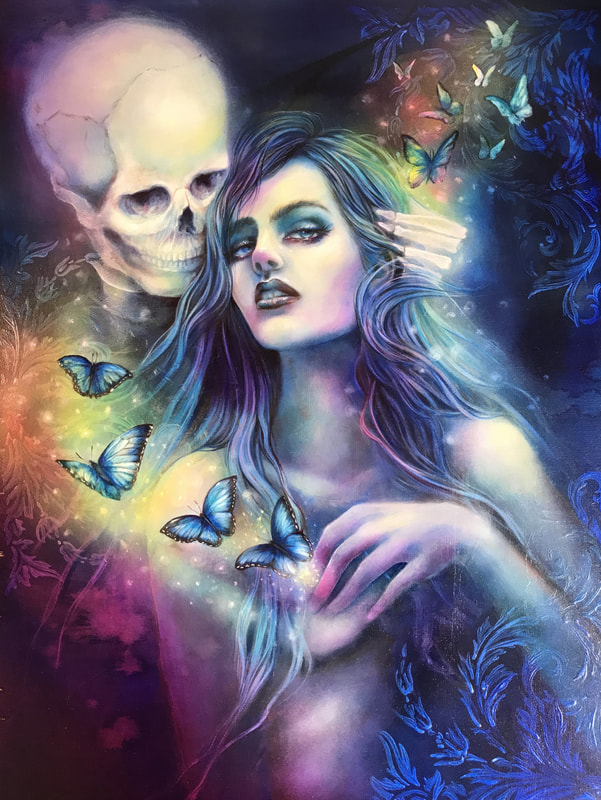 You're known for depicting strong and glowing warrior women. Where are you finding strength during this period?
Thank you. I like that the message of strong, glowing women come though in my work.
It has always been the central premise of my inner story. My focus of this has not wavered with any current situation. It's too engrained.
What role (if any) does art and the artist have at a time of crisis?
Many people (and artists) will have a different view on this question and answer; with or without crisis surrounding it. Because many people approach art differently. Or take away from art differently.
Some people feel artists are responsible for answering to a call visually, or for expressing something visually that sheds the feelings that connect us: artist to viewer.
I think years ago, when I began as a commercial designer in the early 90's, (and even before my time) artists were encouraged to be bold in their expressions. To MAKE the viewer think. To rattle cages and bend brains.
Today, it seems to me that the artists that 'speak out' through their work this way offend too easily the viewer. The response is different now than it was. I've observed a big change or shift happen in this trend and it's interesting to me.
I think it's an individual drive and an individual 'call' for each of us. I think it's important for an artist to dive deep, discover who they are and to tell THEIR story through their art. It might be controversial or it might not. But for every artwork there is a viewer to connect with your story; positively or negatively. Not everyone will like it, and not everyone will hate it.
The point is, I believe the most important role art plays in this world is the story we tell, or the secrets we reveal in the piece.
What kind of art have you been consuming and why? Is this different than what you typically consume?
I am really enjoying watching my daughter create her own paintings. She's 15 years old and it's blowing my mind how similar our art paths are and how much her work looks like mine except she's reaching these same goals much faster than I did at her age, and without any direction from me. I can't get enough of it!
How is your mental health? Do you feel that you have been doing things to take care of yourself and if you do what are those things?
I am doing very well overall. Same as usual, except my hair roots are starting to show and my daughter is baking too many sweet treats all of the time since she's out of school and I'm afraid I'll get bigger than the house I'm self quarantined in. I think about that image of Alice after she's eaten the pill that makes her too big and her neck too long.
Has your financial situation been affected by the spread of Covid-19?
Yes and no. We were prepared in case something like this ever happened, but there's been a huge shift in incoming finances. I really foresee this as temporary and I'm not too concerned. We decided a long time ago not to 'live beyond our means' so that means some material sacrifices but we are much happier for it. Especially now with an unforeseen stressor such as this.
What can we do to support your work at this time?
Thank you for the offer. I really appreciate it. I think the best way to support my work is to enjoy it. To share it for others to enjoy.
It is my hope that when people view my work that it makes them feel something deep, primal, sensual or strong. I hope to fill the viewer with a sense of desire or longing or with beauty.
Thank you very much Lara for answering these questions.
To hear more from Lara, look out for her as a guest on Chet Zar's Dark Art Society Podcast on April 24.
To see more of Lara's artwork, visit her website or follow her on Instagram.
Lara's show Sirens of the Zodiac opens May 9 at Modern Eden Gallery. You can also shop for previous original paintings by Lara on Modern Eden's website. Lara has originals and prints available for sale on her website as well.
---
Dahlia Jane is a wicked writer living in Los Angeles.  She writes about the dark arts scene, goth life and fascinations with the macabre.  Dahlia spends her free time obsessing about skulls, devouring true crime and occult books, sewing and making messes.
All author posts