In this current climate of militant social justice warriors and cancel culture, Los Angeles native Danny Fuentes is swimming against the tide.
His business, Lethal Amounts, has a reputation for subversive and provocative endeavors that gleefully disrupt the status quo.
"If I'm pushing a boundary, making somebody annoyed or questioning, I think I'm good," Fuentes reasoned. "That's what art should be doing, right? Why do you want to see shit that looks like everything else you've seen? Why do you not want to have an emotion from the heart? If you're indifferent, that's even worse. I'd rather you hated it than be like, I don't even remember. That's usually what I go for, something very polarizing. Split the room down the center — these people are so mad that this is happening, and these people are so ecstatic that anybody dared to do it. That to me is rewarding."
While Lethal Amounts has faced its share of controversy, Fuentes sticks to his guns.
"I'm not trying to be arrogant about it," he said. "I understand people have mixed feelings about everything. But at the end of the day, if it was just based on offending people, it is so easy to offend people. I don't really need to go that far to offend people. You know what I mean? I'm doing it because I have a reason to do it. And it's not to upset people. If that happens, I can't control that and that really wasn't the objective."
"If anything, I want people to share their opinions. Just be more civil about it. I think this cancel culture is really weird. It's really almost sending back, you know, history. You see so many people calling each other out for saying something that they're sensitive about and it's like wow, I mean you're entitled to think that but you can't shut somebody up for thinking differently. That's not how it should work."
In a raucous collision of the exiled, the marginalized and the freaks, Lethal Amounts aims to celebrate storied subculture and counterculture movements. Consisting of a 2500 square foot showroom and art gallery; an edgy apparel brand with a rock and roll aesthetic; and riotous live music events such as the previously-monthly Sex Cells club night which features a diverse cast of characters; Lethal Amounts has consistently been a refuge for disruptors.
"I'm fascinated by multifaceted people," said Fuentes. "I get kind of bored with just one thing. I never want to just do one thing or listen to one kind of music. I never want to focus on one kind of art or form of expression. It's all fascinating. Subculture in general is really fascinating."
As a gallery, Lethal Amounts has achieved notoriety for its transgressive showcases that incorporate themes such as x-rated fetish art, gay erotica, and work by and about controversial figures including Anton LaVey, Charles Manson, and John Wayne Gacy.
But perhaps Fuentes' most radical act is to give space to artists who have been consistently marginalized and undervalued.
At a time when many are scrambling to appear inclusive, Lethal Amounts stands as an example of what inclusivity looks like. The gallery has consistently showcased female artists, artists of color and LGBTQ artists. Artists such as Lizz Lopez, Nedda Afsari and Bruce LaBruce have had major solo shows there.
"I just feel like I'd rather show somebody that speaks to me, has some sort of, interesting perspective that other people aren't really shining a light on yet, but I bet you they will," said Fuentes. "I'd like to be the person that can say that I did it first. I don't think I'm consciously going after the LGBT community or the people of color. I feel like we're all unsung heroes in some manner, so I just go after those types. I notice this person has never gotten a solo show yet. They're always in groups, and their shit stands out way more than the rest."
"I feel like it's great to do it as an afterthought because you want to change and you want to be part of a better world and better environment. But at the same time, sometimes that falls short. It can be very transparent. And I'm not saying that you shouldn't; I think you should, regardless of if you have before or not, but it should also be very genuine. You should be honest."
Inclusivity at Lethal Amounts is also about creating events that appeal to a broad spectrum of people from many subcultures. Gallery openings and club nights attract all manner of night crawling scenesters from goths and punks to drag queens.
"This is a little bit more on a street level and on an average Joe appreciation level where it's not alienating to people who don't go to art shows on the regular. That culture is, is a very specific culture that is very alienating, it's not welcoming. You know, you go to these high end galleries and you know that you don't belong and they make you feel like you don't belong. You're not in that inner circle."
"So I wanted to be able to be inviting to those people who wouldn't feel like they've been invited to an art show — this is cool to them still, whether it's been presented in a more pristine manner or not. It's still cool. There's something like, rock and roll cool about it," said Fuentes.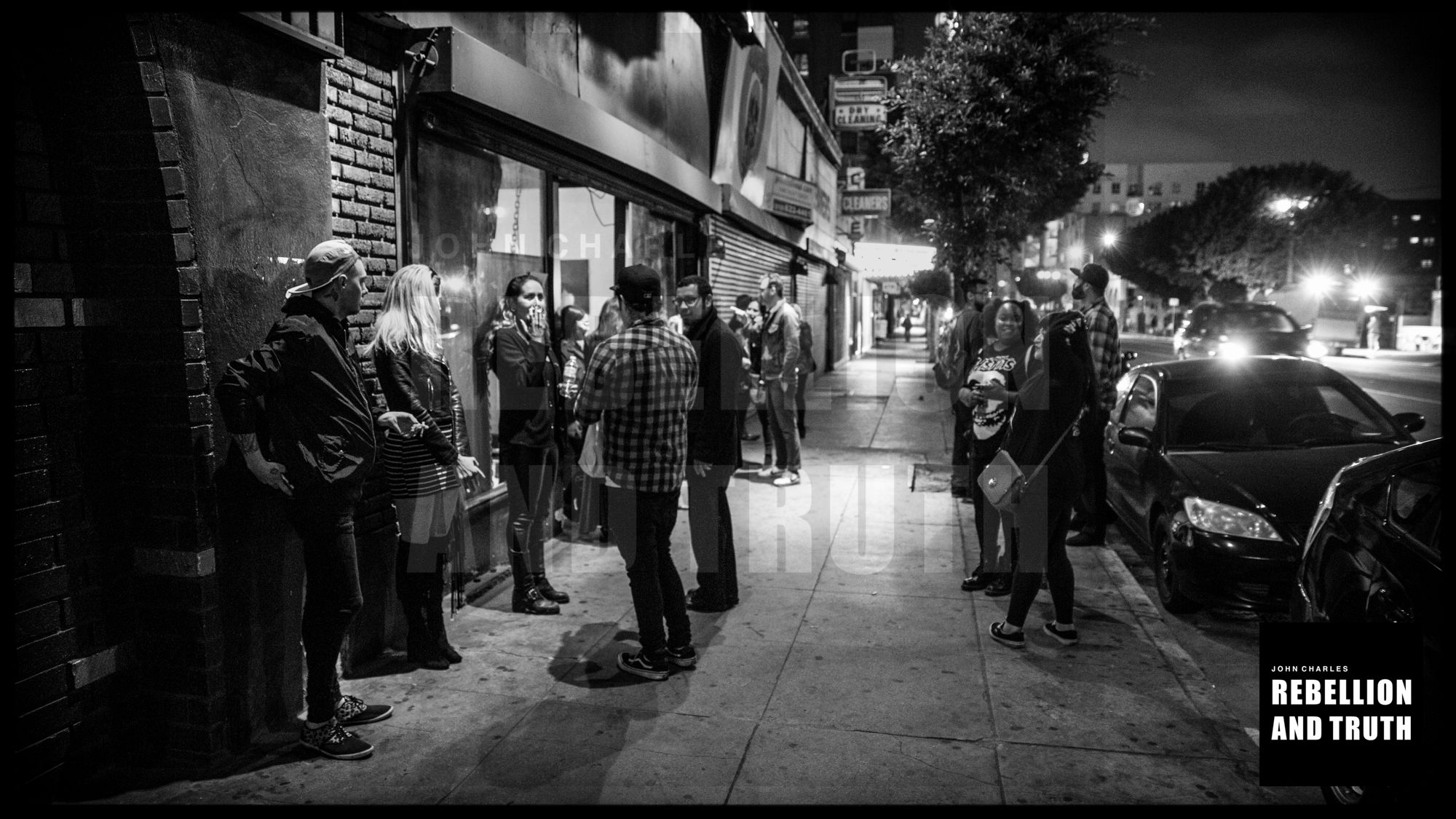 The pandemic has had devastating effects on small businesses all over the country, especially small businesses like Lethal Amounts whose bread and butter are crowded events.
"In order for me to be able to finance some of these art shows," Fuentes explained, "I then have to find another means of being able to do that — whether it be throwing on a concert or club or merchandising, or whatever it is. One feeds into the other, they all are very cohesive in that manner. But you take one main element of what my business has been for the last seven years, and it certainly makes me lose sleep at night."
Initially skeptical of mainstream media's portrayal of the impending threat, Fuentes continued business as usual as long as possible.
The last club event Lethal Amounts put on was Sex Cell's third anniversary party on March 6. Controversial rapper Azealia Banks headlined the decadent blowout at the Globe Theater in Los Angeles.
One week later, on Friday the 13, the gallery hosted its last art opening which was a solo show of art by Matt Skiba from Alkaline Trio and Blink 182. The contrast between the two events was dramatic.
"That was the day that they started shutting everything down," remembered Fuentes. "At the beginning of the day, I was like, Is everyone tripping? Or is this kind of like a thing? And as the day kind of progressed, I was like, this is real. This is pretty heavy, and I don't really think I've educated myself on all the facts. And I've been a little bit too much of a skeptic and now the harsh reality might be sinking in."
"Maybe 50 people turned up throughout the night and there was just this vibe in the air where I was like, wow, this is just weird. I really don't want to be here. I really want to close this up. I really want people to leave. And yeah, everything changed from there you know."
Fuentes was devestated that he had to cancel a planned European trip where he was meant to coordinate a US viewing of a Nick Cave exhibition that was premiering in Copenhagen at the end of March.
But the most stressful thing was how to keep a largely event-based business afloat when events are impossible for the foreseeable future.
"At some point I was really considering closing the gallery down," Fuentes admitted. "Once we hit that month mark, I can pay this month, I don't know about next month."
But even closing the gallery was a logistical nightmare.
"I was thinking of that during the time where all businesses were shut down, we can't go rent a Uhaul. And I can't ask friends to help me move equipment and art and how the hell am I going to do that? Like that too isn't possible. There were all these circumstances that were just really swirling through my head, like, how can I do this?"
"At some point, I just felt like I had to keep it going," said Fuentes. "I can't really afford to get a storage unit either. It's just gonna be another rent. What would it matter then? At least I have the opportunity to come to work at my space. But uh, yeah, you know, a lot of anxiety over that. I'll say that much."
While Fuentes still had the possibilities of online art sales and apparel sales, he fretted about promoting things that seemed frivolous in a time of turmoil.
"I felt very weird promoting any kind of things for sale," Fuentes explained. "People's businesses are closing. People are having to move out of their homes. People are getting cars repossessed. The biggest thing that they need to worry about is how they're going to get food. And I'm going to sell them a fucking t shirt? Are you kidding me? I feel so gross even thinking about that."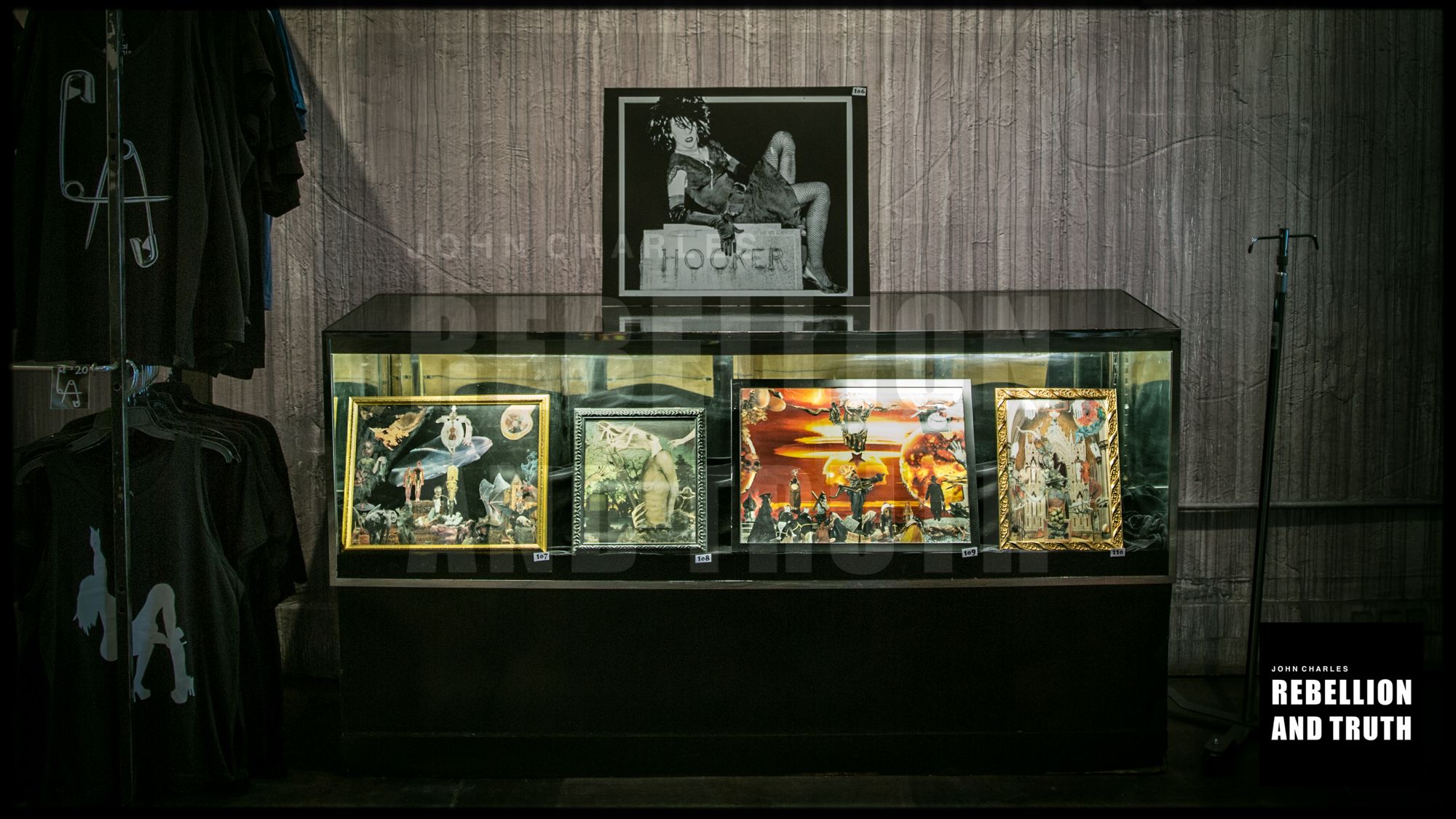 Eventually Fuentes was inspired by a campaign Vans launched to support small businesses with limited runs of custom shoes. Fuentes believed Lethal Amounts' safety pin logo design would be a great fit for the project. When Vans failed to respond to his outreach, Fuentes decided to use his in-house resources to collaborate with friends of the gallery on limited edition tshirts.
Profits on the shirts are split evenly between Lethal Amounts and collaborators including Ron Athey, Bruce LaBruce, Destroy Boys and Tom of Finland Foundation.
"These people who otherwise probably wouldn't have been able to create merchandising right now. Get a product that gives them a little extra money out of nowhere, " said Fuentes.
"It felt honest. It felt genuine. It felt good. It didn't make me cringe, didn't make me feel embarrassed or like we're being just gross about trying to monetize. And to my astonishment, they sold like crazy. I mean, like, crazy. I can't even believe it. It was out of control sales, never seen sales like that come through our business before. Not around Christmas, not around anything. It gave me a crazy glimmer of hope. Every little bit helps. And it's been working out."
The other thing Fuentes experimented with was innovating a new experience of viewing art on a digital platform. If you go on Lethal Amounts website, you can take a 360 degree tour of Matt Skiba's solo art show in addition to viewing a standard slideshow format of the pieces.
"I have yet to see anybody else do it, which I thought was honestly a no brainer to me," explained Fuentes. "[Galleries] are just doing a live stream q&a tours type of thing and a slideshow, very standard. Even big galleries like Guggenheim just do slideshows, very surprised."
Between online apparel sales and art sales, Lethal Amounts has been surviving.
"I was panicking," Fuentes admitted, "but this hasn't been that terrible for me, luckily. Now, I can't say for sure how it'll be in the future. I mean, I think the pendulum always swings. I don't really think the coast is clear by any means. But I'm just trying to maintain whatever I can because I do feel like you just really don't know and you should never, what's the saying? don't whistle past graveyards."
With Lethal Amounts Gallery located on West Seventh Street and Garland, Fuentes had a front row seat for the recent protests against police brutality and some of the subsequent rioting. He described the rioting as "way too close for comfort."
On an errand to the grocery store Fuentes realized how close protests coming off of the 110 Freeway were getting to the gallery and he sprinted about seven blocks to roll down the security gate.
"I had to weave in and out of different streets," Fuentes described. "And as I'm doing that, you're seeing all this SWAT team, all this military, all these cops and they're all like anybody who was out is up to no good. They were protesting — in the eyes of the authorities they were up to no good. I'm running by they're aiming rubber, non lethal weapons at me. I'm like they totally think I probably broke a window or something and I'm running away from the scene of the crime."
Grateful that the gallery avoided any damage, Fuentes had a strong sense that he was witnessing history.
"To me, it's so invigorating and there's just some crazy intoxicating feeling about anything that can be considered revolutionary," he said.
"It's hard to say and I'm not trying to devalue anything, but sometimes I can't tell what role the government is playing, and how much they're inciting it. I just kind of feel like watching it firsthand, this is so crazy just like shit you see in movies and documentaries about coups and stuff like that."
Growing up in Glassell Park, Fuentes has striking memories of the 1992 riots. He was nine or ten years old, and he stepped onto the porch of his mother's house.
"It looked like it was snowing, but it looked like it was snowing black snow," Fuentes remembered. "The sky was just littered with little fragments. And I remember putting the palms of my hands up and out and letting the snow land on my hands, and it was ashes. And you could literally collect ashes on your palms. And you could just smell the whole city burning. I remember vividly, not even smelling, because we had like a fireplace at home, it didn't smell like wood burning. It didn't smell like a chimney. It smelled like plastic chemically burning. I just remember this city being so extra hot, and it was just because of the fires everywhere."
With Los Angeles seemingly calm again, but no end to social distancing in sight, Fuentes is considering focusing on a project he's been trying to get off the ground for years: a documentary entitled Spiritual Cramps about the late Rozz Williams, lead singer of Christian Death.
"I constantly get asked about it," Fuentes said. "I'm a romantic dreamer type in the sense that I kind of feel like things happen for a reason. And sometimes things get delayed and they get delayed, and then there's this great opportunity that comes out of nowhere, that wouldn't have happened if this one particular thing wouldn't have slowed us down. So, hopefully, we get into some sort of a situation where this thing can be bankrolled, as opposed to a very slow pace and as I can afford it."
"I almost feel like I'm going to take maybe six months off from anything else since the rest of this year there's no shows, no live events of any kind. And just focus on the documentary. I just had this conversation a couple days ago, can I do that? That's kind of the breath of fresh air I needed to just be able to focus on one thing. And online sales sell themselves. And I could literally just dedicate my free time to getting all this stuff. So I might just do that. I might just make it a mission to get the bulk of it done between now and December. Let's cross our fingers."
Luckily Fuentes thrives on innovating and taking risks.
Reflecting on his business, he said, "I like that it's malleable. I like that it's hard to define. And I like that it can always evolve and mutate into whatever is tickling my fancy at the time."
"I like it when people say, 'Oh, that's so surprising. That's so off brand for you guys.'  Yes, that means we still aren't predictable.  And I think there's something awesome about that.  There's a thread running through all of it, by all means, but I like that it can still be unpredictable and take on many shapes."
To learn more about Lethal Amounts, and see their current digital exhibition, visit their website.  Exclusive apparel and art prints are available in the webstore.  You can also follow Lethal Amounts on Instagram and Sex Cells Party on Instagram.
And thank you to my favorite partner in crime, John Charles, Rebellion and Truth, for providing all of the beautiful images accompanying this post.  If you are interested in John Charles you can read an interview I did with him about his life during the pandemic here.  To see more of John Charles' work, visit his website or follow him on Instagram.
---
Dahlia Jane is a wicked writer living in Los Angeles.  She writes about the dark arts scene, goth life and fascinations with the macabre.  Dahlia spends her free time obsessing about skulls, devouring true crime and occult books, sewing and making messes.
All author posts