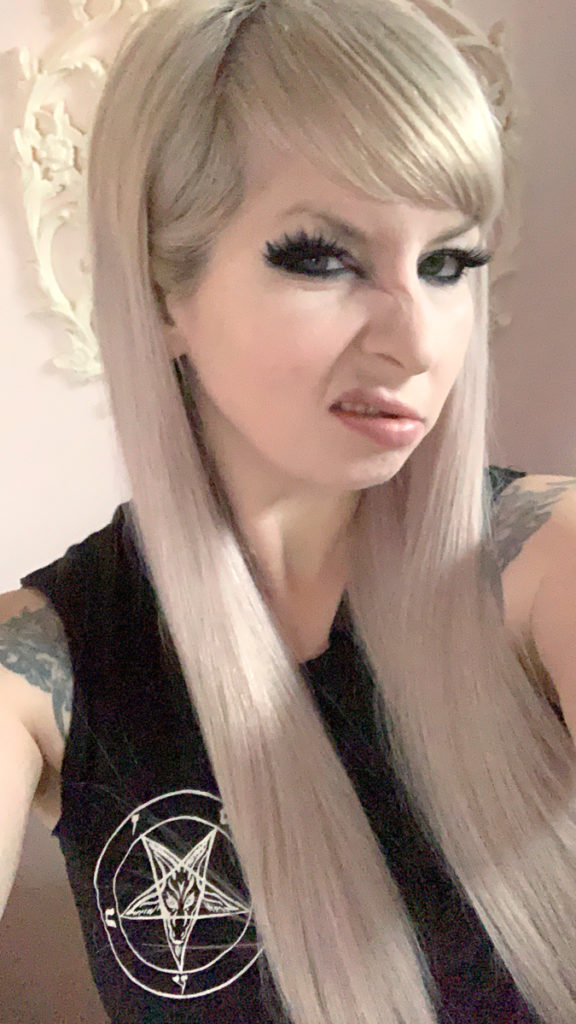 Cory Benhatzel populates the wooden panels she paints with a kingdom of familiars and magical beasts. The totemic animals in Cory's mystical paintings serve as harbringers of warning that we must cease the desecration of the natural world.
As a devotee of floriography, the Victorian language of flowers, Cory also seeds her work with coded messages hiding in the flora she paints. In this symbolic language a spray of wolfsbane symbolizes that "a deadly foe is near" and a dash of rue represents "clear vision."
I admire Cory's ability to evoke the shadow realms with a light palette and a feminine hand. At a time when it often feels like magic is in short supply, I reached out to her to see how her life was going amidst the pandemic.
How has your daily life changed since the spread of Covid-19? Are you self quarantining?
I've been self quarantining since right after my birthday last month, so just over five weeks (I've gone to the grocery store a handful of times).
My husband and I had booked a little overnight trip to Niagara Falls, Canada with a falls-view room about a month before, and things were pretty normal until right about the time we were about to drive into Canada on March 12th.
I really didn't think there was anything to worry about, but my husband was anxious about the border. The border into Canada turned out to be completely empty of other cars when we arrived and there was no problem entering the country.
It was eerily empty in the normally bustling tourist area when we arrived, and very surreal to be peering down at the falls from our room and see hardly a soul around.
We walked around the area, Clifton Hill, as twilight fell, and the haunted houses and other tourist attractions I hadn't seen in ages had a very different vibe in the air.
There was a huge feeling of anxiety rising everywhere, especially in us, as we prepared to cross the border on Friday the 13th and weren't sure if we were going to be detained or what.
Fortunately we had no problem entering back into the US; the border officer lazily waved us through and we were beyond relieved. The border ended up closing a day or two later.
In terms of life in quarantine, my specific situation hasn't changed in that I'm lucky enough to work from home already, and take care of our 11 rescue animals. My husband was able to begin working from home a few days after we got home, and that was a huge relief.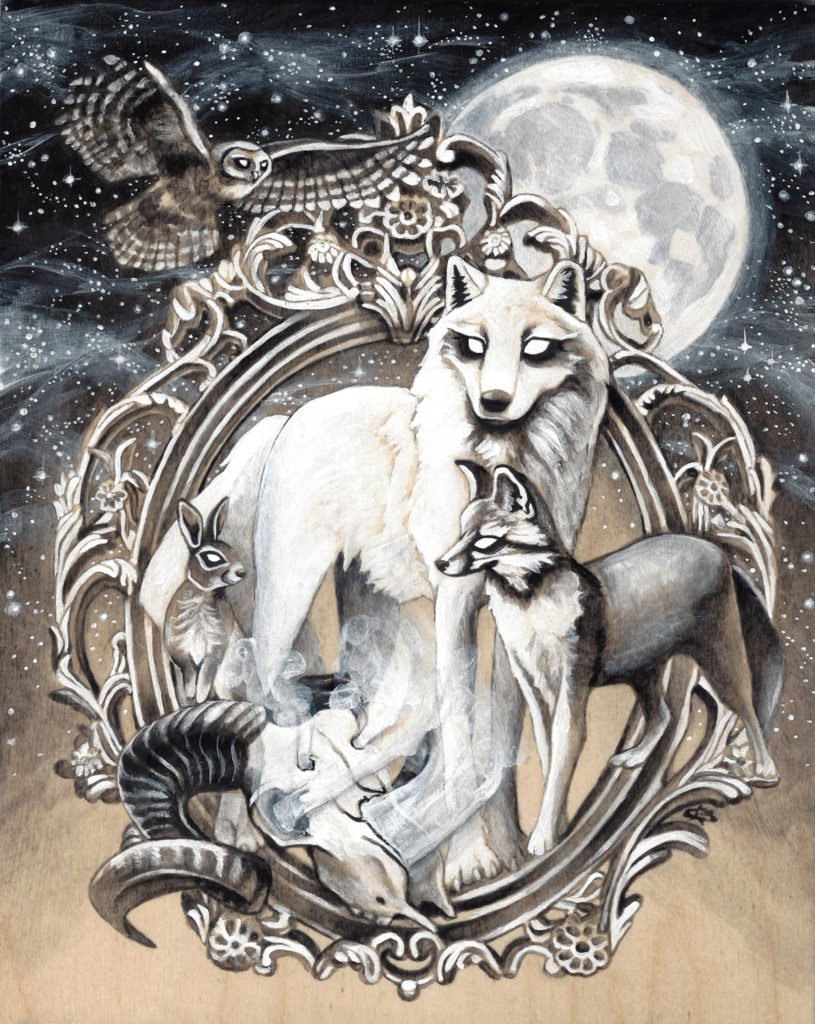 Has your creative process been affected during this time? Are you making art? If you are making art, what have you been working on?
I have been working on a painting, but it's oftentimes hard to focus.
Sometimes I can get lost in the work and the distraction feels great, but the anxiety and uncertainty of what the future may bring is often overwhelming.
If you are doing creative work, has the tone of your work shifted?
The painting I'm working on is an idea I've had developing in my mind for the good part of a year. The tone of my work is always on the darker side of things, so that hasn't changed much. I do think there's hope there too, which is always present in some way in my work.
Do you feel creatively freer or more restricted in any way and why?
The restrictions I feel are self-constructed. Like I said, those thoughts of uncertainty creep in and hinder my process.
I feel like I see so many people working on their "hussle" and I hate that term. To me that word means to scam someone, to fuck them over, so I hate seeing people refer to their work or side-job as a "hussle".
I wish I could be more productive now, but it's difficult. I know I have it much easier than most and then I feel guilt for my anxiety. Like I shouldn't have anything to feel bad about in my situation, so that affects my ability to focus on my work.
Your work is known for enchanting depictions of woodland creatures. With suspicions that the spread of Covid 19 can be traced to wildlife trading and possibly consumption, as well as the confirmation that cats both domestic and large have tested positive for Covid 19, what are your thoughts on humankind's responsibilities to the animal kingdom at this time?
It's a scientific fact that the reason humans are in the situation they're in is because of their disrespect and mistreatment of animals. I've shared several important pieces of information on my Facebook page these last five weeks dealing with just that.
The quote that my mind always comes back to is, "Our disrespectful treatment of other animals and the earth has consequences, and when they are harmed, ultimately, so are we. All life on Earth is connected, and it's in our interest to act accordingly." (Gene Bauer, The Hill.com).
Jane Goodall has similar sentiments that are so important for people to hear. She says, look at your life. Look at your choices.
It's never been clearer that people need to make different choices in their lives and that will make a better world. I personally went vegan before this began, and it's been one of the best decisions of my life.
As far as animals catching the virus, that is not true. That's unfounded information like the scapegoating of bats; bats didn't create the virus, people did by mistreating and consuming them in Chinese wet markets. Now bats are unfairly being killed because of more ignorance.
Your work also draws heavily from occult symbolism. Do those symbols gain power and importance in dark times and have you been practicing any occult teachings recently?
The religious that gather to defy the quarantine are just as ignorant as those who refuse to learn about respect for animals and the environment from this situation. Faith over science has always been deadly and this is no different.
My practices and beliefs are very personal to me and I respectfully keep them private.
What role (if any) does art and the artist have at a time of crisis?
Art and the artist do play a role in times of crisis. They are not only a distraction to keep people from boredom, they are an outlet, creating a portal to a better place. They can shift focus from the negative and give a chance to feel some sort of normalcy again. Or better yet, to give a glance of a better place; what the world could be.
Everyone has been posting on Facebook about how when (if?) this is over, people need to remember how much music, movies, theater and art helped them in times of social distancing and increase support for the arts, which I totally agree with.
Are you reflecting on current events in your creative work? And do you feel pressure to incorporate current events into your art?
My current painting (like all of my work) focuses on the magic and majesty of animals. Most specifically though it deals with veganism in a subtle way, so I feel that all of that relates to the current events.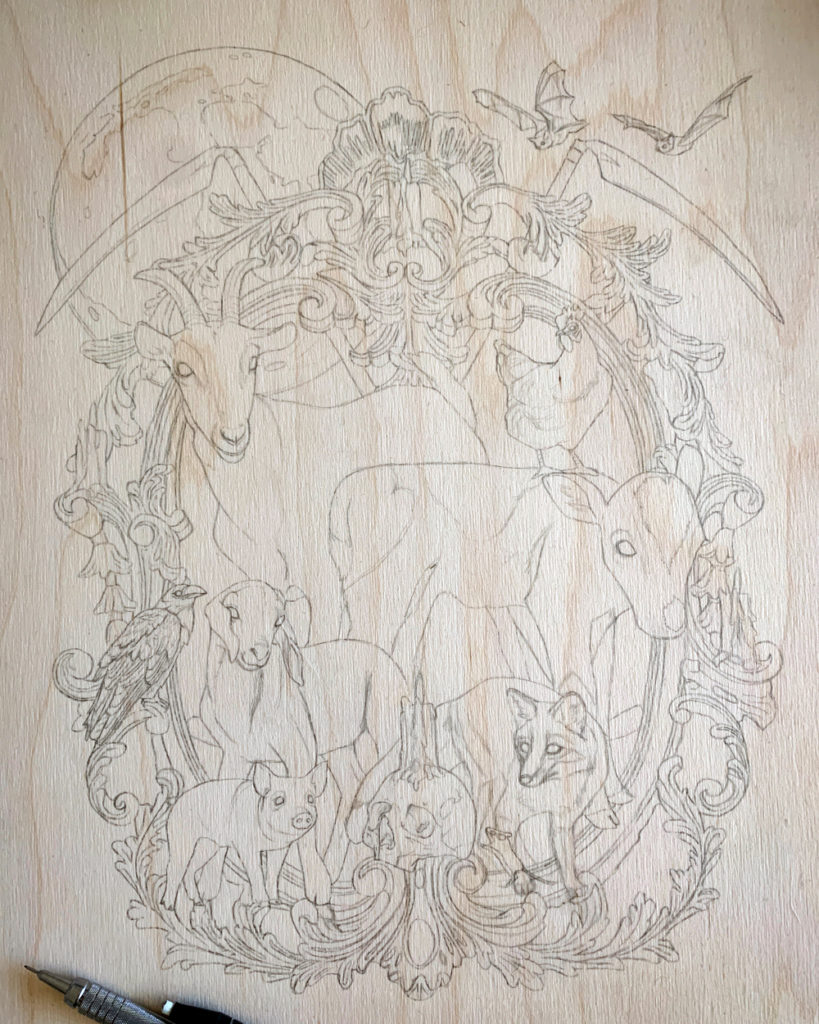 Have you explored any techniques or mediums during this time that are new to you?
I've always loved cooking, so it's not really new, but I am experimenting more with my vegan cooking.
Are there any supplies or tools that you rely on or would like to have but are currently struggling to get?
Nothing I haven't been able to live without, thankfully.
What kind of art have you been consuming and why? Is this different than what you typically consume?
I've been listening to my favorite music which is mostly Scandinavian metal as usual. I miss getting to see live music very much, so I watch bands play shows previously recorded on YouTube.
Otherwise lots of movies and a few ps4 games. I'm reading several books about the occult, and Trolldom, a book of spells and methods of the Norse Folk Magic Tradition.
How is your mental health? Do you feel that you have been doing things to take care of yourself and if you do what are those things?
I'm always fluctuating between my emotions. I'm very grateful for my support system but in such a strange situation I can't help but have times of overwhelming panic, sadness, anger and frustration.
To take care of myself I take my dog, Ghost for walks around the neighborhood, exercise, read, paint, listen to music, watch movies, play games, cook, and most of all love spending time with my husband and our animal babies.
I've been fortunate enough to be able to indulge in some online retail therapy to support other small businesses, mostly women-owned ones.
I have indoor plants and have started growing pumpkins from seeds that will soon be transplanted into an outdoor enclosed garden that my husband is building.
Hopefully soon it will warm up outside and I'm longing to be out gardening, grilling and having bonfires in the backyard. Oh and beer. Beer helps.
Did you have any planned showcases that have been postponed or cancelled? Or were there any shows that you were looking forward to attending?
The most recent show I've participated in was "New Growth" at Modern Eden Gallery in San Francisco. My contribution was my painting, "Blåkulla", which I'm immensely proud of. I was disappointed that it couldn't be viewed by more people before the gallery was forced to close temporarily because of the virus.
My husband and I were planning a big trip this fall that we'd been looking forward to for years and now it's clear it won't happen for who knows how long and that's so disappointing.
Have you adjusted how you market your work or how you use social media to reach your fans?
I haven't been marketing my online shop very much at all on social media during this crisis. It just doesn't feel right. I do want to continue to share my paintings though.
What can we do to support your work at this time?
My website is corybenhatzel.com and there's a link to my shop and social media accounts there for whoever is interested.
Thank you very much to Cory for making time to answer these questions.
To see more of Cory's artwork you can visit her website and follow her on Instagram.
Her original painting Blåkulla is available for purchase through Modern Eden Gallery.
*This post contains Amazon Affiliate Links. As an Amazon Associate I earn from qualifying purchases.
---
Dahlia Jane is a wicked writer living in Los Angeles.  She writes about the dark arts scene, goth life and fascinations with the macabre.  Dahlia spends her free time obsessing about skulls, devouring true crime and occult books, sewing and making messes.
All author posts