Surrealist painter Sandra Yagi's surprising images draw from the past to challenge the viewer's conception of the present.
Heavily influenced by anatomical studies, naturalist paintings, illuminated manuscrips and alchemy, Sandy skillfully reinterprets familiar genres to highlight issues that are especially relevant today.
Her work is a meditation on suffering. From the desecration of the natural world to the ever-present reckoning with mortality, her paintings depict a world in distress.
However, so many of Sandy's paintings also feature elements of whimsy and playful humor. In a way the levity makes a greater lasting impression than a darker treatment of heavy themes such as extinction and greed might.
Given Sandy's lifelong interest in science and the natural world, it's no wonder that she's already reflecting on the virus in her artwork.
I wrote to Sandy to learn how she is faring under self-quarantine and to discover how she might find inspiration in the time of pandemic.
You live in San Francisco. How has your daily life changed since the spread of Covid-19?
The only thing that has changed is the location of where I make my art. I've been very conscientious about following the shelter in place order, and have not gone to my studio, which is not walking distance from home.
But I have taken advantage of the time at home to gain skill in ink drawing, (both ink brush and micron pen) and I've found a number of virtual life drawing sessions from models, using Zoom or Facebook Live.
One aspect that has changed dramatically is my volunteer work with elderly people. My partner and I have had our therapy cat visits put on hold. Our two cats are certified therapy cats with SF SPCA, and we had been visiting assisted living and nursing homes with our two kitties to cheer up elderly people. All of the assisted living centers are on lockdown, with absolutely no visitors. While this is very necessary to protect the elders, it's difficult, since loneliness is a common condition of the older population.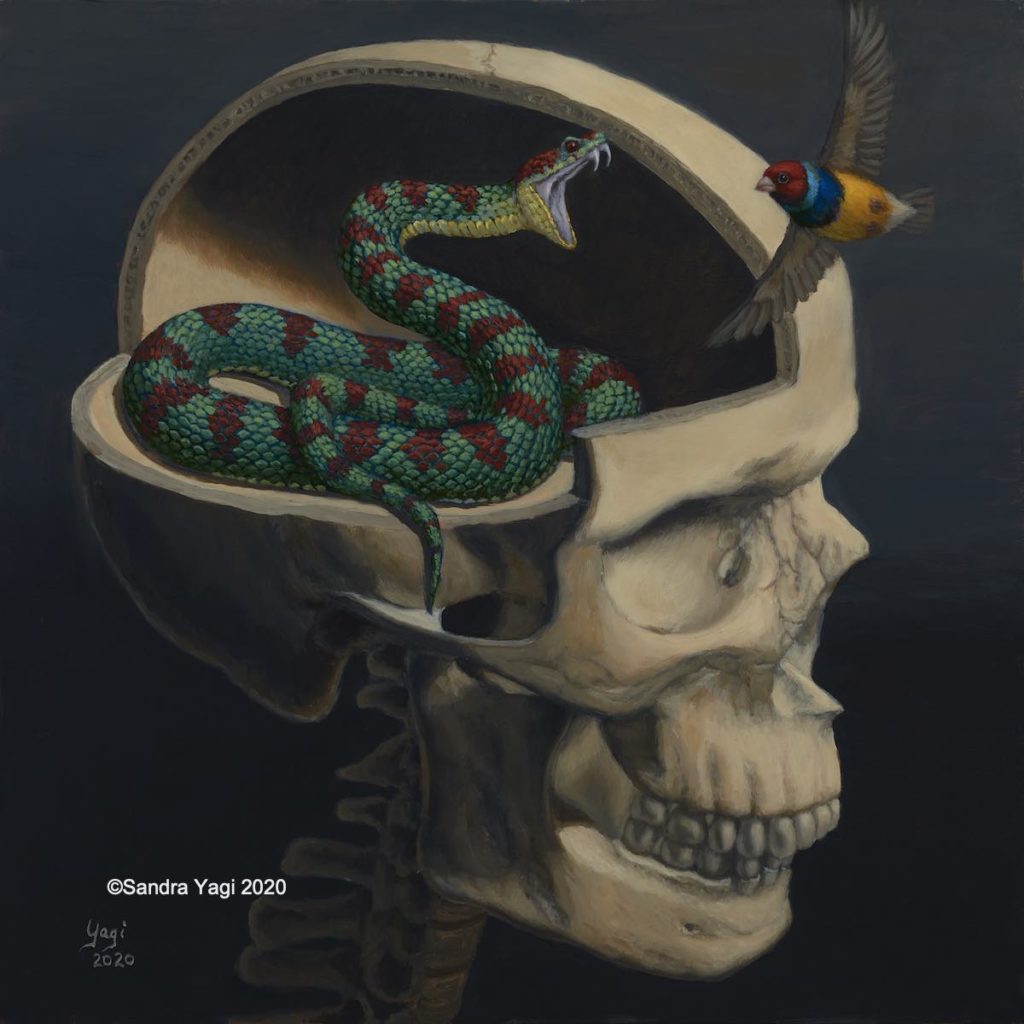 Has your creative process been affected during this time? Are you making art? If you are making art, what have you been working on?
For the first week, I just sketched a great deal, copied some old master figure drawings, and practiced animal drawing.
I've been drawing almost every day, and made some watercolor and ink pieces for a virtual exhibit to benefit COVID-19 frontliners in the battle against the virus.
I'm also continuing research work on my series of faux illuminated manuscripts of iconic movie monsters. The only media that's on hold is oil painting, since this is a "studio only" media.
Biology and evolution are common themes in your work. Have you drawn any inspiration from the pandemic to funnel into your paintings?
I've definitely found the pandemic to be a catalyst for new work.
I've been combining old alchemist symbols with modern virology. For example, I used an image of the phoenix to symbolize humanity rising from the ashes created by the pandemic. I depicted the virus, based on imagery from electron microscopy, in laboratory glassware. It's a combination of science, alchemy and mythology.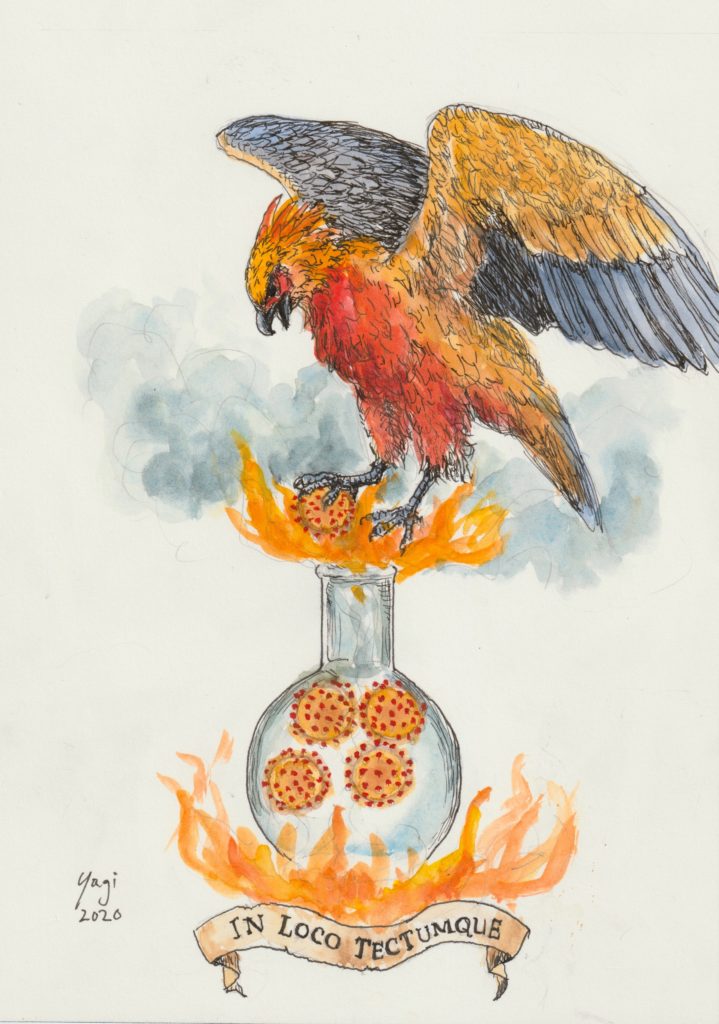 Research is an important part of your process. With reduced access to museums, libraries and parks, how are you getting the resources you need to produce your paintings (or are you)?
I'm not having any problems, because of the availability of everything on the internet.
I can find anything – images from old manuscripts that give me inspiration, old master drawings, photos of the corona virus under an electron microscope, academic papers on illuminated manuscripts, videos of birds in flight; the list goes on and on.
Numerous museums have set up virtual exhibits, so I've been perusing these during my spare time for inspiration
Your work balances scientific disciplines with whimsical fantasy. Do you feel that you escape into your art? And do you hope to create that possibility for your audience?
There is a great deal of escapism in my work. I feel a great deal of nostalgia for the natural world that existed before it was entirely explored and exploited.
I have an ongoing series of watercolors of imaginary hybrid animals, as if they were discovered and painted by a naturalist in the 1700-1800s. It's in the spirit of Maria Sibylla Merian, John Gould, John James Audubon and other naturalist/artist/explorers.
The animal hybrids that I developed were based on real animals, and I tried to illustrate an entire environment and natural history for some of them. I always ask myself "what if evolution allowed for more than 4 limbs, and both an exoskeleton and internal skeleton?"
I hope that viewers will glimpse the unexplored natural world as it was, with a bit of whimsy and fantasy.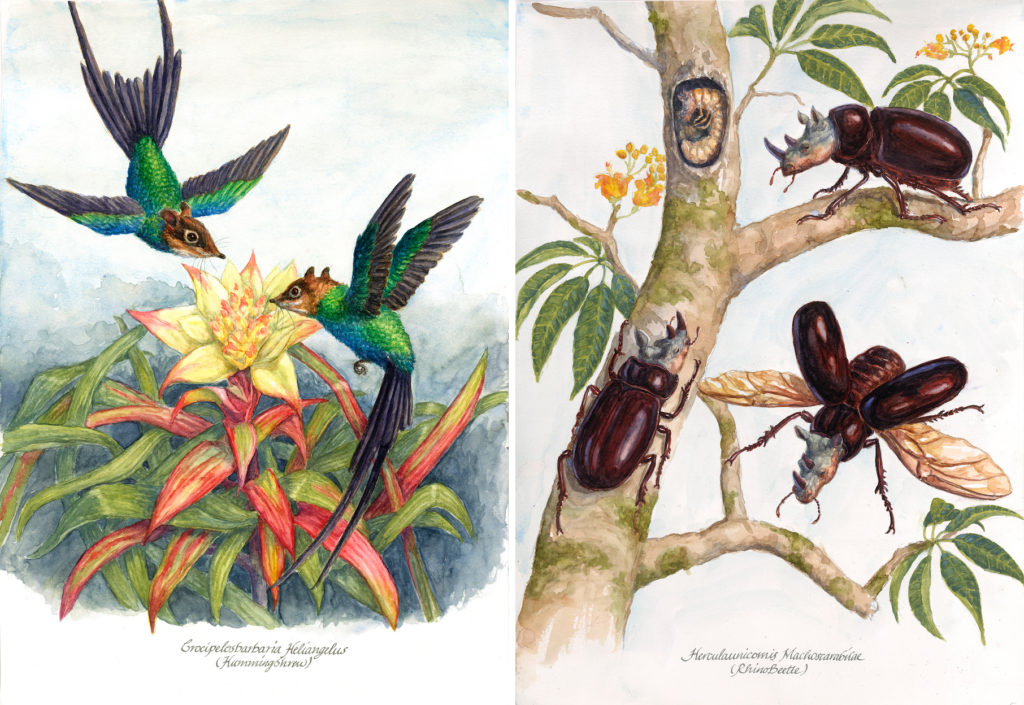 What role (if any) does art and the artist have at a time of crisis?
I believe that artists can chronicle the emotions and reactions to these events even if the powerful elites try to promulgate a false version of the times.
As artist David Van Gough stated: "If not you (the artist), who then will be the custodians for future spectators, chronicling the times we live in?"
I just finished an ink drawing of Nemesis, the goddess who enacts retribution against those who succumb to hubris, holding a coronavirus particle, floating above Mar A Lago underwater due to climate change.
In an amazing example of synchronicity, one of my friends, Gromyko Semper, a gifted artist in the Philippines, did a drawing of Nemesis and the corona virus at the same time – neither of us knew that the other was working on a similarly themed piece! It was an amazing example of artists being on the same wavelength due to the events of our time. We were both inspired by Dürer, the underlying message of his masterpiece and its relevance to current events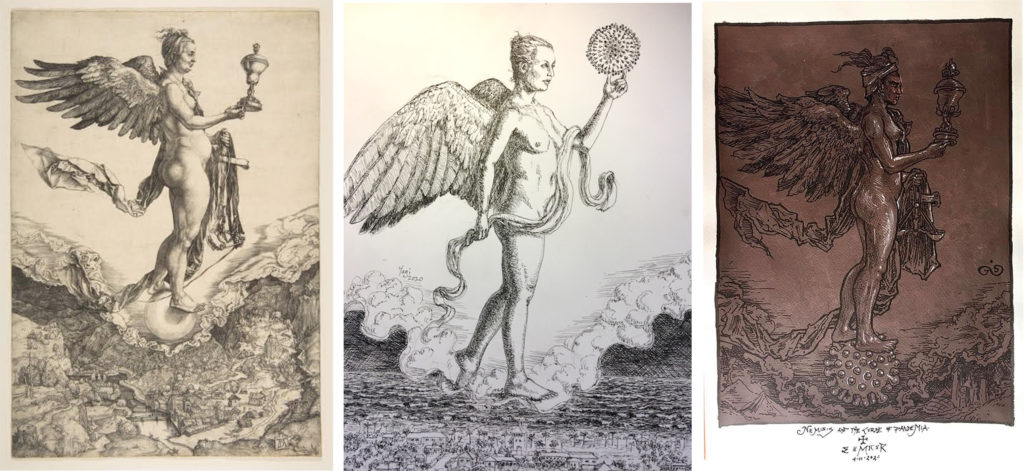 Have you explored any techniques or mediums during this time that are new to you?
Yes, ink pen and ink brush. Though I've experimented in the past, this is the first time I've taken on fully detailed and finished works in this media.
Are there any supplies or tools that you rely on or would like to have but are currently struggling to get?
I tend to hoard art materials, and I try to purchase supplies when it goes on sale, so I had a good supply on hand.
What kind of art have you been consuming and why? Is this different than what you typically consume?
I love looking at art of late Medieval and Renaissance times, so I'm always viewing illuminated manuscripts, old master drawings, alchemy illustrations, and natural history illustrations.
Also whimsical contemporary material. I've really enjoyed perusing Codex Seraphinianus, originally published in 1981, an illustrated encyclopedia of an imaginary world. This is typical of the genres of art that I enjoy.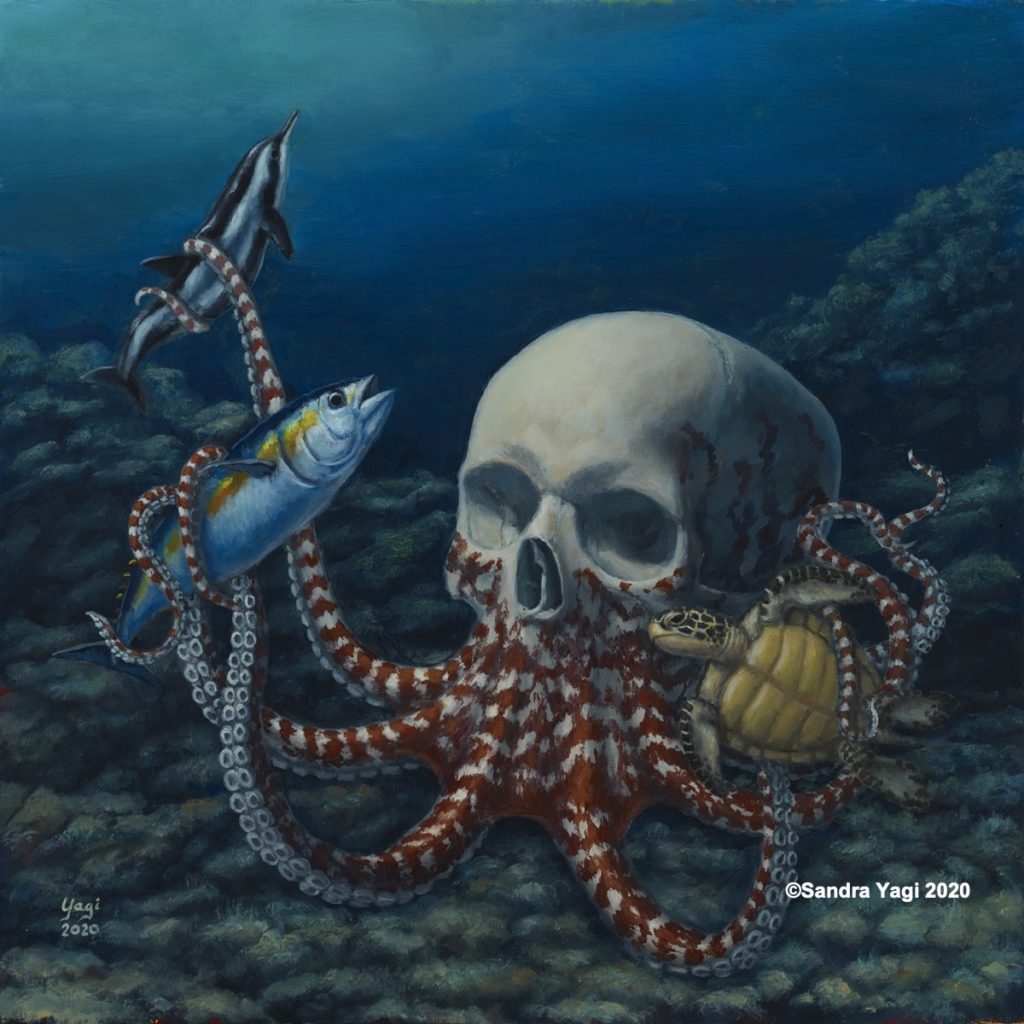 How is your mental health? Do you feel that you have been doing things to take care of yourself and if you do what are those things?
In terms of social interaction, I tend to be reclusive, so being isolated at home is not a burden for me.
I have to admit that I do feel a greater sense of melancholy due to the state of the world. Before the pandemic, I was already having existential sadness due to humanity's rush towards environmental destruction, fueled by the greed of the super wealthy. The pandemic and senseless loss of life has just added to this feeling.
The science lover in me is very curious about the disease and its mechanisms but the empathetic part of me is sorrowful when I see stories of first responders succumbing to the disease after their courageous contributions to others.
The optimist in me says that after a great crisis comes positive change. As an example, the flowering of the Renaissance, and end of the feudal system came about after the Black Plague. The general prosperity of the 50's and 60s came about after two horrific world wars. World Wars also ushered in the end of monarchies and Victorian imperialism.
I'm hopeful that this pandemic will result in positive social change. The inequities of wealth distribution to the uber wealthy must be corrected and the wasteful consumerism needs to be replaced with more sustainable use of resources.
Did you have any planned showcases that have been postponed or cancelled? Or were there any shows that you were looking forward to attending?
I am in two group shows, Beinart Gallery in Australia, and Modern Eden in San Francisco, and both have set up virtual gallery viewing. [To view a virtual tour of Beinart's show Dark Art 2020 click here. To view a virtual tour of Modern Eden's show New Growth click here.]
I have another group show in June that I'm not sure about. It will depend on how long the Shelter in Place in San Francisco is enforced.
I will have a solo show at Bert Green in November 2020 in Chicago, which will go on as planned. (I think that worst case, there won't be a larger gathering for opening reception.)
I also completed two new drawings for a fundraiser for the frontline healthcare workers battling the virus. (flyer below)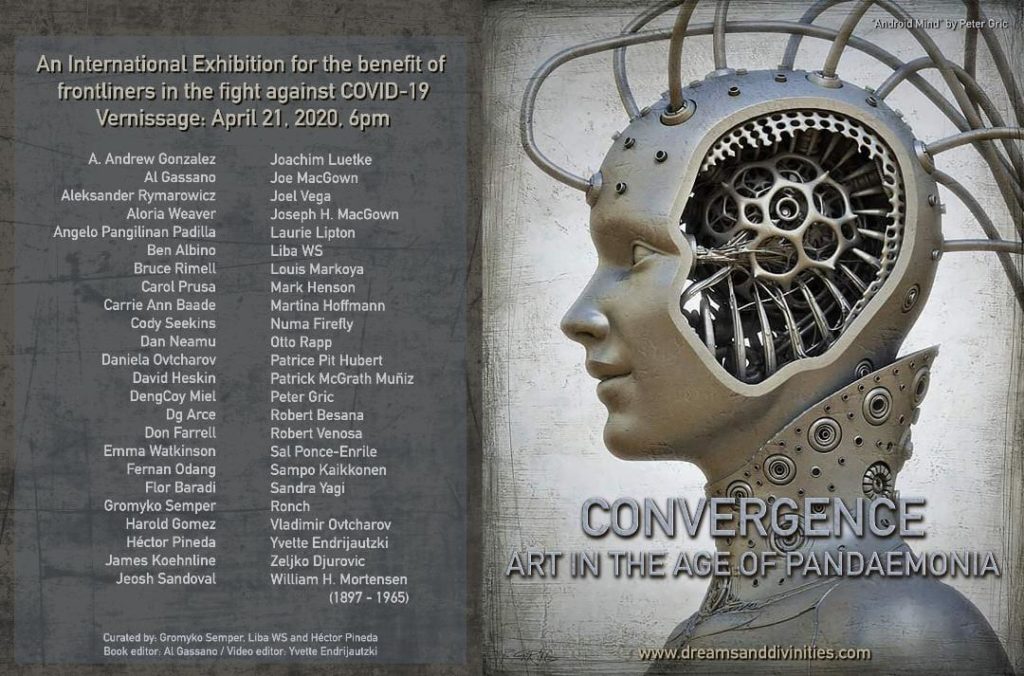 Has your financial situation been affected by the spread of Covid-19?
I'm very fortunate as I have steady retirement income from wages that I saved during my years of working at a corporate day job. Even though my art sales have been depressed by this pandemic, I will be able to survive, as my partner and I live very frugally to make ends meet.
Thank you so much to Sandy for taking time out to answer these questions.
If you want to learn more about Sandy's philosophies and process, Scientific Inquirer posted a fantastic interview with her last year.
To see more of Sandy's work, visit her website, follow her Facebook page, or follow her on Instagram.
The online fundraiser, Convergence: Art in the Age of Pandaemonia, features an incredible gruop of artists including Sandy and should be live soon.
Original works are available for purchase through Modern Eden Gallery, Macabre Gallery and Beinart Gallery. Sandy's prints are available to purchase through Bert Green Fine Art.
*This post contains Amazon Affiliate Links. As an Amazon Associate I earn from qualifying purchases.
---
Dahlia Jane is a wicked writer living in Los Angeles.  She writes about the dark arts scene, goth life and fascinations with the macabre.  Dahlia spends her free time obsessing about skulls, devouring true crime and occult books, sewing and making messes.
All author posts