Artists help others to symbolically process stressful situations in a way that can resonate. They can make light of situations and ease duress or depict difficult emotions that are universally experienced.

Jeff Christensen
Surrealist oil painter Jeff Christensen is not afraid to mine the dark recesses of his subconscious and bring forth monstrous forms. His work centers on the most uncomfortable facets of society and the forces that control and manipulate it.
Though it can be uncomfortable and disturbing, Jeff's work is also strikingly beautiful and at times humorous. Its power lies in its ability to evoke contrasting emotions such as horror and delight.
Jeff does not like to explain what his paintings mean. He prefers to allow the viewer to find his or her own meaning. The clear heart of his work is individual agency and thought.
Due to the pandemic we are more aware of the controlling forces in our lives than usual. Yet in this interview Jeff made some points that my brain, which has been overwhelmed with information and trying to survive day by day, had not even considered. I invite you to read his words and come to your own conclusions.
You live just outside of Salt Lake City, Utah. How has your daily life changed since the spread of Covid 19?
My daily life has changed for sure but probably not as much as it has for others.
I'm used to being able to go hiking and go to used book stores but travel out of the county has been discouraged and book stores are deemed "non-essential" and made to close.
I spend a lot of time at home anyway and I wouldn't say I'm very sociable with a social life to speak of, so it hasn't been too difficult to stay home more when I'm not having to work.
Has your creative process been affected during this time? Are you making art? If you are making art, what have you been working on?
Yes, it has been affected. It's certainly caused some stress and made it difficult to focus on art.
Soon after the pandemic started, we had an earthquake, epicenter two miles from my house, with aftershocks for weeks and a family pet developed some health issues so there have been plenty of stressful distractions.
Earthquakes are very rare in my area especially those with aftershocks, it's not anything I'm used to at all.
I am slowly making art and getting back into a painting schedule. I have been completing some small paintings for a couple of group shows and a bigger painting for my own interests.
You've acknowledged that mistrust of organized power structures is a thread throughout your body of work. How have you been processing the way that power structures such as federal and local govenerment, religious organizations and big business have responded to the pandemic?
Let me say first that I don't doubt there is a dangerous covid 19 virus going around out there.
I do wonder whether the threat is equal to the response. I don't like to think that it's another exploited crisis.
I think the higher danger to the lives of all individuals is the economic risk that's being imposed. People have a need to make a living and provide for themselves and families, a need to move about freely and make decisions on how to be safe as has always been done.
The societal and governmental response is unprecedented and the possible outcomes, depending on the duration, is worrisome, I do hope for the best though.
I'm also worried about seeing such a huge coordinated response so effectively funneling most people more into an electronic reality. We spend a lot of our time there already but this expanded the presence so much further along.
People, as you know, are being made to conduct more of their daily routines, responsibilities and personal contact more via the internet than before the massive shutdown of everything; business, school, personal social habits, etc. The lighted screen is becoming an evermore prevalent window to reality, it's alarming.
The mandated and mass media induced behavior modification brought on by using fear and panic along with the Orwellian doublespeak terms like Alone Together and Invisible Enemy is very surreal.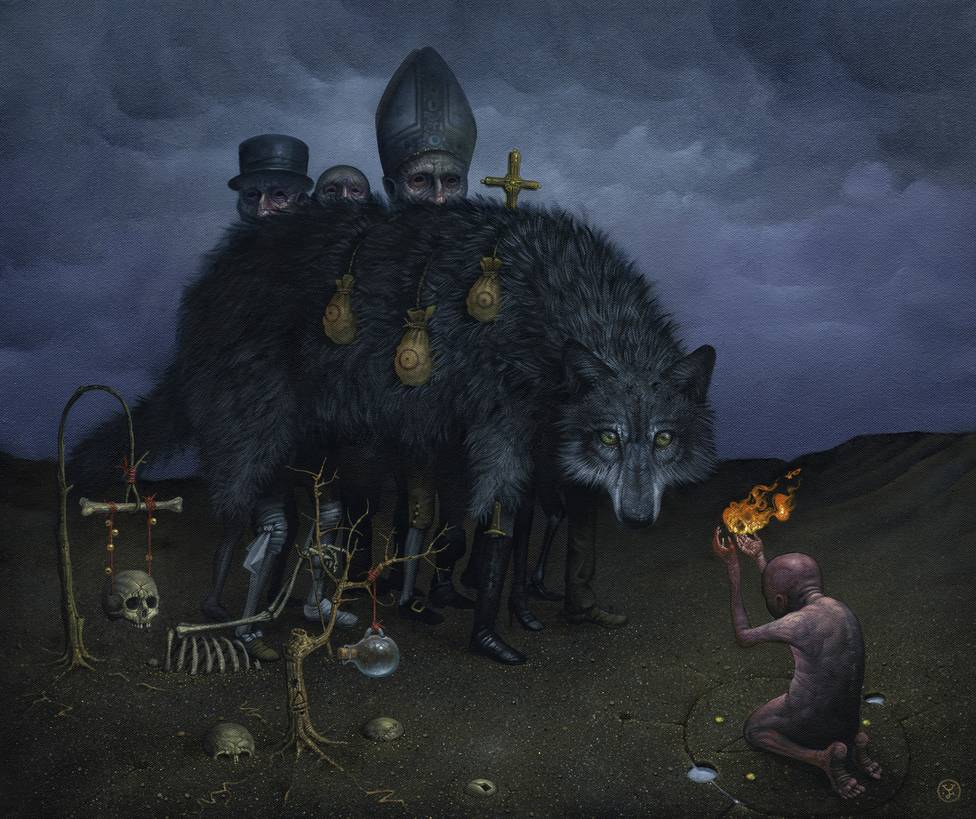 Your paintings always have a strong narrative. Have you been formulating a narrative based on what's happening and are you reflecting on current events in your work?
I have not been conscientiously formulating any narratives that reflect current events, maybe something relatable will filter out and manifest symbolically down the road but not for now.
Your paintings are bursting with grotesqueries. There's a Steven King quote, "Monsters are real, and ghosts are real too. They live inside us, and sometimes, they win." Are the monsters you paint in response to specific villainy you observe, a manifestation of troubled parts of your subconscious, or some combination of both?
I would say a combo of both. Perhaps the not so troubled parts as well.
All of my observations and experiences are informative. Symbolism is the language of the subconscious and being receptive to the personal symbolism that the troubled aspects reflect (monsters and ghosts) and using it in art is an extremely cathartic way of processing experiences to an eventually satisfying conclusion in both the unconscious and conscious minds.
Painting is my way to have my inner reality make sense to my outer reality if that makes sense.
Though your paintings are unquestionably dark, they also use a lot of humor. Have you been able to draw from your twisted sense of humor at this time or are things too bleak?
I enjoy comedy and humor very much and believe that laughter is really the best medicine for bleak times and feelings.
I have a good darkly twisted satirical sense of humor and I love incorporating it into painting ideas when it works.
I try to keep my humor and optimism by not following the news media very much. I'm not putting my head in the sand, I know what the news media and the talking heads do well.
I know people who have been following media events day to day very closely and the mental stress has got them close to a breaking point some days.
It's not a place I choose to put myself so I try to not see things as being bleak and that it will pass. Humor helps with that for sure and maybe sunshine.
What role (if any) does art and the artist have at a time of crisis?
A very important role in my opinion. Artists help others to symbolically process stressful situations in a way that can resonate. They can make light of situations and ease duress or depict difficult emotions that are universally experienced.
Have you explored any techniques or mediums during this time that are new to you?
I have not been exploring any new mediums, I really enjoy oil paints so I haven't been giving anything else a try.
I haven't explored any new techniques either that I can give a name to.
I discover new little techniques on each new painting I guess but nothing I can really speak with technical knowledge about.
Are there any supplies or tools that you rely on or would like to have but are currently struggling to get?
Not at the moment, I stocked up on supplies earlier in the year.
My studio is in my basement and not at a separate location so no accessibility or travel issues there.
What kind of art have you been consuming and why? Is this different than what you typically consume?
I've been listening to classical music while I paint sometimes recently. It seems to help me focus a bit more deeply.
I typically listen to various kinds of metal while I paint, but with the craziness outside my walls lately I've had an easy time getting into classical.
You live apart from the big urban hubs where dark art is thriving. You've typically shown your work out of state. However, your cyber presence is smaller than many of your peers. How do you feel that you're equipped to weather some of the effects of the pandemic including social distancing, loss of event spaces and the transition to all digital networking?
That's true, I live far apart from areas that my type of work is thriving and I participate in out of state shows so it's easy to social distance on that point.
Some galleries are adjusting by going with virtual openings which I have had a couple of paintings be a part of.
I have also been showing regularly in one or two online-only group shows over the last few years which are nice for their own reasons and the platform has become more relevant lately though it still isn't the same as seeing the work in person.
I don't put a lot of time into social networking. I feel it's better for me to put my limited art related time into painting for now.
I don't spend much time in the digital world, I typically post new work on a couple of social networking sites and then I'm gone, I don't check back all the time.
I would like to have a website for my art sometime that would be neat-o.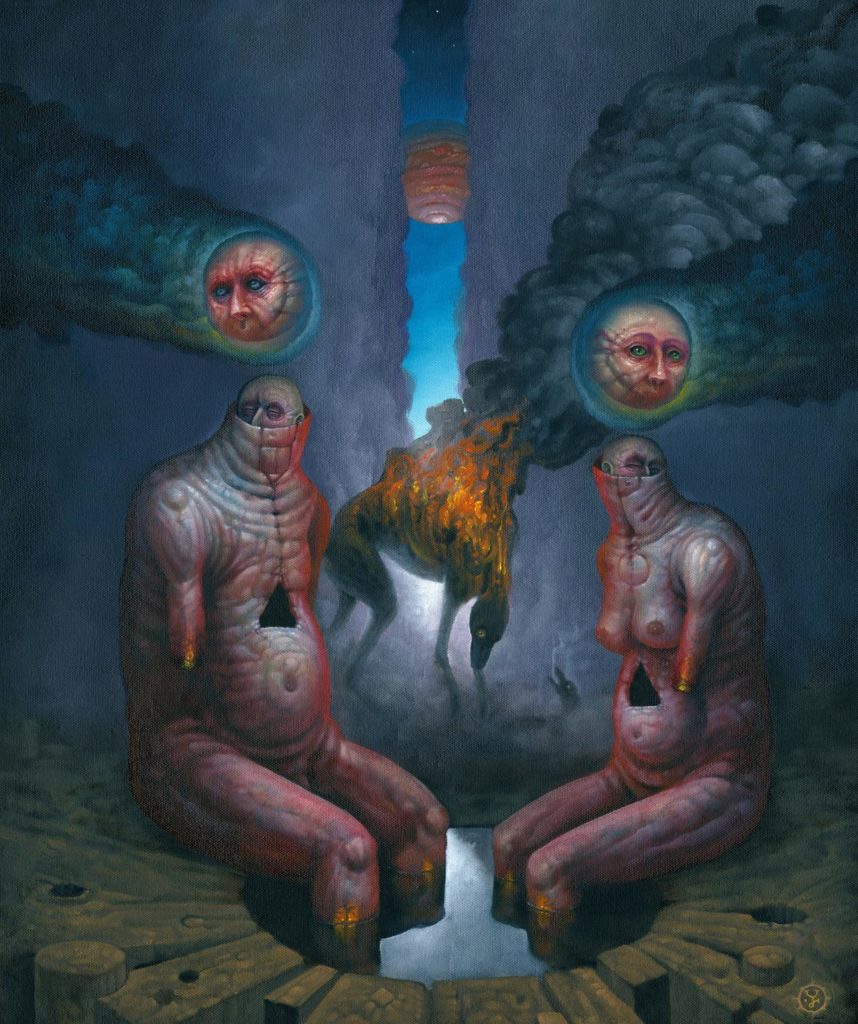 Did you have any planned showcases that have been postponed or cancelled? Or were there any shows that you were looking forward to attending?
I do have some group shows I'm participating in that are affected but are commencing as planned with limitations.
Has your financial situation been affected by the spread of Covid-19?
No, not really. I have a full-time job outside of art to support myself and family.
My job is very hands on so I am not able to work from home. Luckily I'm still working but that could change any week.
Art is a small part of my financial picture so it's not something I can do full-time even though I REALLY wish I could.
What can we do to support your work at this time?
Check out my work on Facebook, and if you feel inspired to do so, tell me what you think of it. Moral support is rewarding as well.
If people are able, they should support some of the galleries since they are businesses that could be gone for good due to current circumstances.
Are you as troubled as Jeff is by how screen dependent we have become? Let me know in the comments.
Thank you so much Jeff for some provocative food for thought.
Jeff has work in the upcoming Small Works show at Beinart Gallery in Melbourne, Australia opening May 31.
To see more of Jeff's work, you can also find him on Deviant Art. He has original work for sale through Beinart Gallery and Dark Art Emporium.
---
Dahlia Jane is a wicked writer living in Los Angeles.  She writes about the dark arts scene, goth life and fascinations with the macabre.  Dahlia spends her free time obsessing about skulls, devouring true crime and occult books, sewing and making messes.
All author posts